In Memory of Fay Chiang
Main Content
In Memory of Fay Chiang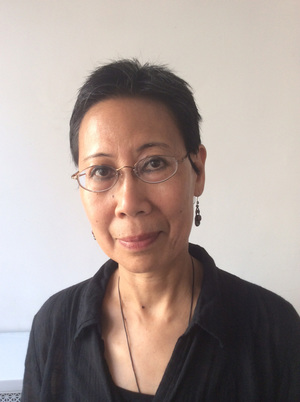 It is with deep sorrow that the Chinese-American Planning Council announces the loss of Fay Chiang. Fay was not just a co-worker, but was a hugely popular provider, role model and sought after mentor with many underserved youth of all backgrounds, and with Asian American adults with HIV-AIDS at Project Reach.
Fay was an artist and published poet. She was the former director of the Basement Workshop - a seminal Asian American multi-disciplinary arts initiative in the early Seventies -- which left a lasting imprint on Asian American arts and culture in the East Coast and beyond. A long term cancer survivor, Fay peacefully passed in her sleep on Friday morning.
A celebration of her life organized by her family and Project Reach alum will take place on Friday, November 3, at the One Art Space on 23 Warren Street from 6:00 PM to 10 PM. There will be a program with music, poetry, spoken word, art and healing, and food and drink. Art may be viewed starting in the afternoon.
ABOUT FAY:
Fay Chiang was a poet, visual artist, and community and cultural organizer who has worked primarily in New York City's Chinatown and the Lower East Side for more than 45 years. Raised in the backroom of a laundry in Queens by immigrant parents from Guandong, China, she writes from her experiences as a woman of color from the working class. She believes culture is a weapon to reclaim our past, define our present and to envision possibilities for our future, and that the development of culture is an integral part of the progressive social change and social justice movements.
As an Asian American activist, some of Fay's closest friends and mentors in the movement have been Yuri Kochiyama, Grace Lee Boggs, and Miné Okubo, among others. She is also a recipient of a New York State CAPS Poetry grant, a Revson Fellowship at Columbia University, a Lifetime Achievement Award from New York University's Asian/Pacific American Studies Department as well as from The Five Colleges Consortium in western Massachusetts, and a 2014 Agent of Change Award from Asian Americans for Equality.
As a social justice activist, Fay plied her art to support the work of the Stolen Lives Project, the October 22 Coalition to STOP Police Brutality, and the Stop Mass Incarceration Network.
Fay was in her late teens when she became director of the first Asian American multidisciplinary arts and cultural nonprofit organization on the East Coast. During her tenure as the Director of Basement Workshop (1971-1986), its programming served as a seminal training ground that led to the creation of The Museum of the Chinese in the Americas, Asian Cinevision, Asian American Writers Workshop, Asian America Arts Centre, Asian American Dance Company, Morita Dance Company, and the Asian American Arts Alliance. (Ryan Wong's curatorial efforts at Interference Archive in 2013 with the exhibit 'Serve The People: The Asian American Movement in New York' shared some of Basement Workshop's achievements with the public. In 2016 Basement Workshop was honored at the Asian American Art Alliance's 34th Anniversary Gala as a "groundbreaking New York Asian American arts organization.")
After Basement Workshop she served as director of Henry Street Settlement's Asian American Outreach Program; Project Manager/Special Sections Editor in NY Newsday's Public Affairs Office, director of Poets & Writers' Readings/Workshops state-wide re-grant program, and while she did not have the official title, she was essentially the associate director of the Chinese-American Planning Council's Project Reach where she was involved in program development, crisis counseling for underserved youth and families, and supporting youth and adults living with HIV/AIDS.