NYC Council Speaker Corey Johnson Announces $4 Million Council Allocation to Continue Funding Adult Literacy Education Programs
Main Content
NYC Council Speaker Corey Johnson Announces $4 Million Council Allocation to Continue Funding Adult Literacy Education Programs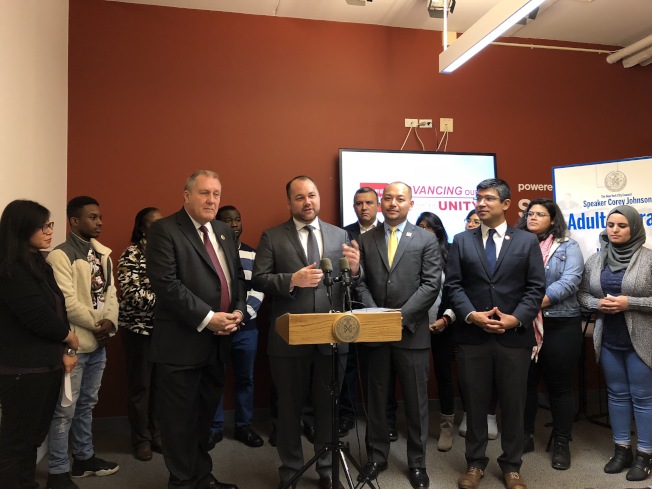 On October 23, 2018, NYC Council Speaker Corey Johnson, City Council Members Daniel Dromm and Carlos Menchaca came to CPC's Adult Literacy class to announce the $4 million City Council allocation to continue funding Adult Literacy programs. Working alongside the de Blasio administration, the City Council secured a total of $12 million for fiscal year 2019 to continue funding for Adult Literacy Education programs.
"New York was built by immigrants from all over the world. As an immigrant town, it is vital that we support our immigrant communities," said Council Speaker Johnson. "I am happy that we, at the City Council, were able to allocate this year $4 million to continue funding these key programs to help New Yorkers access bigger and better opportunities for themselves and their families."
Funding will support 47 programs (an estimated 3,200 adult literacy classroom seats) across the city; CPC being one of the many programs providing the vital service to NYC's immigrant community. During the past fiscal year, CPC taught 39 English classes from beginner to advanced levels, with more than 1,300 students in attendance. "For the past 20 years, CPC's Adult Literacy Program has served members of the community throughout New York City who seek English classes to better assimilate to the American mainstream. English classes enable our students to achieve a higher quality of life. Because of ESL classes, our students are better equipped to advance their careers, take a more active role in their children's education, and navigate through life in the United States," said Lynn Nakazawa, Adult Literacy Program Coordinator at CPC.
During their visit Speaker Johnson, Councilmember Dromm and Councilmember Menchaca greeted one of CPC's Adult Literacy class to discuss the importance of studying and being able to speak and read English with the students. Many of CPC's community members attend the class to pave a better career pathway, to better understand their children's teachers and the NYC school system, or to improve their quality of life. Adult Literacy programs like CPC's empowers community members to be the best advocate they can be for themselves. We commend the NYC Council for their commitment to the immigrant communities of NYC.
Click here to learn more about CPC's Adult Literacy Program
View City Council Speaker Johnson's Video of his visit below
Click the links below for media coverage: