Donating Turns $1 Into $3
Main Content
Donating Turns $1 Into $3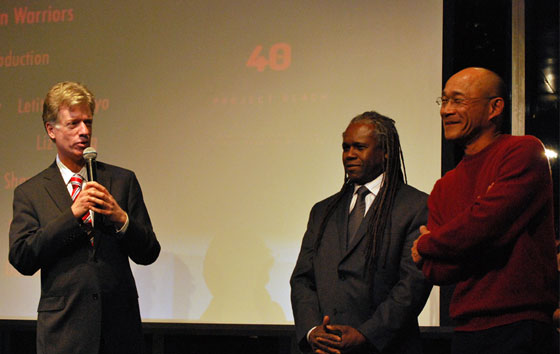 This past February 9, Project Reach hosted their 40th Anniversary Gala and fundraiser. The event was a huge success! We raised over $13,000 through the effort, which is a fantastic amount, but isn't anywhere near our goal of $40,000 for the year. Fortunately, a few extraordinary individuals have stepped up to the plate to help us make our $40,000 goal twice as easy to reach.
DOLLAR FOR DOLLAR FROM JIM CAPALINO
At the end of the gala, Jim Capalino addressed the audience to express his utter amazement with Project Reach, his humored annoyance with Don's scheduling habits, and his pledge to match every dollar given to the organization up to $10,000. He made his promise good only on new contributions, and lit the torch by making a substantive contribution of his own which wouldn't be a part of the match.
ROSE AND SHERLE WAGNER MATCHING GRANT
In addition, the Rose and Sherle Wagner foundation has offered to match every contribution up to $20,000. That means that for every dollar our supporters give us, we'll gain twice-- if not three times-- as much!
YOUTH CHALLENGE OFFER
Young people can also make a tremendous impact! As if the first two offers weren't enough, an anonymous donor has pledged to match every dollar up to $1,000 that people between the ages of 13 and 21 give. That's more than enough to make a group of ambitious young people one of our honorable sponsors this year!
With all this help offered, all we need is your support! We want to make sure we hit the 40k mark and have every one of our hard working donors' dollars matched by all three of our matching donation offers.
Your contributions will support our citywide LGBT retreats in the catskills, our Social Justice Boot Camp program, our youth internships, project expenses for our men's and womyn's groups, and much more of our extraordinary programming.
Make a contribution today by clicking the donate link and follwing the directions. Make sure you get to give while the offer is still good!!