June Anti-Discrimination Youth Clinics - Queens, Brooklyn, Staten Island
Main Content
June Anti-Discrimination Youth Clinics - Queens, Brooklyn, Staten Island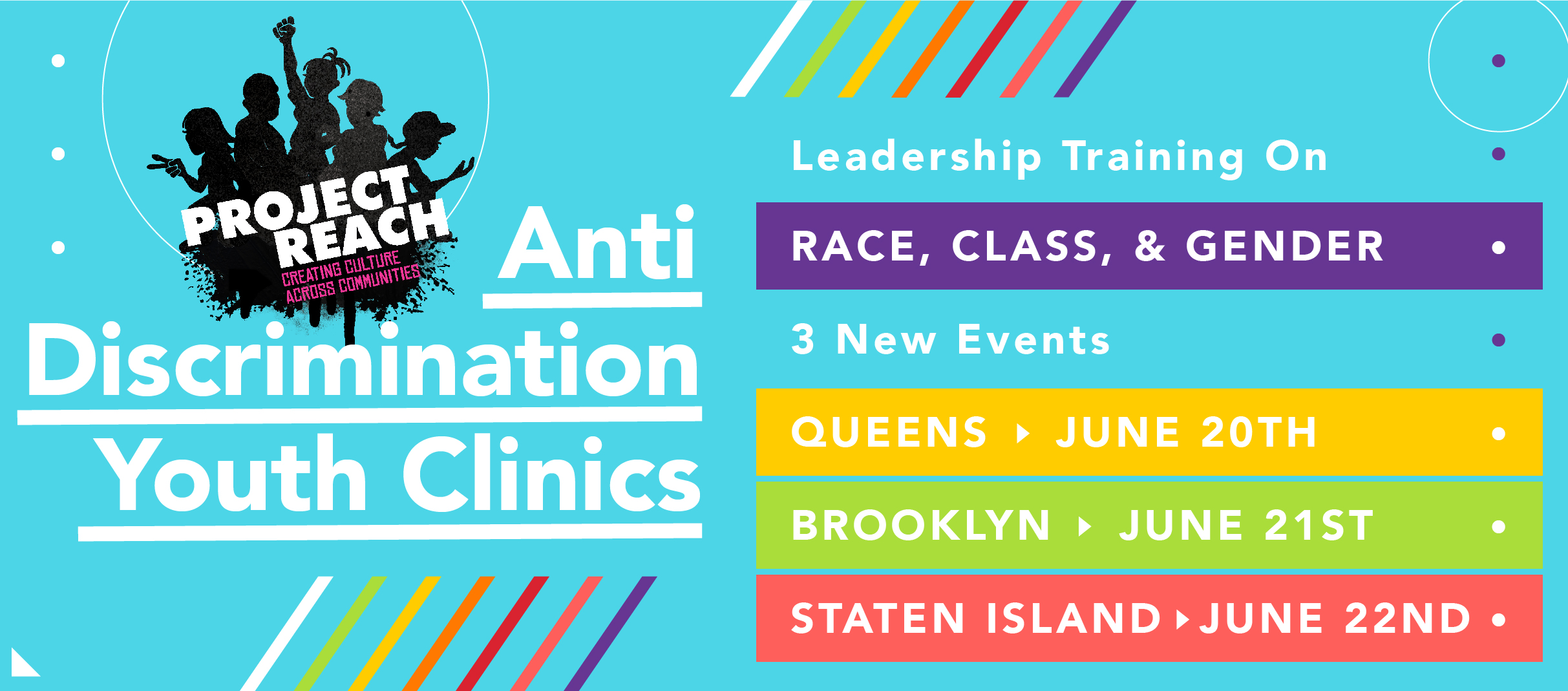 With the support of Speaker Melissa Mark-Viverito and the New York City Council, Project Reach is proud to present 3 new anti-discrimination events in 4 boroughs...
Welcome to the Project Reach's Anti-Discrimination Clinics for Adults and Young People.
Feel free to register for the Clinic in your borough (where you work or live) or for the Clinic that best fits your schedule.
Time and space are limited so please sign-up as soon as possible!
Queens-wide Anti-Discrimination Youth Clinic
Monday, June 20, 2016
9am-4pm
Flushing Library
41-17 Main St
Flushing, NY 11355
More helpful information:
General Description (.DOCX)
Clinic Flyer (.DOCX)
Registration Form (.DOCX)
Permission Slip (.DOCX)

Brooklyn-wide Anti-Discrimination Youth Clinic
Tuesday, June 21, 2016
9am-4pm
Red Hook Library
7 Walcott Street
Brooklyn NY 11231
More helpful information:
General Description (.DOCX)
Clinic Flyer (.DOCX)
Registration Form (.DOCX)
Permission Slip (.DOCX)

Staten Island-wide Anti-Discrimination Youth Clinic
Wednesday, June 22, 2016
8:30am-4pm
Stapleton Library
132 Canal Street, Staten Island, NY 10304
More helpful information:
General Description (.DOCX)
Clinic Flyer (.DOCX)
Registration Form (.DOCX)
Permission Slip (.DOCX)
For more information, please email donkao@projectreachnyc.org or katherine@projectreachnyc.org or Call Don - (917) 749-6116 or Katherine – (315) 664-8059