CPC Receives $5,000 Grant from Investors Foundation to Support Immigrant Youth
Main Content
CPC Receives $5,000 Grant from Investors Foundation to Support Immigrant Youth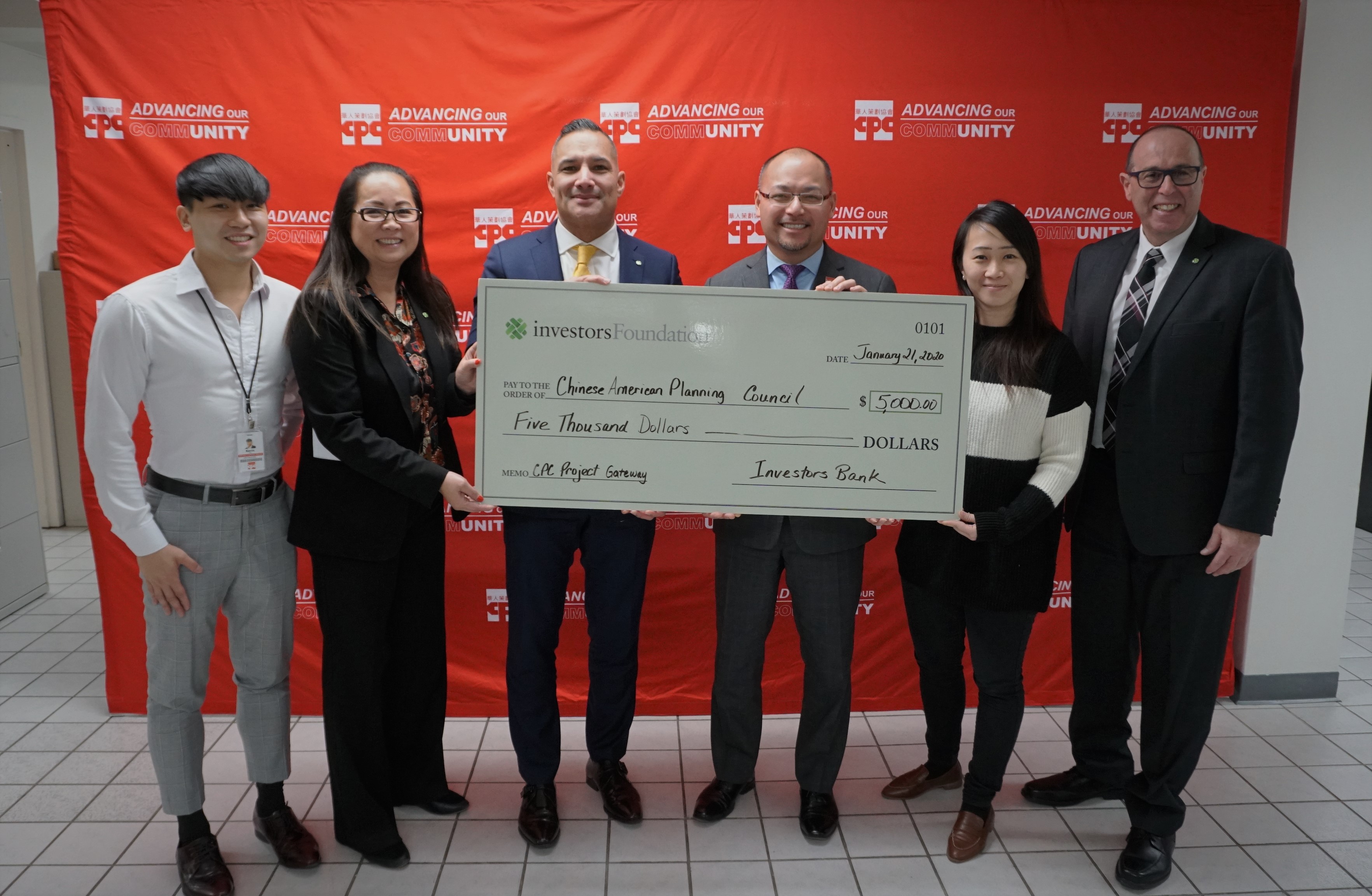 Chinese-American Planning Council Receives $5,000 Grant from Investors Foundation to Support Immigrant Youth

For Immediate Release
Contact: Mabel Long
Tel. (212) 941-0920 x 140
Mlong@cpc-nyc.org

New York, January 21, 2020 - The Chinese-American Planning Council (CPC) is proud to announce receiving a $5,000 grant from the Investors Foundation at New York City. The grant will help further CPC's mission of promoting social and economic empowerment of Chinese American, immigrant, and low-income communities.
These funds will support CPC Project Gateway, a college counseling and resource center, to provide one-on-one counseling, workshops, college trips, financial literacy education, networking events, and other supports for both youth and their families. CPC Project Gateway's mission is to empower immigrant youth and first-in-family college students to fulfill their potential through post-secondary success.
"We would like to thank Investors Foundation for its generous grant, which will help CPC to continue empowering community members to reach their fullest potential and become successful in college and beyond," said Wayne Ho, President and CEO of the Chinese-American Planning Council.
"We are honored to support the Chinese-American Planning Council's Project Gateway, which helps guide, prepare and mentor high school students who are striving to attend college," said Ana Oliveira, SVP and Retail Market Executive of Investors Bank. "Our Bank shares CPC's belief that education and life-learning helps encourage individuals realize their potential in the workplace and in their lives. Also, our Bank and the Investors Foundation commend CPC for including financial literacy education as part of the Project Gateway program. It is an important initiative because young people who develop positive money-management skills are more likely to achieve the worthy goal of financial independence."
About Chinese-American Planning Council (CPC)
Founded in 1965, CPC is a social services organization that creates positive social change. We empower Asian American, immigrant, and low-income communities in New York City by ensuring they have equitable access to the resources and opportunities needed to thrive. Today, CPC is the nation's largest Asian American social services organization and we are the trusted partner to more than 60,000 individuals and families striving to achieve goals in their education, family, community and career.
We welcome community members at every stage of life to over 50 high-quality programs at 33 sites in Manhattan, Brooklyn and Queens. Through all of our services, we empower New Yorkers to become agents of positive change in their own lives and in their communities
About the Investors Foundation
Investors Bank created the Investors Foundation in 2005 to support the communities Investors Bank serves. The Investors Foundation supports initiatives in the arts, youth development, health and human services, education and affordable housing. The Investors Foundation works to improve the lives of its customers and neighbors.
About Investors Bank
Investors Bank, headquartered in Short Hills, New Jersey, is a full-service community bank that has been serving customers since 1926. With nearly $27 billion in assets and a network of more than 145 retail branches, Investors Bank delivers personalized services and products tailored to the needs of its customers. Investors Bank's banking services include complete deposit, loan and cash management products for consumers and businesses.
Investors Bank: Member FDIC and Equal Housing Lender.
See coverage in City and State's NY Nonprofit First Read here.