CPC's Lunar New Year Brings Together 1,000 to Celebrate Our Communities
Main Content
CPC's Lunar New Year Brings Together 1,000 to Celebrate Our Communities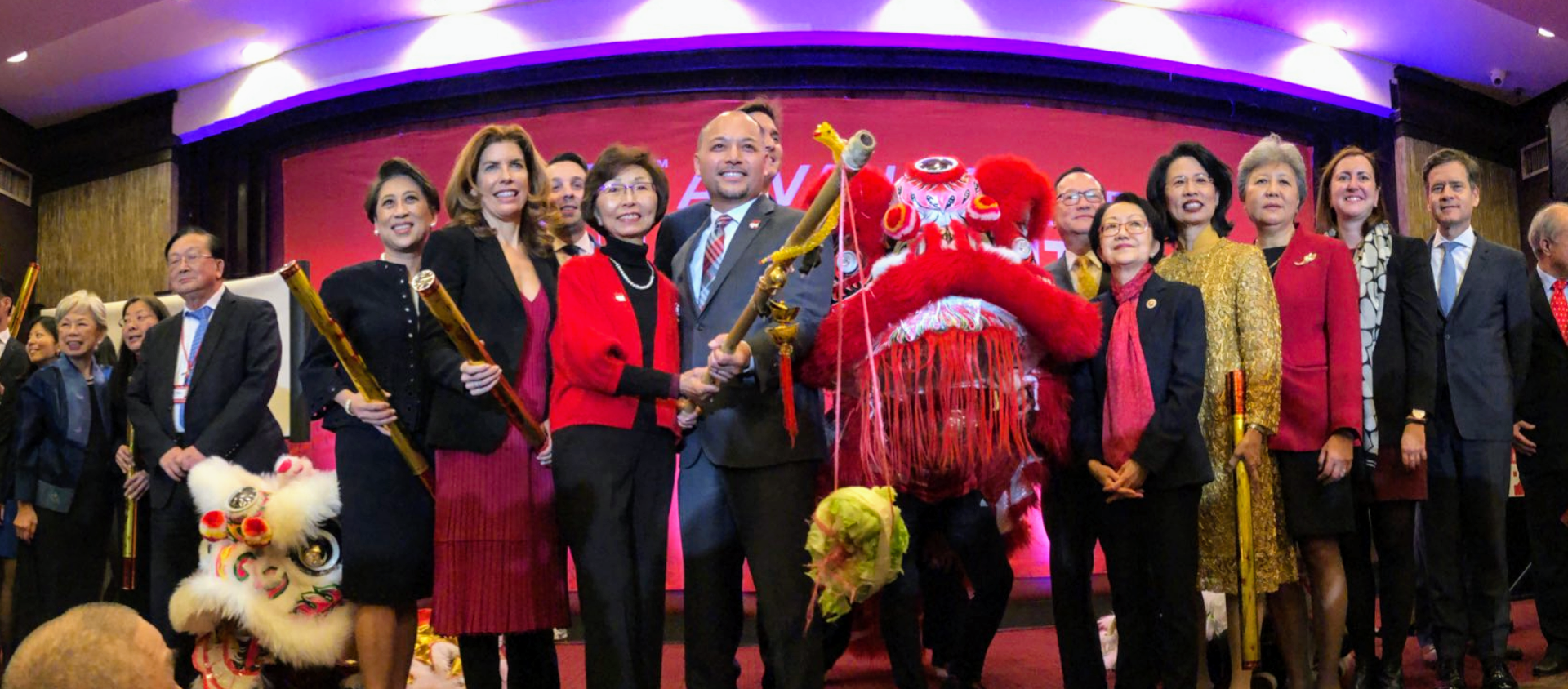 Stronger Than Ever: CPC Raises Over $575,000 for Community Services
Despite the recent focus on the coronavirus and the terrible Mulberry Street fire which affected CPC's Chinatown Senior Center, CPC's Lunar New Year Celebration was stronger than ever and highlighted the courage and resilience of our community.
Raising over $575,000, a host of celebrated and prominent New York figures joined the stage with CPC's President & CEO Wayne Ho, members of the Board and the staff at the time-honored Jing Fong Restaurant on February 27, 2020.
Awards were presented for:
Honoree of the Year presented by Kathleen Navarro, Head of Talent Management and Chief Diversity Officer at New York Life to Yie-Hsin Hung, Chief Executive Officer of New York Life Investment Management LLC;
Civic Leadership Award presented by Council Speaker Corey Johnson to Jenny Lam Low, Director of the Community Engagement Division of the New York City Council;
Corporate Responsibility Award presented by Gilbert Liu, Partner at Kramer Levin Naftalis & Frankel LLP, to Dr. George Liu on behalf of Coalition of Asian-American IPA (CAIPA);
CPC Service Star Award presented by Wes Moore, the CEO of Robin Hood, to the CPC Hospitality Careers Training Program
Many elected officials joined the festivities including Senate Minority Leader Chuck Schumer, Deputy Secretary for Civil Rights Johnathan Smith, Attorney General Letitia James, Senator Andrew Gounardes, Senator Brad Hoylman, Senator Brian Kavanagh, Senator Zellnor Myrie, Assembly Member Peter Abbate Jr., Assembly Member William Colton, Assembly Member Catalina Cruz, Assembly Member Ron Kim, Assembly Member Yuh-Line Niou, Assembly Member Nily Rozic, Mayor Bill de Blasio, Deputy Mayor Philip Thompson, Comptroller Scott Stringer, Council Speaker Corey Johnson, Manhattan Borough President Gale Brewer, Acting Queens Borough President Sharon Lee, Council Member Justin Brannan, Council Member Margaret Chin, Council Member Ben Kallos, Council Member Mark Levine, Council Member Keith Powers, Council Member Carlina Rivera, Council Member Helen Rosenthal, Council Member Ydanis Rodriguez, Council Member Mark Treyger, Department for the Aging Commissioner Lorraine Cortés-Vázquez, Department of Citywide Administrative Services Commissioner Lisette Camilo, Department of Small Business Services Commissioner Gregg Bishop, Mayor's Community Affairs Unit Commissioner Marco Carrión, Mayor's Office of Contract Services Director Daniel Symon, and NYC Census 2020 Director Julie Menin.
The celebration's crowd was riveted by the rousing comments from Senator Chuck Schumer and Mayor Bill de Blasio, who addressed recent challenges in the community while painting a picture of a nation and city bound for a better future.
"The New Year is a chance for us to move forward," Mayor de Blasio said. "The fire, the loss of so many crucial and beloved institutions was very painful. But we will rebuild."
Senate Minority Leader Chuck Schumer said, "We know our job is to protect people and make them secure, and with the coronavirus it is no different. We won't let the President blame this community or any community. This week I said, Mr. President we need the money, the resources and the back-up to address this. Don't divide us."
Additionally, CPC has long yearned for a permanent home, and Council Member Margaret Chin and CPC Founder Virginia Kee both spoke about the great news from earlier in the day. Council Member Chin announced that CPC One, which is CPC's headquarters/community center/affordable housing project, will move forward in development. A cheering crowd received the news that the City Council voted 45 to 0 in favor of the project. From a nonprofit that was initially a one-room office on Lispenard Street created from a donated sale of a car, CPC has come so far in 55 years.
"I recall sitting down with Virginia and the CPC Board years ago," Chin said. "They said it couldn't be done, but today, we've done it."
CPC Founder Virginia Kee said, "We dreamed, we had hope, and we believed. And finally, our dream for a home has come true."
Broadcaster and journalism professor Ernabel Demillo and actor and director Alan Muraoka emceed for the third year in a row, giving the event unmatched shine and thoughtfully putting the spotlight on members of our community. Mr. Muraoka noted the PS124 Lion Dance Group troupe was "the best part of the night and what everyone's been waiting for."
"I am humbled to receive this recognition from the Chinese-American Planning Council and honored to work closely with New York Life Investments to help the Chinese American community achieve their greatest ambitions and become agents of positive change," said Honoree of the Year Yie-Hsin Hung. "CPC's unwavering commitment to providing resources to individuals and their families has helped empower thousands of people to realize their goals and succeed. This is a testament to what investing in future generations truly means."
"I am honored to receive the Civic Leadership Award at CPC's annual celebration. Having seen first hand the tremendous impact that CPC has been making in the immigrant and low-income communities of New York City, I am humbled to be recognized for contributing my share to help improve the lives of New Yorkers in need. Congratulations to other honorees for the great work that they have done," said Civic Leadership Honoree Jenny Low.
Annette Montalvo, Director of CPC Hospitality Careers Training Program (HCTP) told the story of a participant who came to HCTP to get the skills he needed to find better work opportunities. After completing the training program and a year on the job, the community member was promoted to supervisor with a pay increase. "He is very happy and excited not only for the money but because he will be a role model for his children. He is an example that with hard work, dedication and support, anything is possible," Montalvo said. She humbly accepted the award for HCTP, but made sure to acknowledge her teammates, saying, "This would not be possible without a fantastic team. Thank you to my team Brian Chen, Stephanie Eng, Tanya Joyner, Vickie Wong, and Jacklyn Chan. Your hard work and dedication is the reason why we are here today!" The CPC HCTP has served more than 3,000 community members in its 40 year history.
CPC is the nation's largest Asian American social service agency. Every year, we celebrate empowering our communities through the leadership, volunteerism, and philanthropy of its stakeholders and honorees at our Lunar New Year event.
"CPC thanks sponsors, partners, and supporters for making this celebration a success. We are excited to have celebrated Lunar New Year with over 1,000 government, business, nonprofit, community, union, and philanthropic leaders. The support from the community has been beyond words during this turbulent time," said Wayne Ho, President and CEO of CPC.
Thank you to all of our generous sponsors!
Mission Partner
- Ong Family Foundation
Pinnacle Sponsor
- Chinese-American Planning Council Home Attendant Program
Diamond Sponsor
- Hennessy USA
Ruby Sponsors
- Coalition of Asian-American Independent Practice Associations (CAIPA)
- Chung Pak Local Development Corp.
- ConEdison
- Gotham Organization
- JPMorgan Chase & Co.
- Lau-Kee Law Group
- Marsh & McLennan Agency
- New York Life Investments
- Pi Capital Partners
- Pitta & Baione LLP
- Sandata Technologies
- T.U.C. Management Company (an MMS Group Company)
- Tiger Baron Foundation
Gold Sponsors
- Cathay Bank
- DCH Auto Group
- Glow Community Center & Glow Foundation
- Hogan Lovells
- HSBC
- Joe Hall
- Loyola Group
- MetroPlus Health Plan
- Spectrum
- TMI Trading Corp. / Twin Marquis
- Veronica Tsang
- WAC Lighting
- Wonton Food Inc.
Silver Sponsors
- Delancey Street Associates & Essex Crossing
- Flushing Bank
- Ghetto Film School
- Healthcare Education Project
- ICBC
- Investors Bank
- Kramer Levin Naftalis & Frankel LLP
- Lucy Chan
- Mutual of America
- Royal Business Bank
- SBT Advantage Bank
- Somos Community Care
- TD Bank
- United Federation of Teachers
- UnitedHealthCare
- Verizon
- Wayne Ho
- W & L Group Development Inc.