Soar Over Hate Equips Seniors at Hong Ning with Safety Materials
Main Content
Soar Over Hate Equips Seniors at Hong Ning with Safety Materials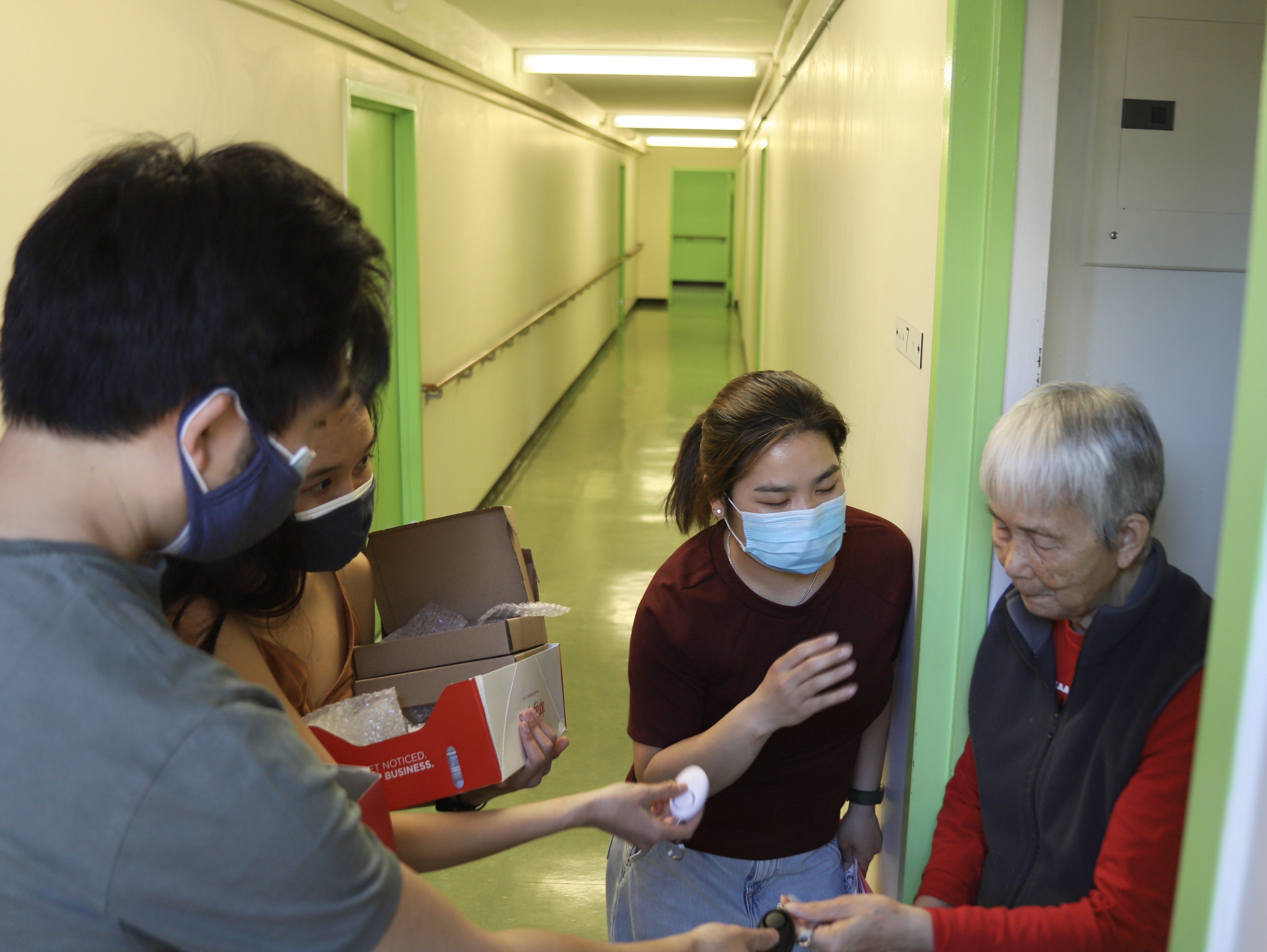 On April 8th, Michelle Tran, a Mount Sinai medical student, and her 8th grade Apex for Youth mentee, Tiffany Yuen, fundraised money to purchase and distribute safety alarms and printed booklets about responding and reporting hate crimes for seniors. Saddened by the recent escalation of Anti-Asian violent hate crimes and discrimination across the country and the disproportionate targeting of elderly and women, Michelle and Tiffany were spurred to action. Their initiative, which they have named Soar Over Hate, aims to equip vulnerable Asian elderly, women, and LGBTQ+ in NYC with self-defense materials to make them feel more safe walking around the city.
Around 200 safety alarms and 150 hate crime reporting booklets (one per household) were hand delivered to seniors at Hong Ning House for the Elderly. While distributing safety alarms, their team of volunteers did a brief tutorial on how to use the safety alarm. They emphasized that, if the seniors ever felt unsafe, they could pull the gray lanyard off and an alarm will sound attracting attention. The "How to Report a Hate Crime" booklets distributed were dual language pamphlets in English and Chinese curated by Esther Young Lim. We encouraged seniors to refer to the booklets themselves or have family members or home care aides read it to them.
If anyone is interested in supporting or learning more about their Soar Over Hate initiative to protect AAPI elderly, women and LGBTQ+ in NYC, visit their GoFundMe page or Instagram page.
Michelle Tran is part of the Asian Pacific American Medical Student Association (APAMSA) and worked with Jessica Lee, Howard Chen, and Priscilla Fok (Hong Ning wellness coordinator) to organize a group of bilingual volunteers from six different NY-area medical schools to conduct weekly 1:1 wellness check-in's with Hong Ning seniors during the peak of the pandemic. We are happy to reconnect with Michelle and her team and support their initiative.
https://www.gofundme.com/f/alarms-pepper-spray-for-aapi-seniors-and-women
Thank you David Cirillo and Sheng Lin for the photographs.