CPC Staff and Community Members Meet with Nearly 40 Elected Officials at 5th Annual City Advocacy Days
Main Content
CPC Staff and Community Members Meet with Nearly 40 Elected Officials at 5th Annual City Advocacy Days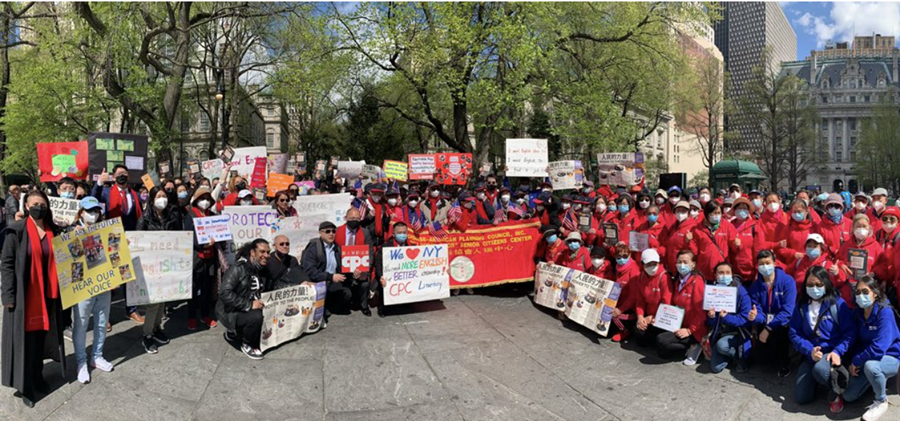 Over 400 CPC Staff and Community Members Rally and Meet with City Elected Officials to Discuss Community Needs on 5th Annual City Advocacy Days
On April 26th and April 27th, CPC held its 5th Annual City Advocacy Day, meeting with city elected officials and their staff, and rallying at City Hall with over 400 staff and community members in attendance. CPC staff and community members discussed how CPC has been supporting our communities during COVID-19, why it is critical that we fund our programs and human services staff, the increase in AAPI hate, and how we need to invest in AAPI's long term healing and recovery. 
City elected officials we met with include: Comptroller Lander, Public Advocate Williams, Manhattan Borough President Levine, Council Member Avilés, Council Member Brewer, Council Member Brooks-Powers, Council Member Cabán, Council Member Gennaro, Council Member Hudson, Council Member Hanks, Council Member Kagan, Council Member Krishnan, Council Member Lee, Council Member Menin, Council Member Nurse, Council Member Paladino, Council Member Powers, Council Member Restler, Council Member Riley, Council Member Salamanca, Council Member Schulman, Council Member Ung, Council Member Velázquez, and Council Member Won.
Thank you to the Council Members, Comptroller, Public Advocate, Borough Presidents, and staff that met with CPC to discuss our community needs.
The press conference was held on City Hall Plaza. You can watch the Instagram livestream here.
The following priorities were shared with city elected officials and their staff:
Provide relief for essential human services staff through the Just Pay campaign
New York City's 40,000 contracted human services workers have been essential workers throughout this crisis, providing critical services on the frontline as well as remotely. We urge the City to:
Establish, fund, and enforce an automatic annual cost-of-living adjustment (COLA) on all human services contracts in order to begin to chip away at the poverty wages the City pays the majority of the workforce.
Set a living wage floor of no less than $21 an hour for all City and State funded human services workers.
Create, fund, and incorporate a comprehensive wage and benefit schedule for government contracted human services workers comparable to the salaries made by City and State employees in the same field.
CPC is a member of the Human Services Council and the Just Pay campaign and endorses their platform.
Maintain social services and safety net programs
Our organization and programs have always been critical in supporting vulnerable and hard-to-reach communities, but during the COVID-19 response and recovery, CPC is key to ensuring that communities of color, immigrants, and low-income New Yorkers are not further isolated or marginalized. We urge the City to:
Maintain funding levels from FY20 and allow providers the flexibility to modify services for emerging and changing needs during the pandemic. Cutting services will only delay economic recovery and further institutionalize the racial and economic segregation our communities face.
Restore funding to critical programs, including early childhood and youth programs, senior services, and all Council Initiatives (such as Access Health NYC, Adult Literacy Program, Geriatric Mental Health Initiative, and legal services initiatives).
Prioritize funding for support services and programs that keep communities whole, rather than funding the continued over-policing of communities of color and immigrants.
CPC is a member of United Neighborhood Houses, Live On New York, Coalition of Asian American Children and Families, and FPWA and endorses their platforms.
Support Limited English Proficient communities and Asian Americans facing discrimination 
During COVID-19, many community members are unable to receive the resources and services they need because of the lack of translated materials and interpreters.  At the same time, the increase in anti-Asian discrimination is causing deep harm in Asian American communities, approximately half of whom are limited English proficient. We urge the City to: 
Enhance the AAPI Community Support Initiative to $6 million to address anti-Asian discrimination by investing in Asian American led organizations that have deep roots and track records in the most impacted communities.
Invest in community-based organizations that bridge the language divide to provide essential services, information and access to City resources. These organizations must be kept whole in order to reach communities living in linguistic isolation. 
Fully fund Adult Literacy programs, the gateway to all other services for LEP New Yorkers by doubling baselined funding to $27 million, doubling the Adult Literacy Pilot funding to $5 million and renewing $4 million for Adult Literacy Council Discretionary Funding
Expand the Summer Youth Employment program to ensure universal summer jobs to every young person that wants one, including fully funding program costs and good wages for program staff and youth participants, including undocumented young people.
Invest $25 million in implementation and outreach for immigrants participating in upcoming municipal elections through Our City, Our Vote.
CPC is a member of United Neighborhood Houses, Live On New York, Coalition of Asian American Children and Families, the Asian American Federation, the New York Immigration Coalition, and FPWA and endorses their platforms.
Build a collective vision for dignity, justice, and care through the People's Plan platform
CPC is an anchor organization of the People's Plan, a platform on intersectional issues from housing to education to anti-criminalization built by over a hundred organizations citywide. We endorse the People's Plan and call for its implementation in the budget.
Education: build a public education system that prioritizes the most marginalized students through decriminalizing schools, supporting student mental health, investing in culturally responsive education, keeping schools public and fully funding equitable education, and centering student inclusivity, and providing universal full day education options from birth to graduation.
Housing: ensure safe, accessible and affordable housing for all by offering rental assistance programs, prioritizing supportive and low income housing, repairing NYCHA buildings, creating a collaborative land use process, and establishing protections for immigrant tenants.
Anti-criminalization: investing in support and resources outside of the criminal legal system including creating alternative crisis response systems, reallocating funding from policing to safety net and supportive services, ending surveillance especially of immigrant communities, and focusing on harm reduction.
Economic Justice: ensuring a shared, caring economy through pandemic relief programs, expanding labor protections, ensuring good jobs for all, protecting small businesses and offering universal childcare.
Healthcare: building an affordable, culturally and linguistically affirming healthcare system through equitable vaccine distribution, a comprehensive mental health system, and funding public hospitals and community health providers.
Transit: improving street and signal design for better bus and public transit, funding low cost public transit and fair fares, promoting accessible transit for all New Yorkers, reorganizing parking and street space for sustainable transportation
Climate: investing in environmental justice and green infrastructure through a climate resiliency plan, green jobs package, reducing waste emissions, and investing in renewable energy.
--
Press Mentions
NPR/WNYC "Morning Edition" (4/29)
World Journal "華策會倡導日集會 呼籲市府確保移民社區撥款" (4/28)