Wayne Ho Named to Schneps Media's 2023 Brooklyn Power List
Main Content
Wayne Ho Named to Schneps Media's 2023 Brooklyn Power List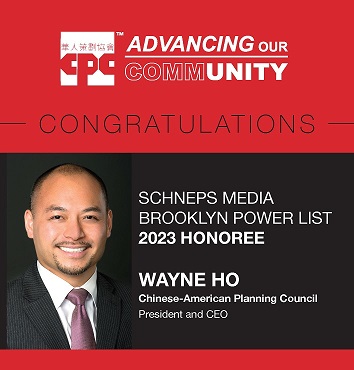 On January 26th, Schneps Media published the "2023 Brooklyn Power List" and CPC's President & CEO, Wayne Ho, was one of the honorees. A dinner event was hosted that night to celebrate and honor the most influential individuals in the region for their commitment, impact and influence in the community.
Q&A with Mr. Ho:
What has been your best moment in business?
The best moment is seeing the impacts that the Chinese-American Planning Council's programs have on community members — from the child who learns to read and the youth who is the first person in their family to go to college to the immigrant who gets a dream job and the senior who moves into quality, affordable housing.
What is your secret to success?
A mentor told me that you have to look forward to Monday mornings as much as you look forward to Friday afternoons. I've been fortunate to have jobs where this motto has been true. From this perspective, I have been successful because I build strong teams of dedicated, strategic, thoughtful, and hard-working colleagues who do what is right and who are not afraid to tell me when I'm wrong.
Who inspires you?
I am inspired every day by my wife who is a pediatrician in a health clinic, our two children who experience the world with such joy and intrigue, and my organization's community members who may have struggles but strive to improve the well-being of their families.
Click here to see the full list of honorees.
Press coverage: Brooklyn Paper