CPC Co-Founder Speaks About Chinatown with New York Magazine
Main Content
CPC Co-Founder Speaks About Chinatown with New York Magazine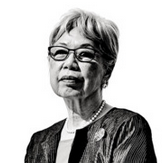 The September 21, 2015 issue of New York Magazine featured the article "How Has Chinatown Stayed Chinatown?" by Nick Tabor.
The article covered the changing nature of Manhattan's Chinatown; the gentrification of storefronts and the community and how the roots of local Chinatown community members keep the original Chinatown alive.
The Chinese-American Planning Council, Inc.'s (CPC's) co-founder Virginia Kee was quoted in the story:
"We have built our town, our families, our businesses by lifting our own bootstraps."
CPC is proud of our 50 years in Chinatown, providing services, skills and resources to our Chinese-American, immigrant and low-income communities.
To read the full article please click here.
Photo of Virginia Kee (as seen on nymag.com) by: Bobby Doherty/New York Magazine