Brooklyn Community Services Announces 2016 Gala Honorees
Main Content
Brooklyn Community Services Announces 2016 Gala Honorees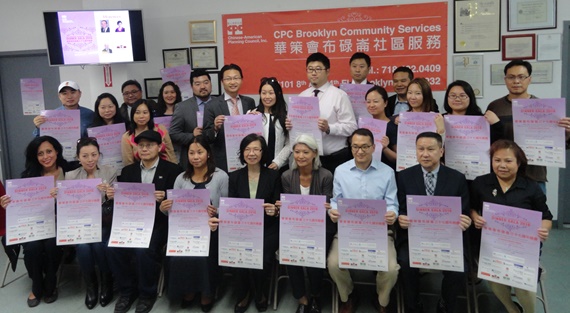 CPC Brooklyn Community Services will celebrate their 37th year of service to the Brooklyn community on October 20, 2016 at New Spring Garden Restaurant. Not only will we be celebrating the countless smiles we have brought throughout Brooklyn, we will also be honoring four outstanding community leaders - Carlo A. Scissura, President & CEO of the Brooklyn Chamber of Commerce; Kenneth Gibbs, President & CEO of Maimonides Medical Center; Alice Lee, Assistant Principal of P.S.105 and Kwok Shing Hong, Inc.
During the October 6, 2016 press conference ,CPC Interim President & CEO, Janice Won, said of the honorees, "I wish to congratulate our team in Brooklyn for their 37th Year Anniversary Dinner Gala, a celebration and culmination of their years of hard work in ensuring that the clients we serve in the flourishing borough of Brooklyn are able to reach their goals and live their dreams, uninhibited by the barriers of language and race. I would also like to congratulate their incredible honorees of 2016, Carlo A. Scissura, Kenneth Gibbs, Alice Lee, and Kwok Shing Hong Inc., whose many accomplishments and activism have directly benefited the lives of countless individuals and their families. CPC will continue our commitment to serve as a vital and trusted resource, dedicated to promoting economic selfsufficiency for those in need for many years to come."
Wai Yee Chan, Director of CPC Brooklyn Community Services also expressed her thanks to the many supporters of CPC's work in Brooklyn. "CPC would like to express its sincerest gratitude to all our sponsors and supporters, many of whom are also at the forefront of community development. I believe that through our continued partnership in the coming years, true progress can be achieved in our goals to eliminate barriers and inequalities in Brooklyn. The needs of the Chinese Americans, immigrant and low-income communities we serve are constantly growing and it is imperative we as a whole can support the many organizations working desperately to meet them."
Carlo A. Scissura, President & CEO of the Brooklyn Chamber of Commerce
Carlo A. Scissura is the President and CEO of the Brooklyn Chamber of Commerce. Throughout his career, Carlo has launched a number of highly innovative and successful programs and initiatives, including Explore Brooklyn, Brooklyn-Made and Chamber on the Go. With Carlo's help, the Chamber's efforts have been widely recognized for creating national models for business development, outreach and technical assistance, and regional branding.
Kenneth Gibbs, President & CEO of Maimonides Medical Center
Kenneth D. Gibbs is the CEO of Maimonides Medical Center and had achieved notable, innovative work within the medical community of Brooklyn. Kenneth advanced Maimonides into one of only 26 hospitals in the nation to achieve outstanding patient outcomes in the categories of heart attack, heart failure and pneumonia. Maimonides Medical Center was ranked as one of "Top 10" hospital in all three categories.
Alice Lee, Assistant Principal of P.S.105
Alice Lee has been the assistant principal of P.S. 105 for 16 years. She is the first Chinese-speaking immigrant to become an administrator in District 20 in Brooklyn. She possesses the passion to help the children of the Chinese immigrant population in the Brooklyn Sunset Park area. Coming to America as a teenager, Alice understands the hardships of assimilating into the western culture firsthand. Her goal is to help immigrant parents understand the importance of being involved in their children's education and how to better it. Alice is a firm believer of Bilingual Education. At P.S.105, she supervises one of the largest Chinese Bilingual programs in the elementary schools in District 20. The P.S. 105 Chinese-Bilingual Program aims to bridge the cultural gap between the western culture and the eastern culture for many of the American-born and immigrant Chinese students.
Kwok Shing Hong, Inc.
Kwok Shing Trading Co., Inc. was established in 1985 by William Cheung and his wife. They are known for their import wholesale of Chinese herbs and health food items. Kwok Shing Trading Co. actively participates in various community events, continues to provide local job opportunities, and frequently participates in charity events to promote health awareness to the public especially to seniors.
CPC would like to thank your generous support and interest in participating in the Brooklyn Community Services 2016 Gala. It is due to your generosity that the event is now sold out. We look forward to having you all join us at the CPC 52nd Annual Lunar New Year Gala. Please check our event page for updates.