Embracing Diversity in the Immigrant Community
Main Content
Embracing Diversity in the Immigrant Community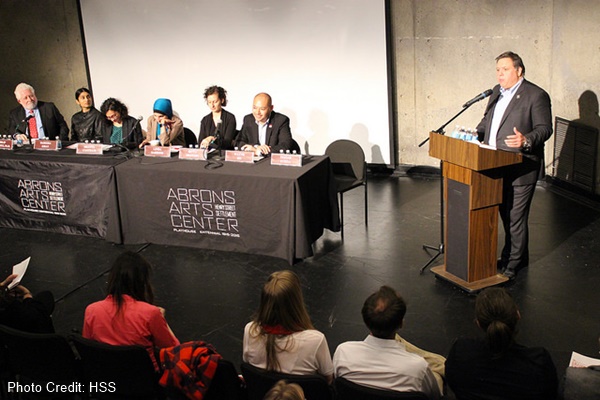 On May 17, 2017, CPC President & CEO, Wayne Ho, spoke at the Second Annual Lillian Wald Symposium, hosted by Henry Street Settlement. The Symposium, "Immigrant New York: The New Majority: Policy, Politics and Programs," focused on immigration issues in New York, such as the impending federal policies, potential implications and services that are needed to address the growing concerns of immigrant communities. The panelists included Shanna Castillo, founder of Love Trumps Hate Sunset Park; Zeinab Eyega, Executive Director of Sauti Yetu Center for African Women and Families; Philip Kasinitz, Ph.D., Presidential Scholar of Sociology, CUNY Graduate Center; Baseera Khan, a 2017 Artist in Residence at the Abrons Arts Center; Bitta Mostofi, Assistant Commissioner of the NYC Mayor's Office of Immigrant Affairs; Linda Sarsour, racial justice/civil rights activist and former executive director of the Arab American Association of New York; and Wayne Ho, President and CEO of the Chinese-American Planning Council. The panel was moderated by David Garza, Executive Director of Henry Street Settlement.
Mr. Ho brought the voice of the Asian Pacific American community to the panel. During one point of discussion, Mr. Ho noted that Chinese immigrants were the first group to face legalized anti-immigrant discrimination through the Chinese Exclusion Act in 1882. The Chinese Exclusion Act was later repealed in 1943, but a quota on Chinese immigrants entering the country was still in place until the passing of the Immigration and Nationality Act of 1965. This law led to an influx of Chinese immigrants into the US., and in response to this influx, CPC was founded in 1965.
The symposium concluded with the message that coalition building and solidarity must remain strong during these troubling times.