CPC Assistant Program Director Recognized at 2nd Annual COMPASS Cares Afterschool Professionals Breakfast
Main Content
CPC Assistant Program Director Recognized at 2nd Annual COMPASS Cares Afterschool Professionals Breakfast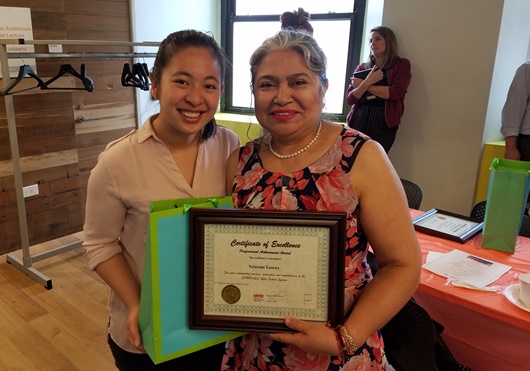 On Thursday, May 25th, 2017, CPC Homcrest School-Age Child Care Center at P.S. 153 Assistant Program Director, Yolanda Suarez was invited to the Second Annual Department of Youth and Community Development's (DYCD) Comprehensive After School System of New York City (COMPASS) Cares Recognition Breakfast in recognition of her nomination as a DYCD COMPASS Cares Afterschool Professional. Mrs. Suarez was among 25 deserved nominees from COMPASS programs around New York City. Each nominee all had one thing in common -- a true sense of commitment to the care and development of our youth in their programs. They all have an undeniable passion to serve the youth and the community.
Mrs. Suarez started with CPC's Homecrest SACCC at P.S. 153 in 1999. Her commitment to supporting positive youth development in the program is demonstrated through the 17 years she's dedicated in this program; taking upon various roles from an educator to a parent coordinator (in the day time school) and assistant program director. With our program's students, she has not only provided academic support, she encourages our students to chase their dreams, and importantly, instill upon them moral values -- honesty, respect, and kindness. She is an after-school professional who provides and encourages young people to take opportunities so they can excel as individuals. Additionally, the number of families she has impacted through the years is countless. Whenever, families need a voice, she was their voice. The staff at CPC's Homecrest SACCC describe her as Wonder Woman - compassionate, opinionated, outgoing, and fearless. She has goals, and she stays focus to those goals.
We are all proud of her and grateful for her dedication to our program.