CPC Queens Community Services Announces Partnership with GetCoveredNYC
Main Content
CPC Queens Community Services Announces Partnership with GetCoveredNYC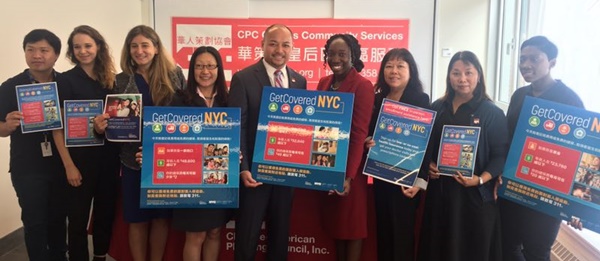 On September 21, 2017, CPC and New York City's GetCoveredNYC announced that they will partner to provide health insurance assistance to the residents of Queens Community. GetCoveredNYC outreach teams will proactively engage eligible residents and inform them of health insurance options that may be available to them, and encourage them to apply. Specialists will then schedule individuals for an enrollment appointment and case-manage each applicant through the entire process.
A Certified Application Counselor (CAC) from the NYC Department of Health and Mental Hygiene (DOHMH) will help residents and families to sign up for low or no-cost health insurance and explain health insurance and medical care options regardless of immigration status at CPC Queens Community Center, every Friday, 9-4PM.
CPC looks forward to working together with GetCoveredNYC and commends the city for its efforts to secure quality coverage and care for residents in the Queens community.
For more information on GetCoveredNYC please see the flyer below.
For more information on CPC Queens Community Center click here
For coverage by NY Nonprofit Media click here