CPC Co-Sponsors Flushing Town Hall with Mayor de Blasio
Main Content
CPC Co-Sponsors Flushing Town Hall with Mayor de Blasio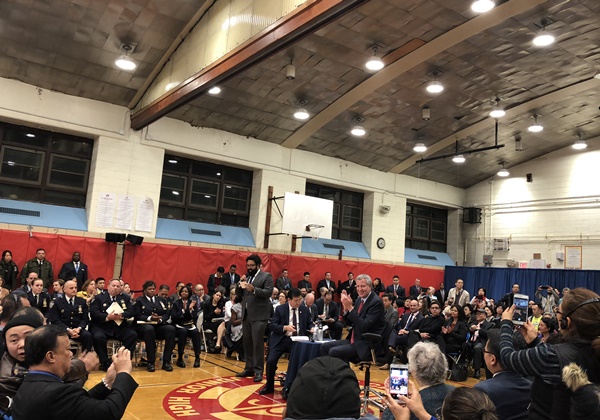 On November 21, 2017, CPC was proud to co-sponsor a District 20, Flushing, town hall featuring NYC Mayor Bill de Blasio, NYC Councilmember Peter Koo, and other City commissioners. Queens Borough President Melinda Katz, NY State Assemblyman Ron Kim​, ​and NY State Senator Toby Ann Stavisky​ ​also spoke at the event.
The town hall focused on updating constituents on City Hall initiatives and taking questions from the community. The Mayor spoke about the One Flushing affordable housing development and the recently expanded sidewalks along Main Street. There was also talk about increasing mass transit such as Select Bus Service, ferry service, and light rail in-between Brooklyn and Queens.
The town hall was co-sponsored by Asian Americans for Equality, Chinese-American Planning Council, Inc., Flushing Chinese Business Association, Korean American Family Service Center, Queens Community Board 7, South Asian Council for Social Services, and Union Street Merchants Association.