Thousands March for Salary Parity, CPC Demands Pay Parity at City Hall
Main Content
Thousands March for Salary Parity, CPC Demands Pay Parity at City Hall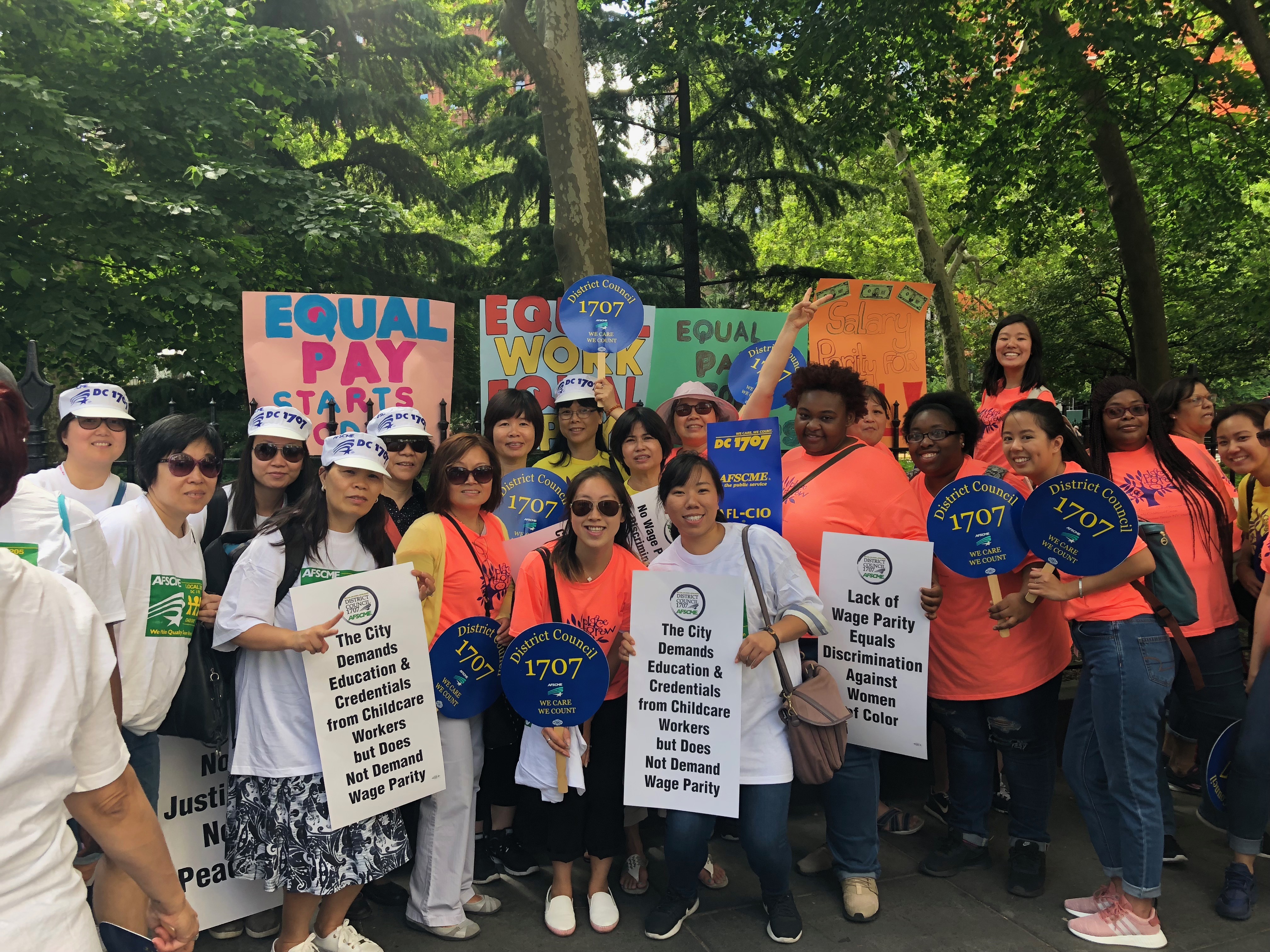 On Wednesday, June 20th, over 4,000 Early Childhood Education community-based providers, teachers, union members, and allies marched from Battery Park to City Hall to add increased urgency to the salary discrepancies between community providers and Department of Education educators.

Community-based Early Chilldhood programs are required to be staffed with equally credentialed and experienced educators and teachers. Community-based programs, like the ones offered at CPC, also work more hours throughout the year because they are open when DOE programs close for the summer. However, despite equal experience, credentialing, and additional hours, community-based providers are paid far less than their counterparts in public schools.
For example, a certified head teacher in a 3 year old classroom in a community-based organization has a starting salary of $46,920 while a certified teacher in a public school starts at $61,894. After time, these disparities grow wider. With eight years of experience, a public school teachers' annual salary will have grown to slightly over $81,042 while a teacher in a community based program will be earning just $48,920. Community-based providers are also not provided the same privileges and resources as DOE programs and directors often must oversee facilities, busses for transportation, and operations in addition to their full staffing responsibilities.
Teachers in community-based programs often serve children from low-income, immigrant families and provide culturally competent and linguistically sensitive programming to support children in their growth. Importantly, community-based programs also support the whole family, by connecting parents with the services and supports that empower them and helping them navigate the school system and other critical information.
Despite these disparities, many CPC staff have dedicated years of their careers to community-based programming. Over 100 CPC Childhood Development Services and Asian Child Care Resource and Referral staff joined the march and rally in solidarity.Speakers Mary Cheng and Lois Lee testified on the important role that community-based providers play for low-income, immigrant families.
One week later, on Wednesday, June 27th, CPC testified at a City Council joint General Welfare and Education Committee hearing. Lois Lee and Carlyn Cowen testified in front of City Council on the same issue. As the city plans to move Early Childhood Education from ACS to the DOE, CPC urges the Mayor to follow the City Council's recommendations and address the historic pay discrepancies for community-based providers.
To learn more about CPC's Childhood Development Services, please click here.