Carlyn Cowen and Bryan Lucero Graduate from Coro's Immigrant Civic Leadership Program
Main Content
Carlyn Cowen and Bryan Lucero Graduate from Coro's Immigrant Civic Leadership Program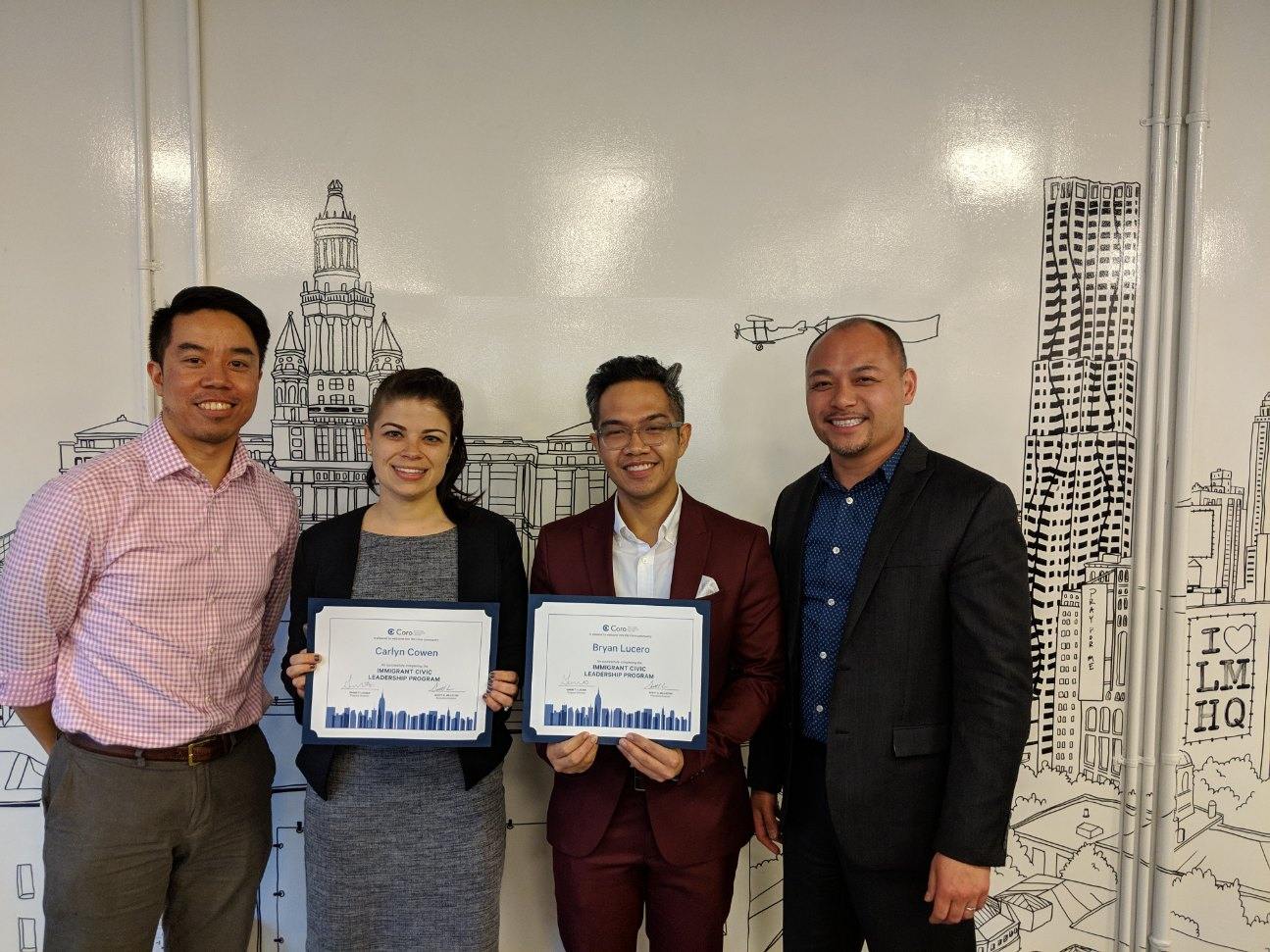 In April, Carlyn Cowen, CPC's Chief Policy and Public Affairs Officer, and Bryan Lucero, Program Director of CPC LEAD, graduated from Coro New York Leadership Center's Immigrant Civic Leadership Program. They were joined by President and CEO Wayne Ho (Coro Board Member/program alumnus), and Brian Chen, Director of Education and Career Services (also a program alumnus).
"Coro allowed me to explore my leadership potential in such a deeply introspective and challenging environment with an amazing cohort of social change makers." - Bryan Lucero
In partnership with the New York Immigration Coalition, the program provided 20 organizational leaders and emerging changemakers- including Carlyn and Bryan- with a deeper understanding of policy and decision making in NYC; the skills to lead change in their organizations and communities; and a network of engaged and influential alumni. Over the past 9 months, Carlyn and Bryan were actively engaged in leadership and strategy sessions to build their individual and collaborative capacity for practicing leadership, and explored key topics to help them understand and navigate current issues facing immigrant communities.
"At the political moment we are in right now, being in Coro with an amazing group of immigrants rights advocates, including a CPC colleague, was exactly what I needed to build community in our shared fight." - Carlyn Cowen
CPC congratulates Carlyn and Bryan on their accomplishments as they join a growing list of CPC Coro alumni!