Jeff Lau Receives UNH Award for Achievement in Civic Advocacy
Main Content
Jeff Lau Receives UNH Award for Achievement in Civic Advocacy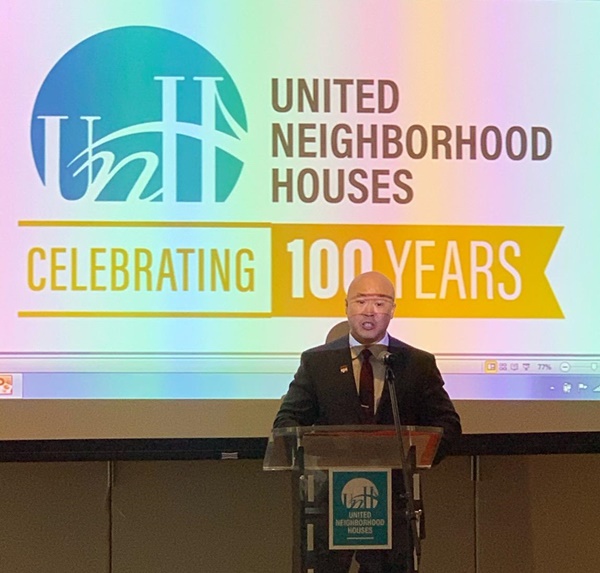 On June 18, 2019, CPC Adult Literacy instructor Jeff Lau was awarded with the 2019 UNH Award for Achievement in Civic Advocacy during the 100th birthday celebration of United Neighborhood Houses (UNH). The UNH Award for Achievement in Civic Advocacy is given to one settlement house staff member from over forty member agencies across NYC.
Mr. Lau is one of CPC's Adult Literacy instructors. He brings real life situations, community interactions, and civic engagement into his classroom to enhance his lessons and empower students to become better advocates for themselves and their families. Adult Literacy is often threatened with budget cuts, giving the students an immediate and real-life lesson on the importance of civic education and advocacy. Using the skills they learned in class, CPC's Adult Literacy students are able to share their opinions and the importance of funding for adult education during City Council hearings, rallies, and with their fellow community members so they can be informed as well. Mr. Lau has demonstrated that everyone can be an advocate, that their level of English should never hold them back from speaking out on the issues that impact them directly, and that everyone is an expert on their own story and life experience.
"Thank you all so much for your kind words and support! As I said when I first came on board CPC, I understand that I'm joining an organization that is moving our community and society towards a better and more equitable future. I understand that there is much I still need to learn but with what I have, I will try to improve our community as best as I can. I got here with your leadership, inspiration, and guidance. You are my role models! Thank you for everything!" said Mr. Lau.
CPC is proud of Jeff and his dedication to our community.
CPC also congratulates UNH on 100 years of advocacy for New York communities.