CPC Brooklyn Community Services Public Charge Forum
Main Content
CPC Brooklyn Community Services Public Charge Forum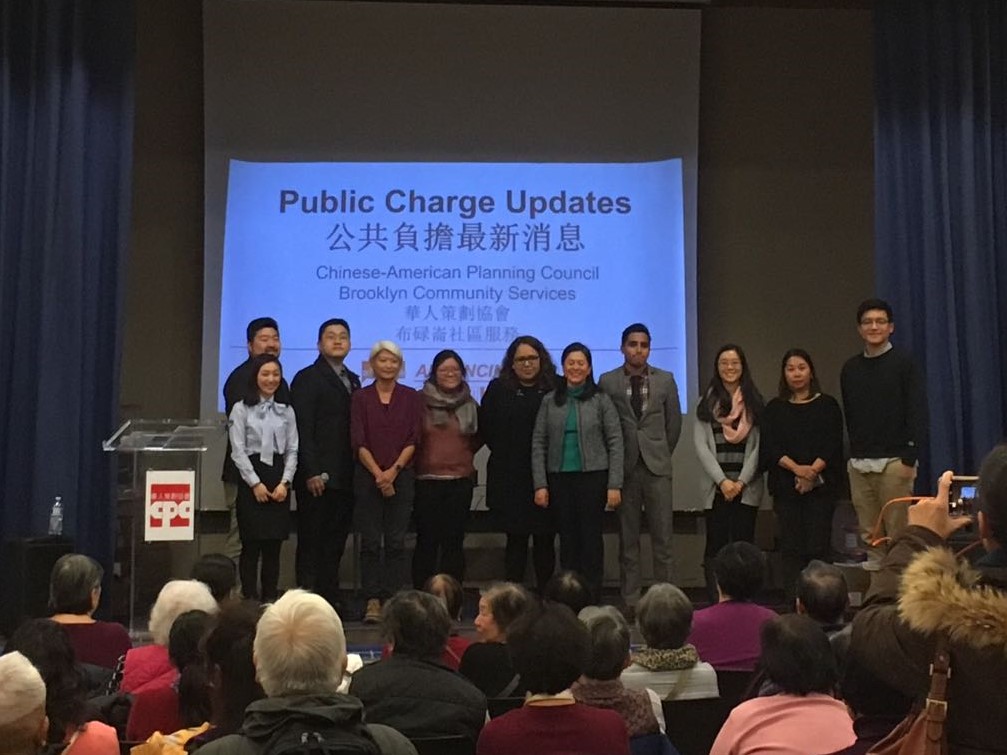 On Wednesday, December 11th, 2019, CPC Brooklyn Community Services in collaboration with CPC Brooklyn Education and Career Services held a forum on a very important topic: Public Charge. In recent years, the administration has put forth a series of policy changes that affect immigrants and low-income communities. The public charge expansion is one of many that have been proposed by the administration. The policy changes includes adding additional public benefits as well as increasing its scrutiny on other factors in the public charge test.
Luckily the new changes are currently NOT IN EFFECT! Preliminary injunctions have prevented the new policy from going into effect. This is a win for our communities! However, it is important to learn what is in the new public charge policy. Therefore, we partnered with Office for New Americans (ONA) and Immigrant Justice Corps (IJC) to host a public charge forum. After the presentation, members of the community were able to speak with an immigration attorney from ONA or a Department of Justice Accredited Representative from IJC.
Although it snowed in the morning, we had a great turnout! Many members of our community came out to learn the facts about public charge.
---
We would like to thank Brooklyn Crafted for sponsoring our Public Charge Forum and providing Liang Cha or Herbal Tea to all the community members.
We would like to thank the following representatives for stopping by and supporting our event: Karman Chao from NYS Senator Zellnor Myrie's office, Irene Chu from Assembly Member Peter Abbate's office, Lorena Lucero from Council Member Carlos Menchaca's office, and Wai Yee Chan from Council Member Justin Brannan's office.
---
If anyone is interested in learning more about public charge or other immigration-related topics, please call CPC Brooklyn Community Services, Ms. Shuping Deng, (718) 492 - 0409 ext. 313 or sdeng@cpc-nyc.org.