CPC Policy and Advocacy Priorities- New York State FY20-21
Main Content
CPC Policy and Advocacy Priorities- New York State FY20-21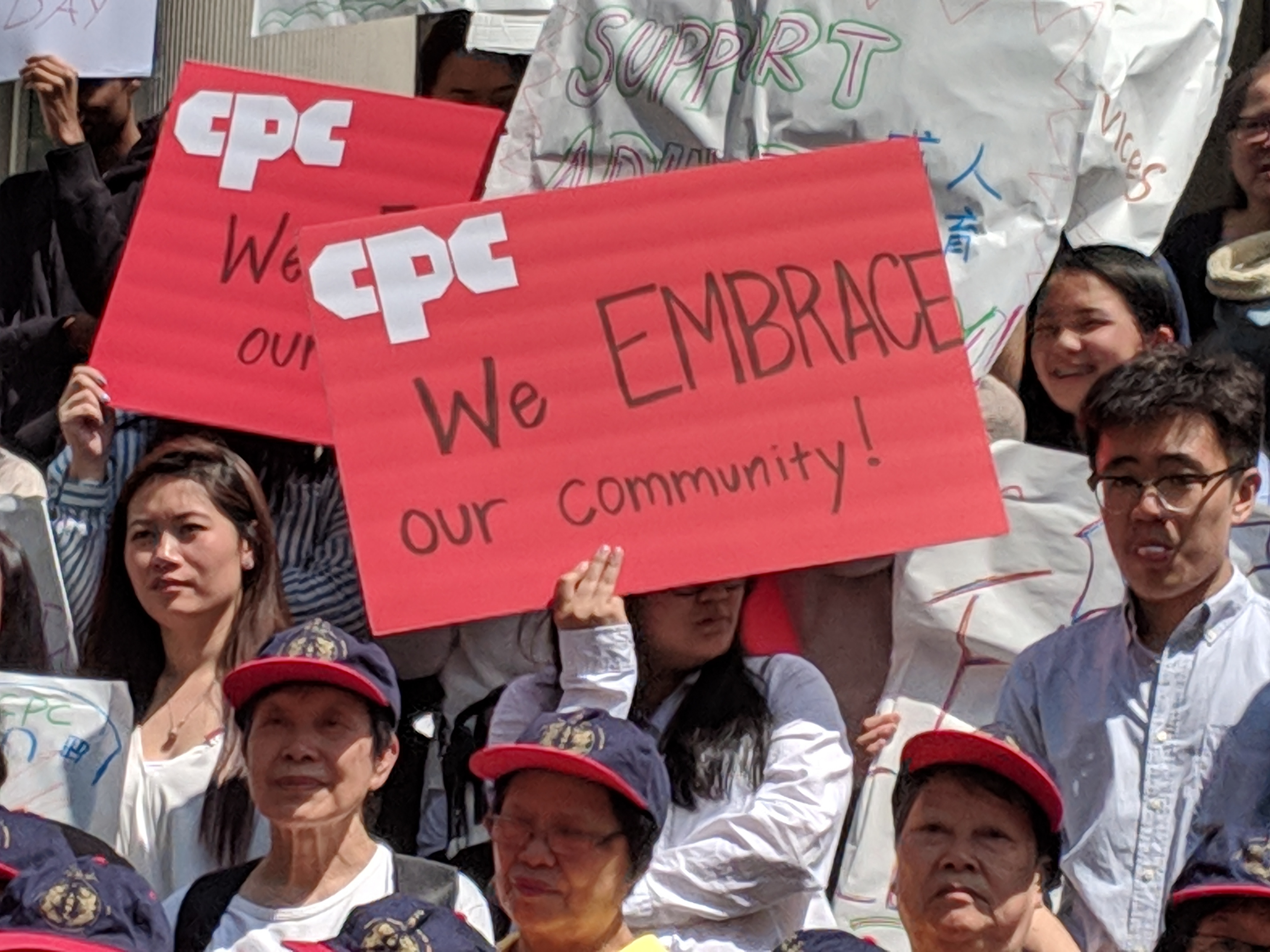 Founded in 1965, CPC is a social services organization that creates positive social change. We empower Asian American, immigrant, and low-income communities in New York City by ensuring they have equitable access to the resources and opportunities needed to thrive. To that end, we advocate for the following policy agenda, informed by our annual listening tour and survey of staff and community members.
ADVANCING OUR COMMUNITY
We promote social and economic empowerment for Asian American, immigrant and low-income community members.
Immigrant Justice: At a time when immigrant New Yorkers increasingly need legal services for immigration, housing and employment, it is critical to ensure access to information, resources and counsel. In New York City, 20% of all active immigration court cases are Chinese. Simultaneously, low-income, immigrant communities and communities of color experience an unfair share of profiling, surveillance, and punitive fines and fees, leading to unjust arrests and over-incarceration. CPC supports:
Passing the Access to Representation Act;
Enhancing the Liberty Defense Fund from $10 million to $20 million;
Increasing Office of New Americans Opportunity Centers funding to $10 million and reinstating the previous, successful ESOL gateway model;
Passing the "Protect Our Courts Act" (S.425/A.2176) to halt the 1700% increase in ICE arrest attempts when immigrants visit our courthouses;
Passing "Preclude Confessions Obtained by Deceptive Tactics" (S.6806),
Passing the Charitable Bail Reform Bill to reduce the pre-trial jailed population;
Passing the "Right to Jury Trial by All" Act (S.33/A.3462) to provide the right to a jury of one's peers for all misdemeanors in New York City (except Class B and unclassified misdemeanors).
Healthcare Access: Inequitable access to healthcare is a key issue in our communities, where one in five Asian Americans is uninsured, and many more are underinsured. CPC supports measures to expand coverage and services in the short term, while calling for universal guaranteed healthcare. CPC supports:
Preserving and expanding Medicaid services, through raising additional revenues via wealth and corporate tax, and protecting consumers from loss of coverage or services as a result of potential Medicaid cuts and ensuring access to care coordination and needed services; equity in health outcomes by investing in culturally-competent, community-based, accessible care and services;
Ensuring that Medicaid programs like home health care are fully funded with adequate wages and rightsizing Medicaid reimbursement so providers are fully compensated for the services;
Expanding the Essential Plan to cover undocumented New Yorkers;
Passing the New York Health Act (A4738/S4840) to establish a universal, publicly financed single pay health plan to provide comprehensive health coverage for all New Yorkers regardless of age, immigration status, or financial status.
Housing & Mobility: CPC's community members are rooted in neighborhoods prone to gentrification and displacement. Asian Americans have the highest rate of overcrowded housing in New York, and evictions, homelessness, shift housing, and other informal housing arrangements are common. For immigrant and LEP community members, predatory landlords and hard-to-navigate systems make housing even more tenuous, while a lack of culturally and linguistically appropriate services and gentrification push people out of their neighborhoods. Low-income, immigrant and communities of color are disproportionately affected by transportation deserts, ADA inaccessible stations, and disrupted public transportation, while simultaneously burdened with fair hikes that rise faster than wages and punitive fare evasion policing that criminalizes working class New Yorkers. Through the Housing Justice for All Coalition and Riders Alliance Fix The Subway Campaign, CPC supports:
Passing the good cause eviction bill;
Passing universal rent control;
Passing the Housing Stability Support program that provides $40 million for public assistance-eligible families and individuals facing eviction or homelessness;
Investing $10 million to provide service coordination in senior affordable housing services;
Divesting from fare evasion policing by strengthening and amending the "lockbox" bill to ensure MTA investments prioritize increased services and more accessible stations.
Economic Equity: Asian Americans experience the highest poverty rate of any racial and ethnic group in New York City. CPC supports measures to promote the economic empowerment of our community members, ensure access to banking, and freedom from debt and predatory lending. CPC also supports raising revenues to fully fund the needs of people of color, immigrants and low-income New Yorkers, requiring wealthy New Yorkers to pay their fair share and creating a more equitable State:
Passing the Inclusive Value Ledger, a peer-to-peer savings and payments platform that would create direct, digital access to tax credits, benefits and public programs;
Removing the 2% self-imposed global spending cap;
Adding expanded brackets to the Millionaire's Tax, and making it permanent;
Enacting a CEO tax on CEOs who earn 30 times the amount of their lowest-paid employee;
Creating a Pied A Terre tax that discourages and mitigates the displacement of long-term residents;
Establishing a vacancy tax to support the small-business owners who rent their storefronts.
Representation for Marginalized Communities: Asian American and Pacific Islanders experience disparities in wealth, health, and education, which are not captured through State data that aggregates ethnic subgroups. There is an urgent need for quality, disaggregated data, not just for AAPIs but for all marginalized communities. For example the LGBTQ community, which cuts across all New York State racial, ethnic, and economic groups, also is not captured in State data. Low-income voters and voters from marginalized communities also face barriers to building political power because of antiquated voter policies and Board of Elections systems. To democratize all levels of government and provide better representation for marginalized New Yorkers, CPC calls for:
Repassing the Data Disaggregation Bill;
Having redistricting reform to count incarcerated New Yorkers back in their home districts;
Passing the New York State Voting Rights Act;
Advancing Board of Elections reform;
Passing automatic voter registration;
Repassing same day voter registration and vote by mail and codification of rights restoration for New Yorkers on probation and parole and to restore voting rights for incarcerated New Yorkers;
Creating a 6:1 small donor, public campaign finance match.
HUMAN SERVICES
Through our human services programming, CPC is the trusted partner to more than 60,000 individuals and families striving to achieve goals in their education, family, community and career.
Strong Nonprofits: State-contracted human services agencies provide crucial services to uplift New Yorkers, yet costs go unfunded and wages remain stagnant for a workforce that is primarily staffed by women, people of color and immigrants. As a member of Strong Nonprofits for a Better New York, CPC urges:
3for5: Provide a 3% increase in contracts and rates for the next five years;
Re-establish the Nonprofit Infrastructure Capital Investment Fund (NICIP) with a recurring investment of $100 million and open eligibility to publicly owned spaces operated by nonprofits.
Settlement House Program: The Settlement House Program is a State-level funding stream that provides flexible funding support for settlement houses across New York State for critical services that other contracts do not cover. CPC supports:
Enhancing the Settlement House Program from $2.45 million to $5 million.

Early Childhood Education: While early childhood education has been proven critical to lifelong economic and social success, only 17% of eligible families are served in New York State. New York State can invest in making sure all children have this critical support by:
Creating a new fund which allows localities that use 100% of their State child care allocation without meeting the needs of all income-eligible families to access funds to serve more families;
Allowing Economic Development Funds to be used to support child care programs;
Continuing expansion of the Child Care Tax Credit;
Allocating $5 million to Child Care Resource and Referral (CCR&R) agencies to provide additional hours of programming, training, and support.
Child Welfare: For immigrant families, preventive child welfare programs are critical support structures, particularly for families that come from a different cultural norms around child discipline. CPC supports:
Increase the Open-Ended Preventive/Protective Services State-funded portion to 65/35;
Repassing the Statewide Central Register (SCR) Reform Bill.
Adult Literacy: For many of our immigrant community members, the first step towards economic empowerment is literacy and language access. CPC urges:
Investing $15.3 million in Adult Literacy Education (ALE) to counteract the planned replacement of the English Language Civics program with new programming designed to serve higher-skilled individuals as a result of changes in the federal Workforce Innovation and Opportunity Act;
Investing $10 million in family literacy programs, which allow family members across generations to build literacy skills concurrently;
Restoring $10 million for Office for New Americans legal services and ESOL classes to restore the original model of ONA that uses ESOL as a welcoming gateway
Senior Services: The poverty rate for AAPI seniors is higher than the general population, with ⅓ of AAPI seniors living under the poverty line, and Limited English Proficiency creating isolation. CPC supports:
Investing $13.5 million in New York's home-delivered "meals on wheels" program.