CPC in the News for Supporting Seniors During the State of Emergency
Main Content
CPC in the News for Supporting Seniors During the State of Emergency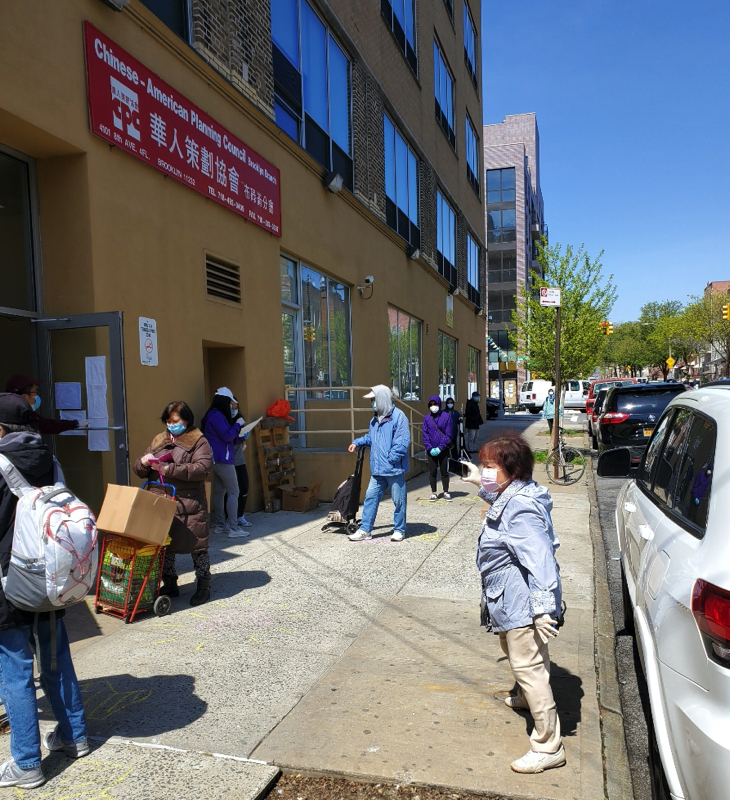 CPC has been profiled by numerous news outlets and magazines, including City and State, Vogue, and Vice, for our efforts to keep seniors fed and healthy throughout the pandemic. With COVID-19 endangering our community, NYC residents have been staying home and practice social distancing, which has helped to slow the virus's spread. For our city's oldest residents, however, self-isolating has brought on another kind of threat: food insecurity.
Thousands of elderly New Yorkers depend on local senior centers like CPC's Open Door Senior Center for their meals, which are normally either provided on site or delivered to their homes. Funded by NYC's Department for the Aging (DFTA), these centers closed in March as a part of the citywide effort to combat COVID-19.
DFTA implemented an emergency meal delivery service for seniors following the closures, but the new program presented challenges for all involved. Many NYC seniors are immigrants with limited English proficiency, for example, and home delivery personnel often do not speak languages like Mandarin or Cantonese. Intermediaries like CPC have been needed to coordinate drop-offs.
As noted in this article by The City, CPC President and CEO Wayne Ho received reports of several missing deliveries from elderly residents after the program's launch. He stressed that closer communication was needed between agencies to ensure our vulnerable seniors got fed. Mr. Ho was also quoted in the New York Post's coverage of the issues plaguing the city's food program and in this Gotham Gazette post, recommending that laid-off food service workers be hired to help provide the elderly with food and other needed supplies.
Many seniors, like the residents of CPC's Hong Ning Housing, rely on the care of a home attendant for their day-to-day needs, including buying groceries. Lacking access to personal protective equipment like facemasks, however, some attendants are no longer willing risk entering homes of seniors. Some senior residents now also refuse services for fear of exposure to COVID-19.
CPC's Chief Policy and Public Affairs Officer Carlyn Cowen highlights the vital importance of homecare providers in this City & State New York post, noting that domestic aides ultimately help keep our seniors alive. She also points out that not having close-contact social interactions – i.e., social distancing – jeopardizes elderly people's wellbeing. See more in this post by The City.
Another difficulty immigrant seniors have faced is accessing foods that they are familiar with, which may differ substantially from government provisions. To help our seniors stay food secure, CPC has partnered with Heart of Dinner (formerly called Table to Table), a neighborhood relief effort that prepares palatable Asian cuisine for New York's elderly. Together, CPC and Heart of Dinner have ensured the delivery of hot, appetizing meals and groceries to elderly residents of immigrant neighborhoods like Chinatown and Sunset Park. Our collaboration has been featured in Grub Street, Eater NY, Vice, Vogue, and Them.
CPC's Brooklyn Community Services has also recently begun connecting boxed grocery deliveries to our community members thanks to a partnership with GrownNYC, Council Member Carlos Menchaca, and South Brooklyn Mutual Aid.
In Queens, meanwhile, seniors from the community have benefited from free groceries donated by online grocer FreshDirect to CPC. See this Queens Daily Eagle story for more.
CPC thanks our partners and all volunteers involved in our food delivery efforts for their contributions to our seniors. Although the pandemic has created unique difficulties for our elderly, they have expressed enormous gratitude for this added care and support.
For recommendations on how policymakers can support older New Yorkers during this crisis, see our previous post here.