Essential Worker Highlight: Shuping Deng, Supervisor of CPC ONA Opportunity Center
Main Content
Essential Worker Highlight: Shuping Deng, Supervisor of CPC ONA Opportunity Center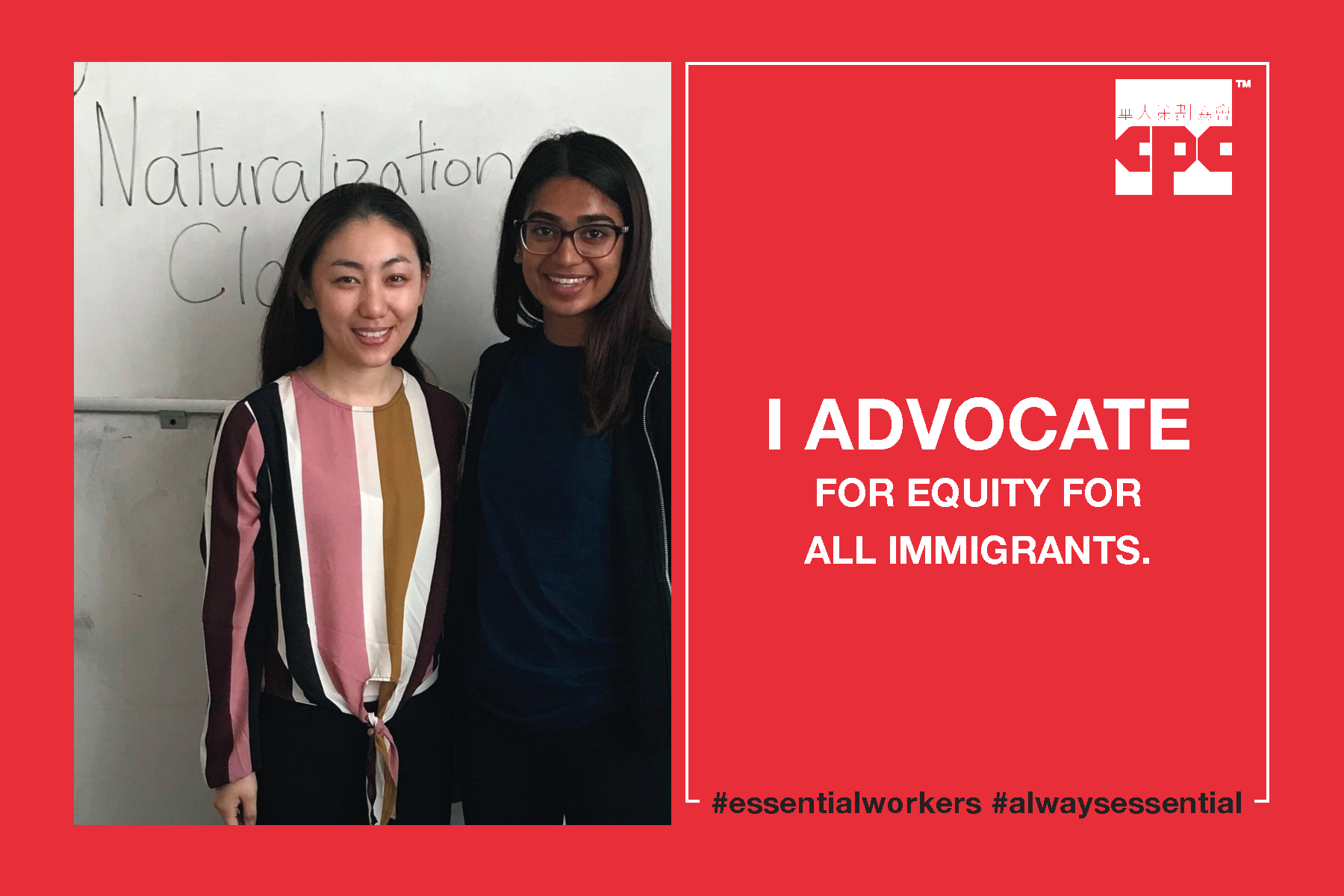 While medical personnel treat the coronavirus in our hospitals, other human service providers and essential workers are ensuring New Yorkers have the resources they need to not only remain safe but also continue to have opportunities to thrive. These individuals, whether working from home or within our neighborhoods, are supporting a strong recovery for those who are too often overlooked, underrepresented, or underinvested in.
The following Q&A took place between Chris Kuo of CPC Leadership Council and Shuping Deng, Supervisor of CPC ONA Opportunity Center, an initiative funded by the Office for New Americans (ONA) that offers immigrants support with naturalization and citizenship.
The CPC Leadership Council is a tight-knit community of business and nonprofit leaders who seek to advance CPC's mission to promote social and economic empowerment of Chinese American, immigrant, and low-income communities.
Join CPC in sharing stories of essential workers using the tag #AlwaysEssential and #EssentialWorkers. 
Essential Worker Highlight: Shuping Deng, Supervisor of CPC ONA Opportunity Center
Chris Kuo, Leadership Council: Tell us about your background and how you came to CPC.
Shuping Deng, ONA Opportunity Center Supervisor: I'm a first-generation immigrant who came to the US when I was three years old. I grew up in Los Angeles with my parents, who didn't speak any English and had no social network in the area. It was hard for them to find work and figure out how to get on their feet, and because of this they always emphasized the importance of getting an education. "Go to college," they would tell me. "We don't want you to live the kind of life that we're living." But no one in my family had gone to college before, so I didn't know how to apply. Fortunately, I found a college access program that guided me through the entire process. I ended up moving across the country to study biochemistry at a school in Pennsylvania. Afterward, I came to New York to work on a fellowship with Immigrant Justice Corps (IJC). IJC is a partner to CPC that works out of our Queens Community Center and Brooklyn Community Center. For two years I traveled between Queens and Brooklyn screening community members for legal needs, helping them with their immigration applications, representing them in court, and making sure they were knowledgeable about the things they were applying for. When immigrants are going through immigration proceedings, the representation they receive tends to not be very good. Being able to provide that kind of support to them was a really fulfilling experience. After my fellowship ended, CPC was awarded a grant by the Office for New Americans (ONA) to provide naturalization and citizenship services in Brooklyn. I joined on as the supervisor of this initiative, which was called the ONA Opportunity Center.
Chris Kuo, Leadership Council: Could you describe the work that you do?
Shuping Deng, ONA Opportunity Center Supervisor: As the program supervisor, I oversee most of the legal services provided at CPC Brooklyn Community Center. Families and individuals hear about us through email correspondence, CPC's website, Facebook, Instagram, or WeChat and seek out our services. Our staff screen them for a variety of needs, and anyone who requests immigration support is referred to me. I help immigrant community members apply for naturalization and citizenship or connect them with our legal partners who provide other services. We work with the New York Legal Assistance Group (NYLAG) and Immigrant Justice Corp (IJC) to serve a few hundred families per year. I also oversee a citizenship class that we teach every quarter with 15-20 students in each cycle, and I organize community workshops throughout the year on topics such as fire safety, Know Your Rights, healthcare, and immigration policies like the public charge rule. Most of the people I work with are low-income Chinese immigrants who already have a green card and want to become a citizen or petition for a family member to join them in the US. We have a lot of older individuals in their 60s or 70s who have had their green card for a long time but weren't able to get their English proficiency up to the level needed to pass the citizenship test. Now they have the option of completing the application in Chinese.
Chris Kuo, Leadership Council: How have recent policy changes affected the families you work with?
Shuping Deng, ONA Opportunity Center Supervisor: The public charge rule last year created a ton of fear in the community. Many green card holders tried to cancel any type of benefits they had been receiving despite the rule not applying to them. Just the thought of those benefits somehow affecting their lawful status here made them really afraid. There were even community members whose children were already citizens receiving benefits and who tried to cancel those benefits. These are important resources that the children were eligible for and depended on to survive. Normally, our families are really interested in getting benefits. Now, they are more hesitant to apply. Things got even worse for them after COVID-19 made the news in January. There was more visible discrimination and anti-immigrant rhetoric going around in the community. When New York shut down, I would tell my students who were out of a job that they could apply for unemployment benefits, but a lot of them didn't want to. They mistakenly believed that their lawful status was in danger. It took a lot of reassuring to get them the support that they needed. With the way that the federal administration has cracked down on immigration and handled the pandemic, a lot of my students are now less determined to pursue citizenship in this country. They still want to learn English and learn our culture, but they feel discouraged about their future here. It's becoming very challenging for certain communities to get legal status or citizenship in the US.
Chris Kuo, Leadership Council: What are your thoughts on how COVID-19 has impacted CPC?
Shuping Deng, ONA Opportunity Center Supervisor: I think everyone at CPC has done so much these last couple of months in response to the pandemic, with staff taking on additional roles to meet the community's needs. I remember that when the pandemic first started, we were talking about different ways to help out, like giving out fresh produce boxes, hot meals, and PPE. We weren't sure then whether we would have the capacity to do those things, but then so many of our staff members just jumped at the opportunity to help out. We all wanted to do our part. It's been so inspiring working with CPC and knowing that everyone is willing to lend a hand to support our community through this crisis. We have been able to bring together staff and volunteers from different boroughs and programs in ways we haven't before. A lot of community members feel so comfortable with us that they tell us their entire life story. They trust the work that we're doing and call us because they believe in what we have to say, whether it's about immigration, benefits, or COVID-19. That trust also means we are able to better support them. It's hard to help someone who isn't willing to share their entire background with you. I think it is really important that CPC is so well known in the community. A lot of people can see that we provide high-quality assistance.
Chris Kuo, Leadership Council: If you had more resources at your disposal, how would you improve your program?
Shuping Deng, ONA Opportunity Center Supervisor: I would want to expand the kind of legal services we can provide at CPC to include support with things like housing. We get a lot of calls about that, and unfortunately, we don't have the networks to do that at the moment. I would also love to be able to offer more citizenship classes. Right now, we only have one class per quarter, which is offered in the morning. A lot of parents work during the day and can't attend, so I think it would be helpful to offer an evening class. As well, I would welcome having more staff or volunteers qualified to provide legal services. In order to file naturalization applications, you have to either be an attorney or recognized by the Department of Justice. I'm the only one that's currently accredited at our office, so sometimes community members have to wait two or three weeks before they can be scheduled to get their cases processed.
Chris Kuo, Leadership Council: What's been your favorite experience working at CPC?
Shuping Deng, ONA Opportunity Center Supervisor: What I like about CPC is the variety of work that I can do here. Even though my main duty is overseeing the ONA program, I also get to support CPC's other services and connect with the other Brooklyn Community Center staff, which I'm really grateful for. One of my favorite memories here has been helping to organize the health fair that we hosted last summer. It was the first big event that I got to be a part of at CPC and my first time in an event planner role. I was really afraid of how the day would turn out because there were so many different activities to keep track of. The date that we had picked for the event, which was outdoors, ended up being one of the hottest days of the year. The sun was beating down on us the whole time, and the air felt sticky and humid. A lot of people were even holding up umbrellas because there was no shade. One of the stations we had set up featured a cooler filled with live goldfish for children attending the fair to take home. This turned into a source of stress for me and the other event organizers because of the heat. We had to keep getting cold water from the nearest restroom (all the way on the other side of the field!) to make sure that the poor fish would survive. There was a lot of running back and forth with buckets of water throughout that hectic day. When we were finally wrapping up the fair, the few of us staff members left sat down on a bench to eat because we hadn't had time to before. We were talking about the event and looking through the photos that people had taken. When I saw all those smiles and playful faces in the pictures, everything that we had done suddenly felt so rewarding. I'm really happy to have accomplished that. I will remember that day forever.
Essential workers risk their health and their families' health to serve others through COVID-19. As New York begins to recover, organizations like CPC will be among the ones helping the hardest hit New Yorkers put their lives back together. Support them here! #AlwaysEssential