Chinese-American Planning Council and the Gotham Organization Hold Ceremony to Celebrate a New Mixed Income Intergenerational Community in the Lower East Side
Main Content
Chinese-American Planning Council and the Gotham Organization Hold Ceremony to Celebrate a New Mixed Income Intergenerational Community in the Lower East Side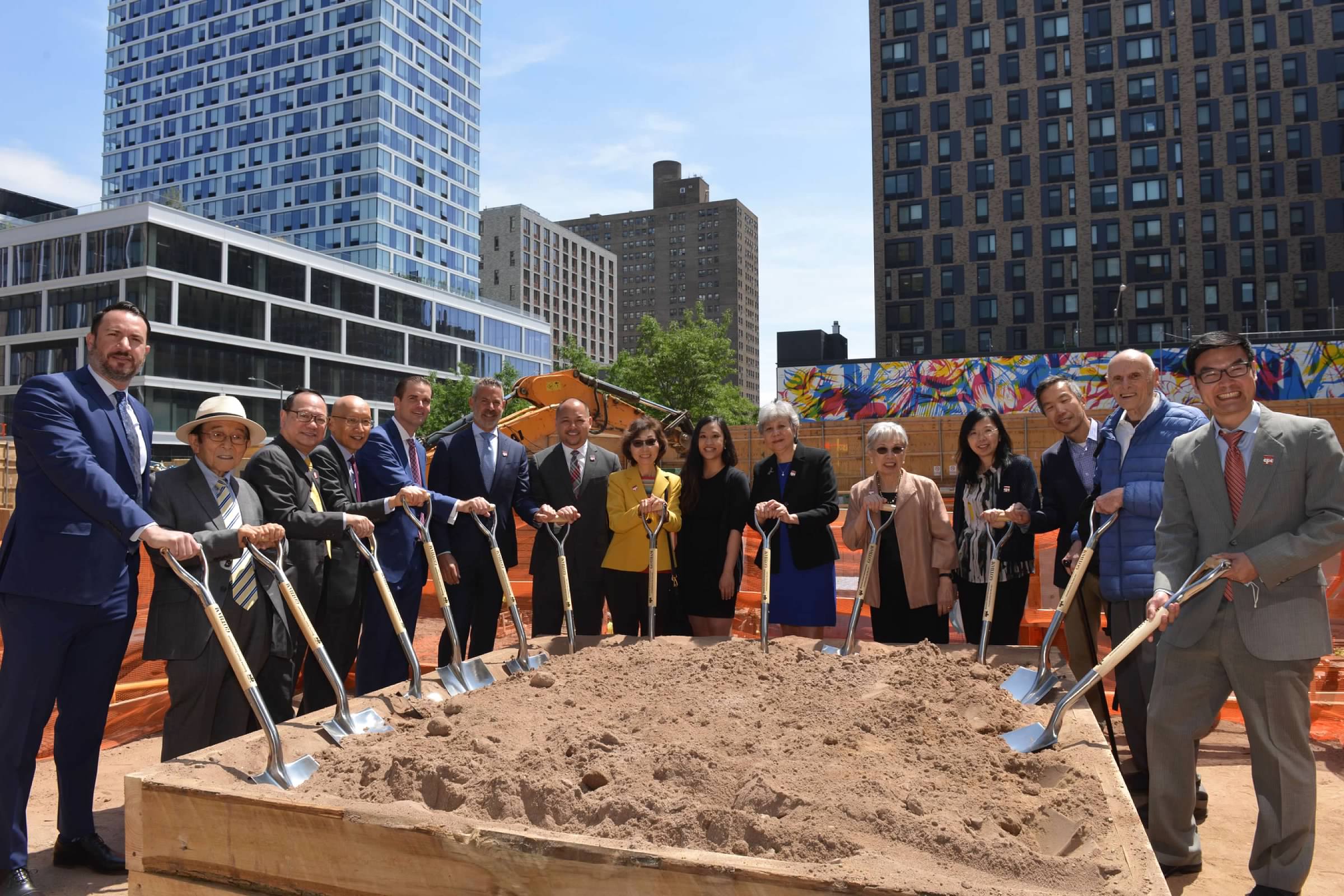 Chinese-American Planning Council and the Gotham Organization Hold Ceremony to Celebrate a New Mixed Income Intergenerational Community in the Lower East Side
The mixed-use development will generate 493 new rental homes including 208 permanently affordable residences inclusive of 115 residences dedicated to senior affordable housing.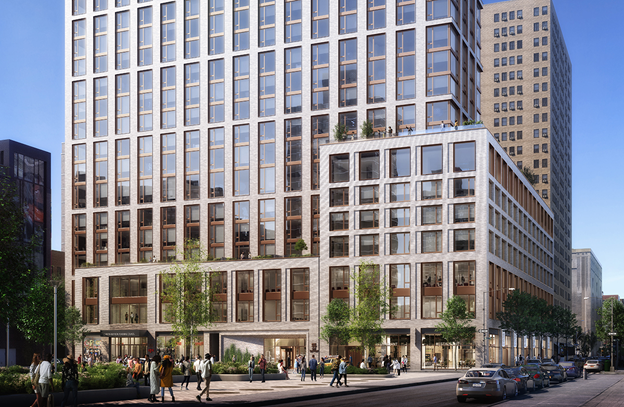 PHOTO CREDIT (Rendering and images from the groundbreaking): Dattner Architects.

NEW YORK (May 25, 2021) – The Chinese-American Planning Council (CPC), in partnership with the Gotham Organization, today held a ceremony to celebrate the groundbreaking of both 55 Suffolk Street and 64 Norfolk Street in the Lower East Side.
CPC chose the Gotham Organization as its partner to help plan and build the proposed community in 2017, concluding an extensive RFP process. The two organizations partnered over a period of four years collaborating and communicating with the public, community organizations, and city leadership concluding with a ULURP approval for the mixed-use community in February 2020. Building on Gotham's long history of partnership with New York institutions to build affordable housing, schools, community facilities and cultural spaces, the community at Broome Street is the result of partnership with both CPC, BHH and the community.
In December, the development team closed on financial capitalization of 55 Suffolk Street to begin construction of the 330,000 square foot building including a new 40,000 square foot state of the art Chinese-American Planning Council headquarters, 378 rental homes including 94 affordable residences and 18,000 square feet of small format retail space. CPC's new headquarters will enhance CPC's community services by creating a larger, more accessible facility. Wells Fargo provided Gotham with a construction loan and Goldman Sachs Urban Investment Group (GS UIG) invested private equityin the development cost at 55 Suffolk.
More recently in April, the development team closed on financial capitalization of 64 Norfolk Street to begin construction of the 84,000-square-foot building including 115 senior affordable residences and a new 4,000-square-foot congregation and cultural heritage center for the Beth Hamedrash Hagodol (BHH) synagogue. Congregation BHH was founded in New York City in 1852 and has been integral to the community since. The center will ensure the long-term continuity of BHH in the Lower East Side. Wells Fargo provided Gotham with a construction loan, and HPD provided capital subsidy. GS UIG is investing in the construction and permanent phases through its purchase of federal low-income housing and NYS brownfield tax credits generated by the project.
CPC is a community-based social services organization that has worked to provide education, family support and economic empowerment to families and individuals across New York City for more than 50 years. The new headquarter will further CPC's ability to empower Asian American, immigrant and low-income communities throughout New York City with increased capacity for its services and expanded programming while providing the community with intergenerational affordable housing. The organization is the nation's largest Asian American social services organization and is the trusted partner to more than 60,000 individuals and families.
"CPC is excited to build our permanent headquarters and community center and to create much needed affordable housing in the neighborhoods we have served for over 50 years," said Wayne Ho, President and CEO of CPC. "We partner with 60,000 community members every year and we look forward to serving them in our new headquarters which will serve as a community anchor in the Lower East Side."
"Today's groundbreaking demonstrates the City's commitment to work with dedicated partners, like the Chinese-American Planning Council, to create and preserve affordable housing, while also opening up critical community spaces, like the cultural heritage space for the Beth Hamedrash Hagodol Synagogue (BHH). In particular, we honor our aging population by dedicating over half of the development's homes to our senior New Yorkers. This prioritization is especially important given the impact of the COVID-19 pandemic on this already vulnerable community," said Deputy Mayor of Housing and Economic Development Vicki Been. "The Broome Street Development will bring 208 safe, affordable, accessible, and dignified homes—some with supportive social services—to the Lower East Side community. I look forward to welcoming tenants to their new homes soon."
"Providing low-income seniors with access to safe, stable, independent, and affordable housing is an important pillar of YOUR Home NYC, Mayor de Blasio's comprehensive approach to helping New Yorkers get, afford, and keep their homes, especially in these difficult times," said HPD Commissioner Louise Carroll. "Thanks to our partners at CPC and Gotham, the two developments at Broome Street will bring 208 permanently affordable homes, and more than half will be dedicated to senior New Yorkers. I want to thank our development partners and local elected officials for working with us to make this project possible for the Lower East Side community."
"I am so excited to see this important project move forward," said Council Member Margaret Chin. "Chinese-American Planning Council has a long-standing history of serving Lower Manhattan and the organization is long overdue for a permanent home. I am so happy to see the creation of deeply affordable housing units as well as community space, including a 4,000 square foot congregation space and synagogue cultural center. I want to thank leadership from Chinese-American Planning Council, including Virginia Kee, Wayne Ho, and Veronica Tsang, and I am proud to stand with them today in celebration of this groundbreaking. As Chair of the City Council's Committee on Aging, I advocate around the clock for New York City's seniors. These deeply affordable apartments are exactly what our city needs to help low-income New Yorkers – especially our older adults -- recover from the aftermath of the COVID-19 pandemic."
"This project is an example of how a successful public-private partnership can reap tremendous community benefits, such as much-needed intergenerational affordable housing, critical community facilities, neighborhood retail, and cultural space leveraged by private investment, when executed correctly," said Gotham Executive Vice President of Development Bryan Kelly. "After going through the ULURP process and having on-going conversations with community leaders, we're proud to follow through with a plan that not only responds to the city-wide housing crisis but addresses the Lower East Side's unique housing challenges for the growing senior population."
###

About Chinese-American Planning Council
The Chinese-American Planning Council (CPC) is a social services organization that creates positive social change. Founded in 1965, CPC is the nation's largest Asian American social services organization and aims to promote the social and economic empowerment of Chinese American, immigrant, and low-income communities of New York City. CPC is the trusted partner to individuals and families striving to achieve goals in their education, family, community, and career.
About Gotham Organization
Gotham has over 100 years of experience constructing and developing high quality mixed-use buildings throughout New York. Gotham's long track record of success in developing homes for low, moderate, and middle-income residents in New York City is possible thanks to successful partnerships with public agencies, not-for-profits and property owners. Following development and construction, Gotham's in-house property management division seamlessly transitions into ongoing building and community management, operating vibrant and engaging communities in the neighborhoods it builds in.