CPC Joins Home Care Workers and Providers to Call for Gov. Hochul to Fully Fund Fair Pay for Home Care Act
Main Content
CPC Joins Home Care Workers and Providers to Call for Gov. Hochul to Fully Fund Fair Pay for Home Care Act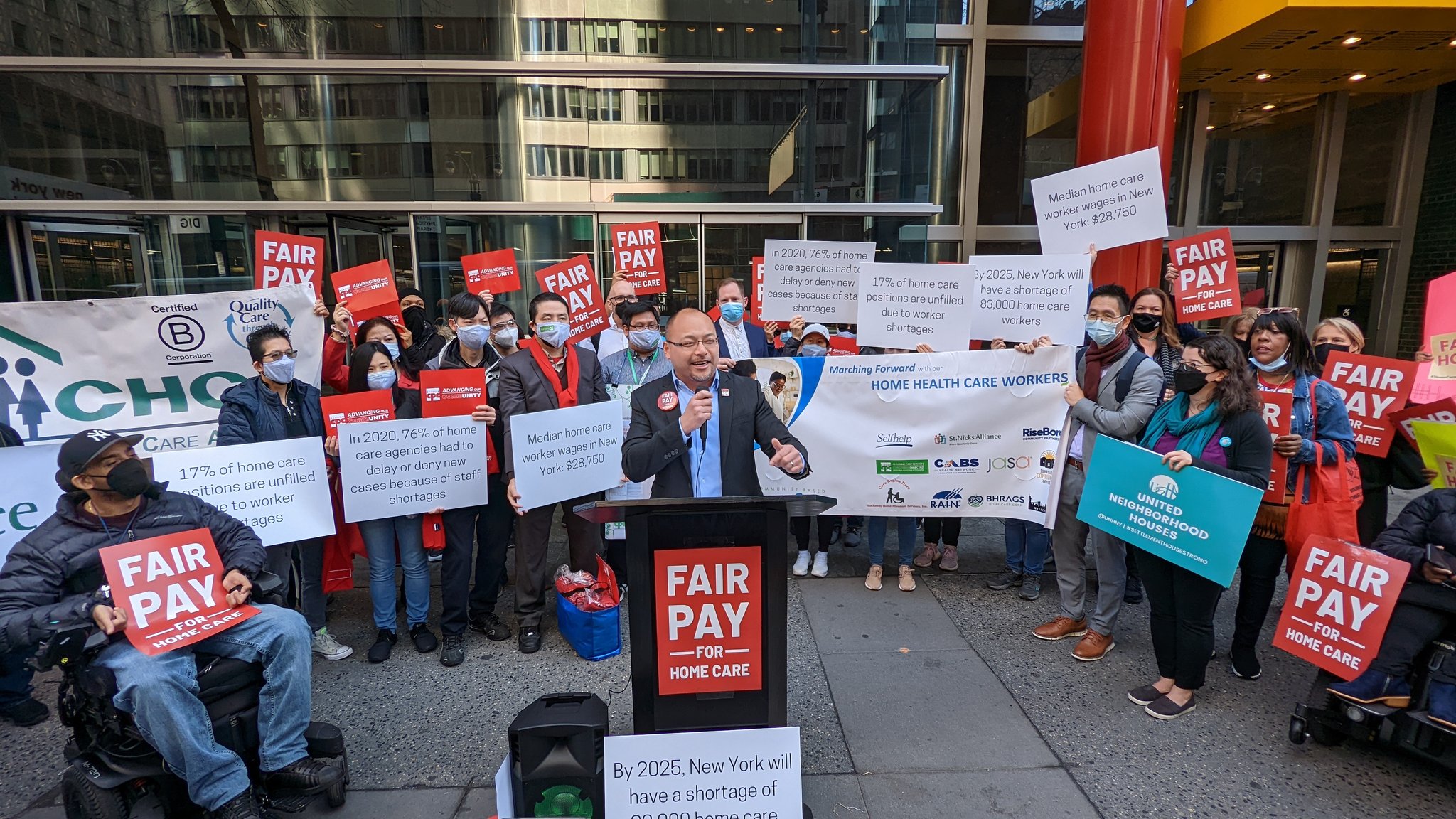 On March 18th, CPC joined home care workers and providers outside Gov. Kathy Hochul's Manhattan office at the #Providers4FairPay rally to demand funding for the Fair Pay for Home Care Act be included in the final State budget. According to a recent Mercer labor analysis, New York State faces the worst home care shortage in the nation, and low wages are the single largest driving factor. The Fair Pay for Home Care Act would raise homecare wages to 150% of the minimum wage, making their hourly wages between $19.80 and $22.50.
Over 100 participants, representing dozens of nonprofit home care agencies and advocacy organizations, showed up for the rally. Home care workers and providers shared their stories and called on the Governor to adopt the State Senate and Assembly's One-house budget proposals in support of Fair Pay for Home Care. Advocates also voiced the need for ending 24-hour shifts in favor of two 12-hour split shifts, passing the New York Health Act, and lifting the Medicaid cap in order to best support the needs of aging New Yorkers, New Yorkers with disabilities, and home care workers -- a workforce largely staffed by immigrant women of color.
Fair Pay for Home Care was included in the Senate and Assembly One-House budgets this month. Fair Pay is also backed by the Black, Hispanic, Puerto Rican & Asian Legislative Caucus, NAACP, 1199SEIU, AARP, and Democratic Majorities in the State Senate and Assembly, and has bipartisan support in both houses.
In 2020, 76% of home care agencies were forced to delay or deny new consumers because of the workforce shortage. This means older adults and disabled New Yorkers didn't get needed care and jobs went unfilled. In fact, 17% of home care positions are left unfilled due to staff shortages. That means older adults and disabled New Yorkers are left without lifesaving care and workers left without good jobs. Providers need #FairPay4HomeCare to fix both. The number of elderly residents in New York is projected to grow by 25% between 2021 and 2040 – and the home care shortage is projected to increase exponentially during that same period. By 2028, New York will have nearly 1 million job openings.
See coverage in City & State's NYN First Read here.
See coverage in Sing Tao here.
See coverage from NY1 below.
Follow #FairPay4HomeCare on Twitter for more.