CPC Chief Strategy Officer Brian Chen is Named in City and State's Nonprofit 40 Under 40!
Main Content
CPC Chief Strategy Officer Brian Chen is Named in City and State's Nonprofit 40 Under 40!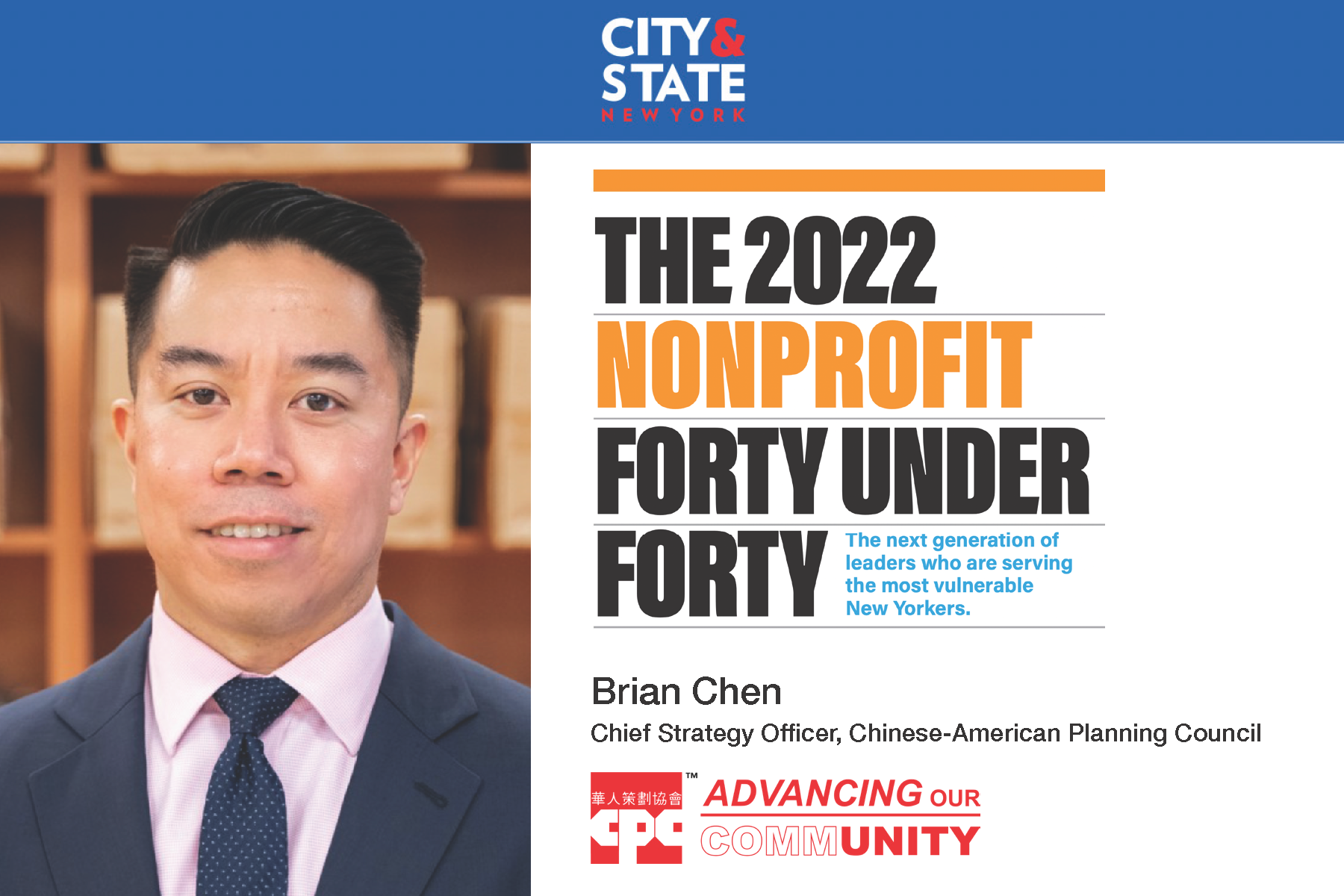 New York's nonprofits are on the front lines of so many crises. They run food pantries, deliver free legal services and provide after-school programs. And the sector has continued that vital work during the COVID-19 pandemic, which left many New Yorkers even more vulnerable.
Those efforts are driven by leaders within these organizations who are committed to their missions. Whether those leaders are fundraisers, direct care workers or executive directors, each of these individuals plays a key role in helping New Yorkers.
City & State, in partnership with its sister publication, New York Nonprofit Media, showcases a group of young, diverse leaders in the nonprofit world who are making a difference in New York. These rising stars – all under the age of 40 – bring passion and professionalism to their work providing everything from health care services to housing support and advocacy. Highlighted in this list if CPC's Chief Strategy Officer Brian Chen!
Brian Chen started his career at the Chinese-American Planning Council working as an after-school educator. Over the course of about 15 years, he has gone on to hold other leadership positions managing youth programs before becoming the organization's chief strategy officer in 2020.

In that role, he oversees various initiatives related to college access, adult literacy and employment services. He also represents the organization on several community partnerships, including the Lower East Side Youth Opportunity Hub, which provides local young people with services such as mental health support. Currently, he is developing the CPC Academy, an initiative to promote talent growth within the nonprofit.

He previously launched the Chinese-American Planning Council's diversity, equity and inclusion committee and oversaw the merger of the organization's youth services and workforce development departments, a pivotal internal change.

Chen's future goals include focusing on CPC's new downtown Manhattan development project, which he is involved in planning. The project will include a new physical headquarters for the organization.

Chen credits his commitment to the organization to his rise through the ranks to assume his current role of chief strategy officer.

"Find value in each and every single responsibility and opportunity and position that you're given," he says. "You're going to continue to move closer and closer to where it is you believe you to be in the long run. … Ultimately, assess your own value, not only to yourself, but to the organizations that you're working for."
Read the article and see the full list of 40 Under 40.