Two-Piano Benefit Recital for CPC
Main Content
Two-Piano Benefit Recital for CPC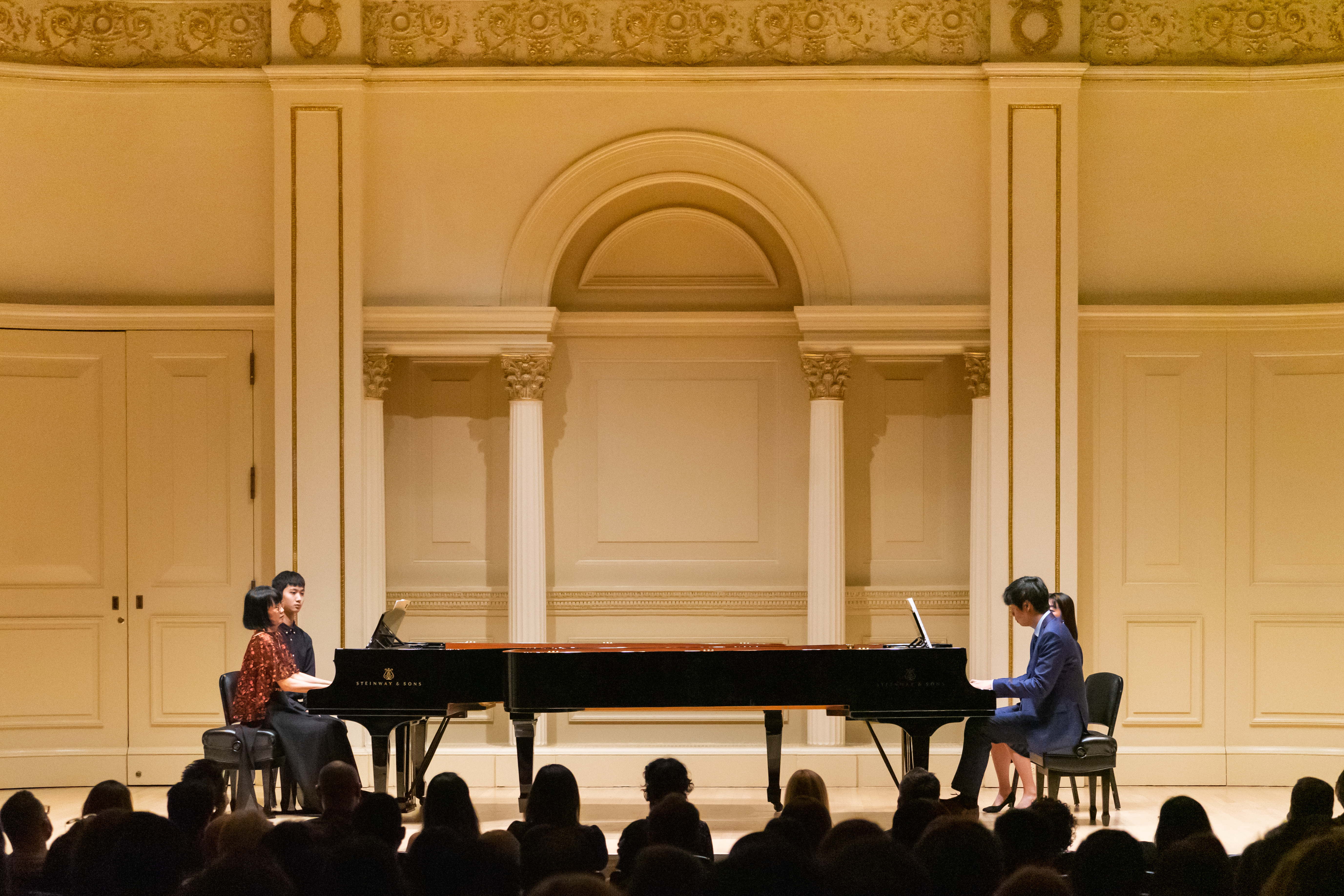 On October 22nd, Christopher Kuo and his mother Michelle Chen Kuo performed a two-piano benefit recital at Carnegie Hall to support education, family support, and community & economic empowerment services for Asian American, immigrant, and low-income communities at CPC. They performed piano works by Rachmaninoff, Infante, Ravel, Albéniz, and other Romantic-era composers. Thank you to all our sponsors and supporters for making this a memorable night!
Michelle Chen Kuo (Chen Chou-Hsia) is a critically acclaimed concert pianist, teacher, and philanthropist. She has performed extensively in the United States, Taiwan, Hong Kong, and Great Britain as a solo artist, and has appeared as a guest with the woodwind quintet "Five", the EMCA Chamber Ensemble Carmerata Atlantica, and the Hanover Wind Symphony.
Michelle has received top awards at a variety of competitions in the past, including the Taiwan National Piano Competition for three consecutive years. She was the first-prize winner of the National Piano Competition in Hong Kong and represented Hong Kong at the London Arts Festival. Michelle also frequently performed solo and with the Hong Kong Chamber Society on national radio and television in Taiwan and Hong Kong.
Christopher Kuo began learning piano at a very young age with his mother and continued to pursue his studies in music throughout his time at university and at the beginning of his professional career. As a young pianist, he won more than 10 awards and titles in regional and state-wide solo, duet, and duo competitions, including those hosted by the NJFMC and Music Educators Association of New Jersey.
At sixteen years old, he made his 2006 solo New York Debut at Weill Recital Hall which was enthusiastically received; the New York Concert Review said he "play[ed] with the ease of a flick of a switch." He appeared there again with Michelle in 2007 in their first performance together as a duo team and made an exciting return there in October 2015.
Michelle and Christopher are a mother & son two piano team on a mission to raise money for nonprofits in the hunger relief, education, and social service sectors. They have collaborated with many philanthropic organizations and performed together in many major performance spaces.
Click here to learn more about Michelle Chen Kuo and Christopher Kuo.
Sponsors:
Mission Partner:
– Ong Family Foundation
Presenting Sponsor:
– The Kuo Family and Two Piano Journey
Collaborator Sponsor:
– Chester P. Lee
Endorser Sponsors:
– Greater Hudson Financial
- J & K Pi Family Foundation Inc.
- Richard & Jane Chu
- Wendy Chu
Friend Sponsors:
- Andrew Chan
- Flora R. Si
- Joey and Sylvia Yasgur
- John Hamilton and Leroy Li
- Juan Bissone
- Michael Lee
- Tom Varkey and Dr. Suneeta Chacko
- Virginia Kee
- Wesley J. Lai
Host Committee:
- Christopher Kuo
- Chester P. Lee
- Pui Chi Cheng
- Wendy Chu