CPC Welcomes Amy Latorres, New Director of Education and Career Services
Main Content
CPC Welcomes Amy Latorres, New Director of Education and Career Services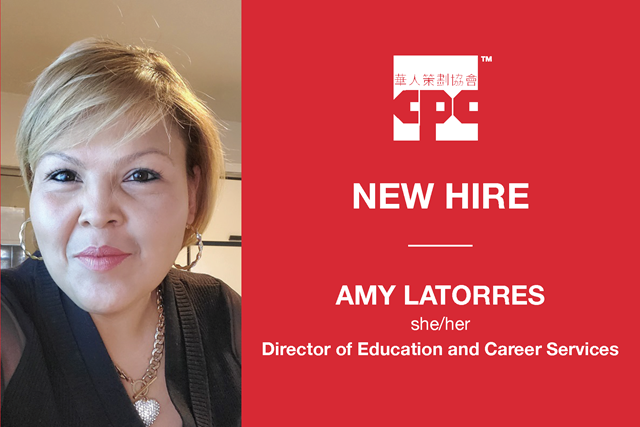 FOR IMMEDIATE RELEASE
Date: December 22, 2020
Contact: Wayne Ho, President and CEO (who@cpc-nyc.org | 347-762-8828)
New York, NY – The Chinese-American Planning Council (CPC) is excited to announce that Amy Latorres will be joining our team as the Director of Education and Career Services, effective January 11th, 2021. In this position, Amy will lead our division that promotes the holistic development, academic achievement, and career advancement of youth to adults. The Education and Career Services Division consists of 60 staff who provide culturally responsive academic enrichment, college access, financial empowerment, adult literacy, sectoral job training, and employments services to 7,000 community members annually.
Amy said, "I am excited to join the Chinese-American Planning Council. I see joining CPC as a homecoming, returning to the community based organization world. I look forward to bringing my unique talents to the organization, the youth and families being served, and the fields of youth development and workforce development."
Amy Latorres has over 20 years of experience in education and youth development and brings a unique perspective and depth of knowledge, having worked as a direct service provider and a city government manager. Amy began her career at Center for Family Life, a program of SCO Family of Services, where she oversaw seven community centers from 2006-2013. She quickly became known for her ability to build and leverage partnerships and to create innovative programming while exceeding program and funder expectations. During her tenure, she managed nearly 100 staff to serve 1,200 students, 500 adults, and 1,000 community members annually.
Building on her tenure as a direct service provider, Amy then went to work at the New York City Department of Youth and Community Development (DYCD) in 2013, where she served as a Deputy Director in the Beacon Community Center Unit. She then sought to round out her experience and became a Deputy Director in the workforce division, overseeing the Summer Youth Employment Program (SYEP) and the Work, Learn & Grow Employment Program. During her tenure, she oversaw $60 million in funding for 95 programs that served approximately 110,000 youth and adults. Additionally, Amy's leadership and advocacy helped to transform the way that program providers are managed by DYCD, instituting a more robust and collaborative contract management process for organizations and program leaders.
Amy received her BA in Youth Studies and Public Administration from CUNY and was honored by the Partnership for After School Education (PASE) in 2009 as a PASEsetter Award Winner.
ABOUT CPC
The Chinese-American Planning Council (CPC) is the nation's largest Asian American social services organization. Founded in 1965, CPC aims to promote the social and economic empowerment of Chinese American, immigrant, and low-income communities of New York City.
華人策劃協會(華策會)是全美國最大的亞裔美國人及太平洋島民社區服務機構.成立於1965年,華策會專門為紐約市的華裔美國人,移民,和低收入民眾提供金融賦權和社區服務。