CPC's NY Chinatown Older Adult Center Relocates to 55 Chrystie Street
Main Content
CPC's NY Chinatown Older Adult Center Relocates to 55 Chrystie Street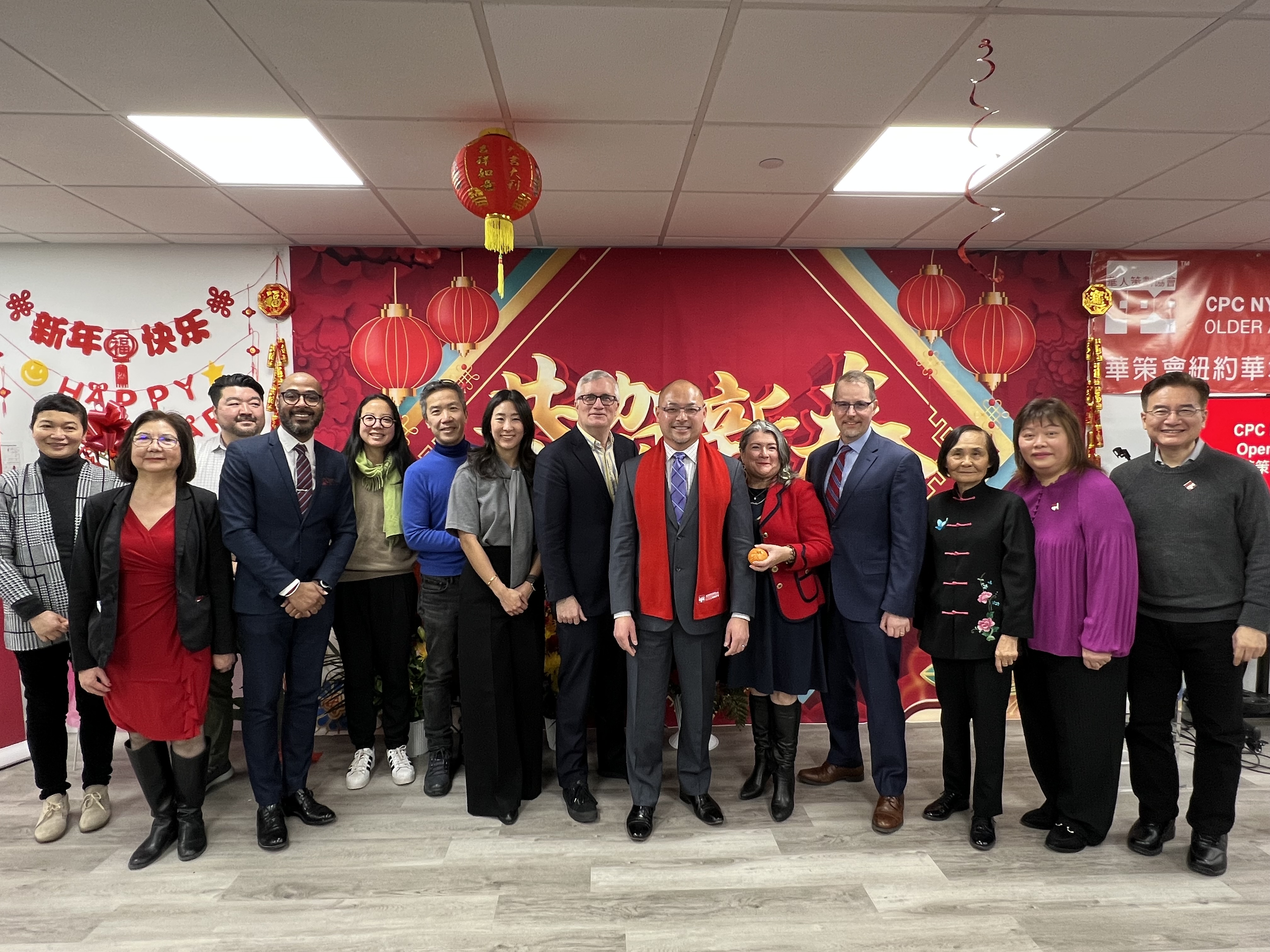 ***FOR IMMEDIATE RELEASE***
Date: February 3, 2023
Press Contacts:
Wayne Ho, President & CEO | (212) 941-0920 x 143 | who@cpc-nyc.org
Alice Du, Director of Communications | (212) 792-4585 | adu@cpc-nyc.org
CPC's NY Chinatown Older Adult Center Relocates to 55 Chrystie Street
New York, NY – The Chinese-American Planning Council (CPC) is pleased to announce that the NY Chinatown Older Adult Center has moved to a new location at 55 Chrystie Street. The center's new location provides older adults with congregate meals, education and recreation activities, case assistance services, and other programming for the following five years before returning to operate at its original site at 70 Mulberry Street in Chinatown. A ceremony was held today to celebrate the center's new home.
The historic building at 70 Mulberry Street, which housed CPC's NY Chinatown Older Adult Center and four other community and cultural organizations, was severely damaged by a fire in January 2020 and is currently undergoing reconstruction. The fire displaced all tenants, but the center quickly resumed operations to serve older adults at CPC's headquarters. Following a thorough and rigorous selection process, the NY Chinatown Older Adult Center opened its doors to welcome older adults at a newly renovated and spacious area at 55 Chrystie Street.
"Our new location offers a safe and welcoming space for older adults to enjoy hot meals, participate in services and fun programming, and most importantly, help them combat social isolation and stay connected with friends," said Wayne Ho, President and CEO of CPC. "We would like to express our gratitude to the Mayor's Office, NYC Department for the Aging, NYC Department of Citywide Administrative Services, and elected officials for their support since the fire. We look forward to continuing to serve Chinatown's older adults at this new site."
Founded in 1974, CPC's NY Chinatown Older Adult Center serves more than 200 older adults every day in Chinatown. Older adults can receive meals and services as well as participate in classes such as Tai Chi, chair yoga, calligraphy, computer class, and many other activities. Please call (212) 233-8930 for more information.
"Our older adults are very excited when they come to our new site at 55 Chrystie Street," said Jenny Tran, Director of CPC's NY Chinatown Older Adult Center. "It melts my heart when an older adult held my hands on the first day of opening and said, 'Home, sweet home. We finally have our second home now.'"
"Three years ago, a tragic fire struck CPC's NY Chinatown Older Adult Center. But it did not deter them from fulfilling the mission they began fifty years ago – to serve Chinatown's older adults," said NYC DFTA Commissioner Lorraine Cortés-Vázquez. "Their work was especially critical in the last few years. In addition to keeping older New Yorkers safe and engaged during the COVID pandemic, CPC also raised awareness and public action against the spate of anti-Asian hate crimes, which was on the rise. With their center's reopening, they are back, stronger than ever. Congratulations to the entire CPC team on this reopening."
"The destruction of 70 Mulberry Street has impacted so many tenants, but it has not broken their will nor their commitment to serving their communities," said NYC DCAS Commissioner Dawn M. Pinnock. "The Chinese-American Planning Council have ensured that while the members of the Older Adult Center are displaced, they are not forgotten. At DCAS, we pride ourselves on making city government work for all New Yorkers, and that includes these seniors who we look forward to welcoming back to their home at 70 Mulberry Street after its restoration is complete."
"The CPC NY Chinatown Older Adult Center provides an amazing breadth of services to senior New Yorkers, and it was a tremendous loss for the community when 70 Mulberry Street was damaged by a fire in early 2020. While we eagerly await the rebuilding of 70 Mulberry, I am excited by the opening of this new space and grateful that the CPC has a location for the next five years from which they can continue to provide the critical services they offer to New Yorkers," said Congressman Dan Goldman.
"It was a one-two punch for seniors to lose this CPC older adult center after the 70 Mulberry Street fire in January 2020 and then for all older adult centers to close for more than a year once Covid hit. So today is a long-awaited homecoming for so many in Chinatown's senior community," said Manhattan Borough President Mark Levine. "I'm grateful to CPC for all of the programming and services they've been able to provide remotely and at other sites in the meantime and look forward to the wonderful memories that will be made here until 70 Mulberry can reopen."
"Thank you to the Chinese-American Planning Council for your dedication to older adults and supporting those in need even while displaced from 70 Mulberry Street following the devastating fire and Covid lockdown. CPC's commitment to older adults has never faltered. Congratulations on your new home at 55 Chrystie Street and on your on-going programs for the extraordinary elders in Chinatown," said Council Member Gale Brewer.
Press Coverage: World Journal, Sino Vision
About the Chinese-American Planning Council (CPC):
Chinese-American Planning Council (CPC) is a social services organization that creates positive social change. Founded in 1965, CPC is the nation's largest Asian American social services organization and aims to promote the social and economic empowerment of Chinese American, immigrant, and low-income communities of New York City. CPC is the trusted partner to individuals and families striving to achieve goals in their education, family, community, and career.
關於華人策劃協會 (華策會):
華人策劃協會(簡稱"華策會")是一個致力於創造正向社會變革的社會服務機構。華策會成立於1965年,是美國最大的亞裔美國人社會服務機構,旨在促進紐約市華裔美國人,移民,及低收入社區的社會權益和經濟賦權。華策會是為實現其教育,家庭,社區及職業目標而努力的個人和家庭可信賴的機構。