CPC Cuts the Ribbon on New Queens Community Center Designed to Serve Immigrant & Low-Income Communities
Main Content
CPC Cuts the Ribbon on New Queens Community Center Designed to Serve Immigrant & Low-Income Communities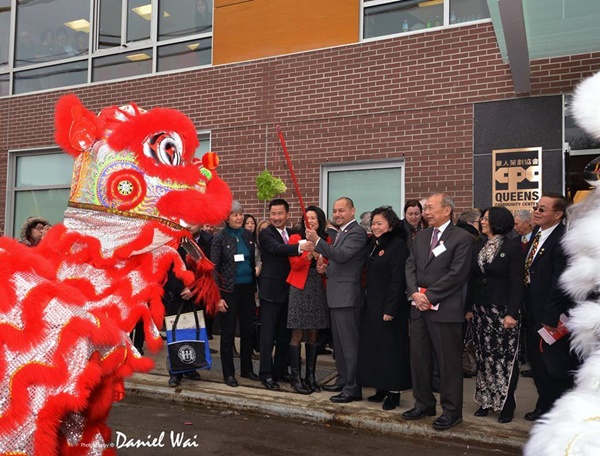 On March 24, 2017, CPC celebrated the opening of its brand new CPC Queens Community Center at 133-14 41st Avenue, Flushing, Queens with a ribbon cutting ceremony. The Center houses community/social services, special needs services for families and individuals with developmental disabilities, a senior employment program, youth services, workforce training programs (including hospitality, customer service and adult literacy training), legal services (including immigration and benefits counseling), a senior center, and an early childhood center which will open later this year.
The early child care facility will be customized for children ages 2-5 years old – outfitted with small sinks and toilets, as well as cots, cubbies, and learning centers supporting early childhood development. In addition to classroom space, an outdoor playground space on the fourth floor will encourage toddlers' physical fitness and the development of motor skills. CPC offers high-quality education in a safe, nurturing and engaging environment in an effort to reflect the diversity of the community.
"We are excited to open the CPC Queens Community Center. Our new flagship location in the borough gives us greater capacity to serve Chinese American, immigrant, and low-income communities. CPC will be able to expand programs and services, ensuring that immigrants and low-income families of diverse backgrounds can reach their fullest potential," said CPC President and CEO, Wayne Ho.
"Despite the challenges of space constraints of its former locations, CPC is proud to provide services to thousands of individuals and families across generations at this new location. Our new flagship center achieves CPC's strategic vision 'to be the Model Service and Leadership Development Organization" said CPC Board Chair, Jenny Low.
"CPC has served as a port of entry for new immigrants and communities-in-need since 1965. While Flushing is now one of the largest Chinese immigrant communities in NYC, its demand for social services is rapidly growing. Over the past seven years, I have committed to supporting CPC by funding its ESL classes, education, and senior services over $760,000. Congratulations on this grand opening and I thank CPC's President & CEO Wayne Ho and Board Chair Jenny Low for extending their services to this underserved community. I look forward to continuing our partnership in the years to come," said Councilmember Peter Koo.
"I am so pleased to see the opening of Chinese-American Planning Council's newly built Queens Community Center in Queens. CPC is an integral part of the Chinese American community and offers much-needed services to the Chinese American, immigrant and low-income communities of New York City. That is why I made a point to allocate funds for the expansion of the new center so that more area residents can take advantage of the exciting programs and resources in a new state-of-the-art facility," said State Senator Toby Ann Stavisky.
"The Chinese-American Planning Council has become an important part of the fabric of Queens and all of New York City. Charter recognizes the important work CPC does for the Chinese American community, and is a proud sponsor of its Queens Community Center. Our company has worked with the CPC to establish Spectrum Learning Labs at its Queens and Manhattan locations, which helps its members build computer and Internet skills, and collaborates with its staff on bi-lingual job recruitment efforts," said Bernadine Han, Charter group vice president for Spectrum News.
The 10-story, 31,000 square-foot, building that houses the CPC Queens Community Center was constructed and is owned by Nan Shan Local Development Corp., a wholly-owned nonprofit subsidiary of CPC, and with the support of public and private funding from community-minded allies.
Guests that attended the ribbon cutting ceremony included New York State Assembly Members Ron Kim, Nily Rozic, New York State Senator Toby Ann Stavisky, former City Comptroller and former City Councilmember John C. Liu, Councilmember Carlos Menchaca and Adam Chen from Public Advocate Letitia James' office.
Spectrum co-sponsored the Ribbon Cutting Ceremony and Fay Da Bakery donated a cake for the event.
Photos by Daniel Wai
To learn more about the programs available in the CPC Queens Community Center click here
---
Media Coverage
Click to read coverage from Sing Tao Daily
Click to read coverage from World Journal
Click to watch video coverage from World Journal
Click to watch video coverage from NTDTV
Click to read coverage from Epoch Times
Click to read coverage from Media Chinese
Click to watch video coverage from Sinovision
Click to read coverage from China Press
Click to read coverage from Sina
Click to read coverage from Queens Chronicle
Click to read coverage from Queens Examiner
Click to read coverage from New York Nonprofit Media - First Read