New York City Council Member Carlos Menchaca Expands Constituent Services at CPC Brooklyn Community Center
Main Content
New York City Council Member Carlos Menchaca Expands Constituent Services at CPC Brooklyn Community Center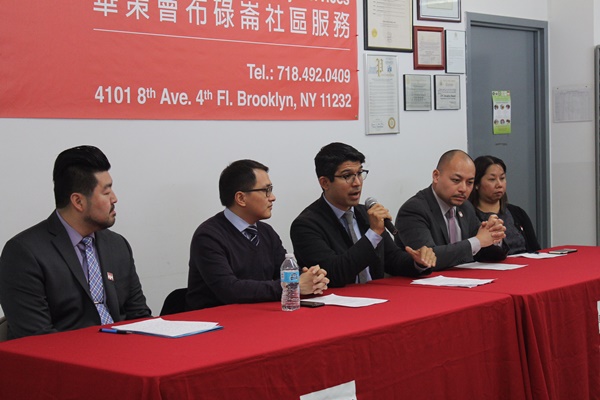 On April 3, 2017, CPC and New York City Council Member Carlos Menchaca were proud to announce an expansion of their constituent services, which will be located in our CPC Brooklyn Community Center.
Every Monday from 10AM to 2PM, Council Member Menchaca's staff will be present at CPC Brooklyn Community Center for immigration assistance, housing services, education, attorney referrals, and any municipal related issues. This new initiative is led by Kayden Sun, Asian-American Affairs Director with Council Member Menchaca's office. This will establish a direct link to the city council for families all along 8th Avenue; bridging the gap between community and government.
"I am excited about hosting a satellite site at our Brooklyn Community Center for Council Member Carlos Menchaca," said Wayne Ho, President & CEO of the Chinese-American Planning Council, Inc. "This partnership will connect families to important city resources, and CPC looks forward to working with his office to ensure we can offer the very best services to our diverse Brooklyn communities."
"City services must meet the needs of constituents in their communities and at places that are both accessible and welcoming. CPC's Brooklyn Community Center is the perfect setting to expand my office's work serving residents in Sunset Park. I thank CPC's leadership for their generosity and I look forward to a long and successful partnership." Said City Council Member Carlos Menchaca.
We look forward to working alongside Council Member Menchaca to ensure access to the very best services and resources available.
For coverage by the Brooklyn Daily Eagle click here
For information on programs located in the Brooklyn Community Center click here