Annual Youth Action Day
Main Content
Annual Youth Action Day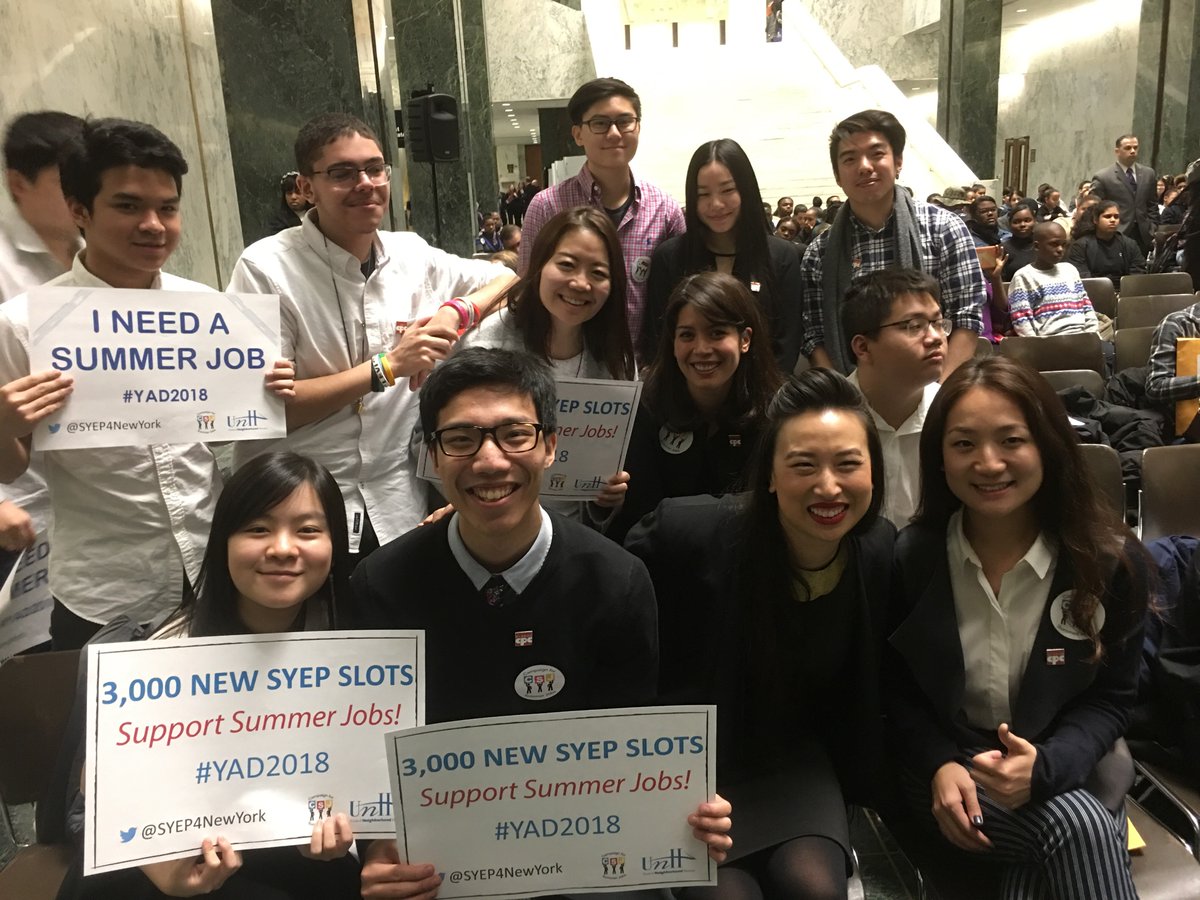 The picture above showcases Assemblywoman Yuh-Line Niou (Bottom row, 2nd from the right) of District 65 joining CPC's ISY participants and staff for a picture after her supportive speech for SYEP, The Well of the Legislative Building in Albany NY.
Youth Action Day is a day where youth across NYS go to Albany NY, to exercise their freedom of speech and civic responsibilities on a specific legislative budget; SYEP or Summer Youth Employment Program. SYEP is a week long summer internship for youth ages 14 to 24. Youth Action Day comprises of a Rally, at The Well of the Legislative Building, where everyone listens to, chants and applauds inspirational speeches and stories of SYEP youths, staff and legislative officials! After the rally, youth get to speak with legislators in their offices to advocate and share their personal stories of why it is important to fund SYEP.
Campaign highlights and students' testimonies; why SYEP makes a difference:
Facts:
In 2018-2019, NYS Executive Budget allocated $40 million for SYEP. This amount only compensates the increase in minimum wage from $11/hr to $13/hr, and not an increase in additional spots. Last year 77,000 youth applicants were not able to participate in SYEP, due to slot limitation, thus we ask for an additional $4 million to add an additional 3000 opportunities.
Testimonies from our fellow ISY Participants:
SYEP is important to me because it gives me meaningful summers and opportunities to test the waters of adulthood. It helped me recognize potential careers while making new connections with adults and peers. It taught me the little things that matter for future jobs, such as attire, timing and communication. Without SYEP, I would have continued unproductive summers at home. ~Lily Tang, High School Senior at NYC Lab H.S.
SYEP and WLG have provided me with many opportunities that helped me better myself with interactions with other as well as gaining patience. It allowed me to see other perspectives helping me grow as a person and create bonds that I've never had before. SYEP and WLG as well help further my economic situations for the future helping me plan and save up my money. These programs give participants like me a step through the door of the real world providing us with information and job.
~Tiffany Liu, High School Senior at NYC Museum H.S.
SYEP is an opportunity for me to explore my career. I got the chance to work at Harlem hospital over the summer and now I continue to volunteer there during the school year. I built a long lasting relationship with the supervisors and realized that I truly want to work in a hospital. I loved working with the people there and the environment was very welcoming. Overall, it was a pleasant experience for me since I got to earn money while getting a snippet of what I would experience in the near future. ~Kathy Lin, High School Senior at Leon M. Goldstein H.S.
Summer Youth Employment Program (SYEP) gave me the chance to explore my interests at the age of 16. While many upcoming juniors are still wondering what their interests are, I already had a long list of things I would like to explore. SYEP definitely gave me a chance to modify my list. The first year of SYEP, I worked as a teacher's aid. I had a breadth history of going to summer camp when I was younger and I have numerous fond memories. Now roles were switched, it was my turn to be a staff and not the camper. I developed many skills and appreciations because of this opportunity. This job revitalize my creative side. I was able to design and craft a small model of a skyscraper per week. Yes, I did it! It was my highlight over the summer. Before this, I never created any models of a building, especially in cardboard. After that summer, I learned to be extremely grateful for my old staff. Kids are not easy to handle, especially when they are all very different. Because of this particular SYEP experience, it made my transition to be a volunteer at the religious school in my church a lot easier. ~Kevin Chen, High School Senior at Millennium HS
SYEP has provided the opportunity for me to explore fields of work that I am interested in. This summer, I was placed into a job that allowed me to further appreciate the medical field and to obtain networks and connections that I would have no opportunity in making. ~Katherine Feng, High School Senior at Brooklyn Technical H.S.

In school Youth Program is an afterschool enrichment program for NYC High School Juniors and Seniors, who will most likely be the first generation college student and/or require services, (not limited to College Readiness, Work Readiness and Leadership Development), to advance despite academic, economic and social imparities.
Click here to learn more about CPC SYEP
Click here to learn more about CPC ISY
Click here to learn more about CPC's FY18-19 NY State Policy & Advocacy Agenda