Ready Readers Bring Books To Life
Main Content
Ready Readers Bring Books To Life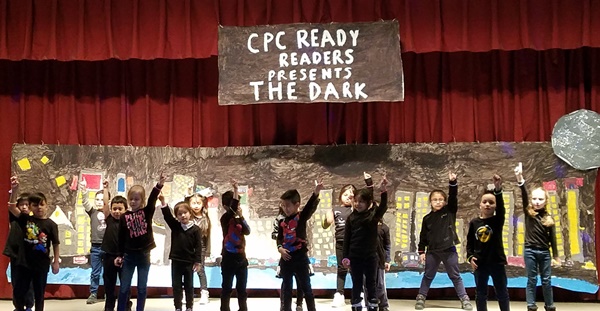 Our Ready Readers program at Homecrest SACCC at P.S. 153, funded by the New York Community Trust Brooke Astor Fund for New York City Education aims to support literacy through read alouds, art projects, and peer to peer discussions in which young readers are able to build fluency, delve into a book's theme, build oral expression and make connections between the text and their lives, as well as the world around them. Ready Readers is not just about reading as many books as we can get our hands on - though that does sound like a good way to spend an afternoon – but also to get families involved. That being said, both our first and second grade students held a Parent Engagement Night to showcase the plays, dances they've worked on and their favorite books and class activities they've done these past couple of months.
On Friday, January 26, 2018, our second grade students started the night off with a play based on the book "Dragons Love Tacos" by Adam Rubin. Our narrators, dragons, and all actors and actresses made the story come to life. After the play, parents joined our students for a real taco party where they created their very own recipes using ingredients like chicken, sour cream, cheese, lettuce, and salsa verde to make their perfect taco. Some students worked with their parents to write their recipe in their own native language too! To find out what happens next to the tacos-loving dragons, students went home with a copy of "Dragons Love Tacos 2, The Sequel"!
Not to miss out on the fun, our first grade class held their Parent Engagement Night on Friday, February 2, 2018. Students presented and discussed the different books they've read throughout the year, with class favorites like "The Rainbow Fish" by Marcus Pfister, "A Sick Day for Amos McGee" by Philip C. Stead, "The Snowy Day" by Ezra Jack Keats, and "How the Grinch Stole Christmas" by Dr. Seuss. Afterwards, the first grade students danced along to "Flashlight" by Jessie J and "Titanium" by David Guetta with their performance based on Lemony Snicket's, "The Dark". In Lemony Snicket's story, the main character was afraid of the dark but eventually overcomes that fear with help. Through the story, our students learned that everyone needs to be brave sometimes and that they are able to find support from those around them; obstacles allow them to grow and understand their own potential. The songs "Flashlight" and "Titanium" showed everyone that we don't have to be afraid of our fears; we do not have to be afraid of the dark, because we, their teachers, their families, their friends are their flashlights. To celebrate the students' hard work, our students enjoyed a pizza party with their parents at the end of the show. All our first grade students also went home with a copy of "The Dark".