CPC Intern Wraps Up Impressive Semester on Advocacy Day
Main Content
CPC Intern Wraps Up Impressive Semester on Advocacy Day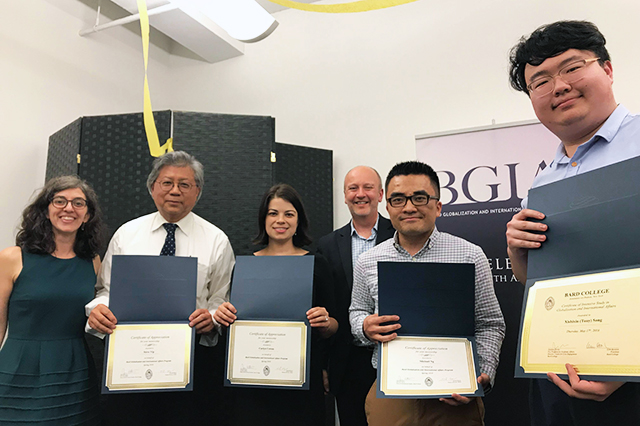 The Operations/Compliance and the Policy and Advocacy Departments wish to recognize and celebrate the contributions of Xishixin (Tony) Song for his work as an intern this past spring.
A student with the Bard Globalization and International Affairs (BGIA) Program, Tony initially came to CPC as an Operations intern. However, not only was Tony particularly outgoing, his interests and skills were quickly recognized and he was tasked with assisting the Policy/Public Affairs department as well. The additional workload did not faze Tony as he took the additional responsibility in stride and was always excited to learn new things.
Tony played a key role in assisting with the preparations of the Summer Internship Program, reviewing and drafting policies, and assisting on several administrative tasks.
Tony also undertook a long-term project to assist with planning and preparing materials for CPC's Advocacy Day on May 17, 2018. He researched and designed a variety of materials around CPC and the demographics of Asian Americans in NYC, and helped plan the day. In his capacity as a intern factotum, Tony found his experience at Central highly enriching, and CPC was for the better!
As it turns out, Advocacy Day was his last day with CPC and Tony spent the day meeting with NYC Council Members as part of the staff team, and then from there continued to his graduation from the BGIA Program later that evening.
At the very last minute, Tony was chosen among his class of 22 students to give remarks at his graduation ceremony. With only 30 minutes to prepare, Tony gave an eight-minute speech that captivated everyone with both humor and emotion.
It was a wonderful end to his internship and his contributions will continue to be felt here at CPC. Tony now goes back to Bard College to finish his studies in Political Studies.
Top Photo: Tony Song (right) along with his supervisors and advisors from the BGIA program.
Bottom Photo: Tony Song (left) along with fellow CPC staff and Council Member Mark Levine.