State Assembly Celebrates APA Heritage Month in Albany
Main Content
State Assembly Celebrates APA Heritage Month in Albany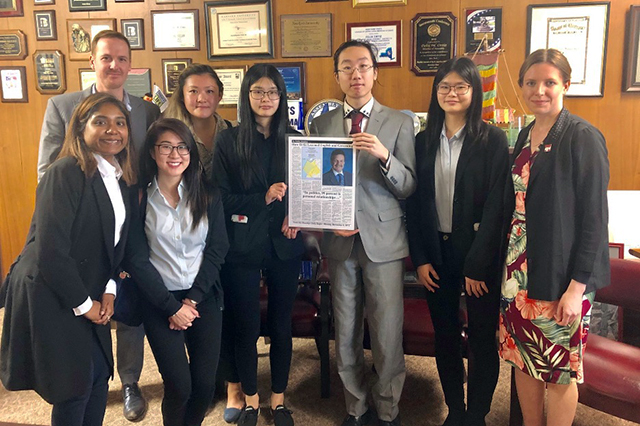 Megan Donovan, Grant Writer at CPC represented CPC at the Asian Heritage Month Advocacy Day in Albany to discuss issues of data disaggregation and celebrate the accomplishments of APA community members.
New York State Assembly Members Yuh-Line Niou and Ron Kim and Assembly Speaker Carl Heastie welcomed community members to the state capital to celebrate Asian Heritage Month. The event honored members of the NYPD Jade Society and the FDNY Phoenix Society for their dedication and service.
As the Assembly and the Senate were in session during the May 22nd event, we saw an opportunity to participate in the event and to meet with key Assembly Members and Senators to advocate for data disaggregation for NY State. Thanks to our community partners at the Coalition for Asian Children and Families (CACF), we met with the Offices of Assembly Members Felix Ortiz (AD 51, Sunset Park) and Peter Abbate, Jr. (AD 49, Bensonhurst) to speak about the challenges facing the communities we serve in their districts.
One challenge our meetings aimed to address was the need for accurate and reliable sources of information on the communities we serve, particularly as it relates to the information NY State agencies collect on unique social, educational, health, and economic differences associated with different ethnic groups. The current method of data aggregation masks the diversity of experiences and challenges many Asian communities face. Along with our partners CACF, Asian Americans for Equality, and Charles B. Wang Community Health Center who participated in the legislative meetings, we expressed the need for the disaggregation of these data so that resources and services better match each community's needs.
"It is always important that our communities are represented in policy and budget, but during APA Heritage Month, it is especially important that we come together with one voice to call for that representation. We are grateful to our partners and our champions in the NYS Assembly for their efforts to ensure that AAPIs are fairly included and represented," said Carlyn Cowen, Chief Policy and Public Affairs Officer.
The event was sponsored by AT&T and AARP. Photos courtesy of Bonnie Tse of Charles B. Wang.