APA VOICE Launches Candidate Surveys for Congressional Districts 5, 12, 14
Main Content
APA VOICE Launches Candidate Surveys for Congressional Districts 5, 12, 14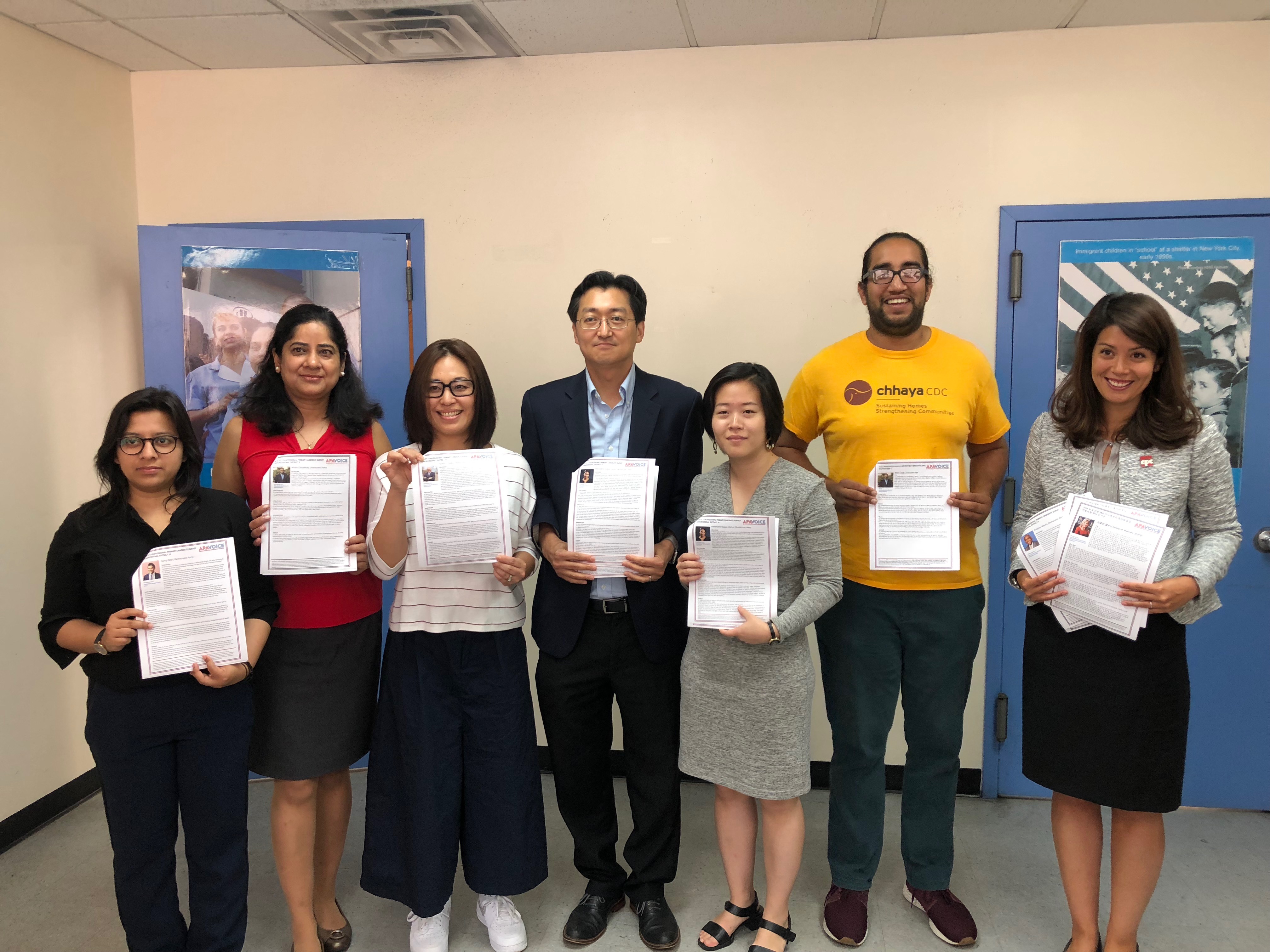 CPC, as part of the APA VOICE coalition, recently completed democratic candidate surveys for candidates in the 5th, 12th, and 14th Congressional Districts in preparation for the Tuesday, June 26 New York Federal Primaries.
Asian Pacific Americans Voting and Organizing to Increase Civic Engagement (APA VOICE), is a coalition of 19 APA organizations in New York City, led by the MinKwon Center for Community Action. APA VOICE gathered survey responses from candidates in districts with the highest concentration of Asian Pacific Americans in their district:
District 5:13% Asian American
District 12: 11.6% Asian American
District 14: 16.5% percent Asian American
Candidate surveys can play a critical role in educating the electorate about candidates running in a primary election. Because of lopsided party registration numbers, the primary elections are sometimes regarded as the "real" election in New York City.

Asian Americans are the fastest growing racial and ethnic group in the nation and have higher rates of naturalization than other immigrant groups. However, our communities receive less outreach from elected officials and political candidates and have some of the lowest voter turnout rates. By providing our community members with information on candidates' stances, especially on issues important to them, CPC hopes to further promote the social and civic empowerment of our communities. Conducting this survey also demonstrates to politicians that Asian Pacific Americans are willing to engage on issues that resonate in our communities.
The candidate survey includes topics relevant and important to the Asian Pacific American community, including:
Immigration
Census 2020
Gun Control
Education
Healthcare
The survey was distributed to all candidates of the 5th, 12th, and 14th, Congressional Districts, posed the same set of questions, and limited answers to 120 words per answer in order for fully capture the positions of each candidate. The complete surveys1 are available in English, Korean, Chinese, and Bangla2. Languages reflect the Asian Pacific American electorates dominant in that district
Candidate responses are linked here and have been compiled and prepared for distribution. Responses from the surveys may be reproduced in full or part under the following conditions: (1) no edits are made to candidate responses, and (2) "APA VOICE Candidate Survey" is credited.
Congressional District 5
Congressional District 12
Congressional District 14
The Federal Primary is Tuesday, June 26th.
To check your registration status, click here
To locate your polling site, click here
To research your ballot, click here
For questions about voter registration and other upcoming election dates, please contact CPC or register in person at one of our Community Centers
1) Among the three candidates running in the 5 th Congressional District's Democratic primary,
incumbent Gregory W. Meeks and challenger Mizan Choudhury responded to the candidate
survey. (Carl H. Achille, another candidate in the 5 th Congressional District, did not respond.
Achille's positions are thus compiled from his campaign website.)
All candidates from both the 12 th and 14 th Congressional Districts' Democratic primaries
responded to APA VOICE's candidate survey. From the 12 th Congressional District, incumbent
Carolyn B. Maloney and challenger Suraj Patel addressed the five issues. From the 14 th
Congressional District, both incumbent Joseph Crowley and challenger Alexandria Ocasio-
Cortez answered all survey questions.
2) In addition to being available in English , the surveys for the 5th Congressional District is
available in Bangla; the surveys for the 12th Congressional District is available in Chinese
and Korean; the 14th Congressional District in Bengali, Chinese, and Korean.