CPC LEAD Students Perform Holiday Concert at Hong Ning Housing for the Elderly
Main Content
CPC LEAD Students Perform Holiday Concert at Hong Ning Housing for the Elderly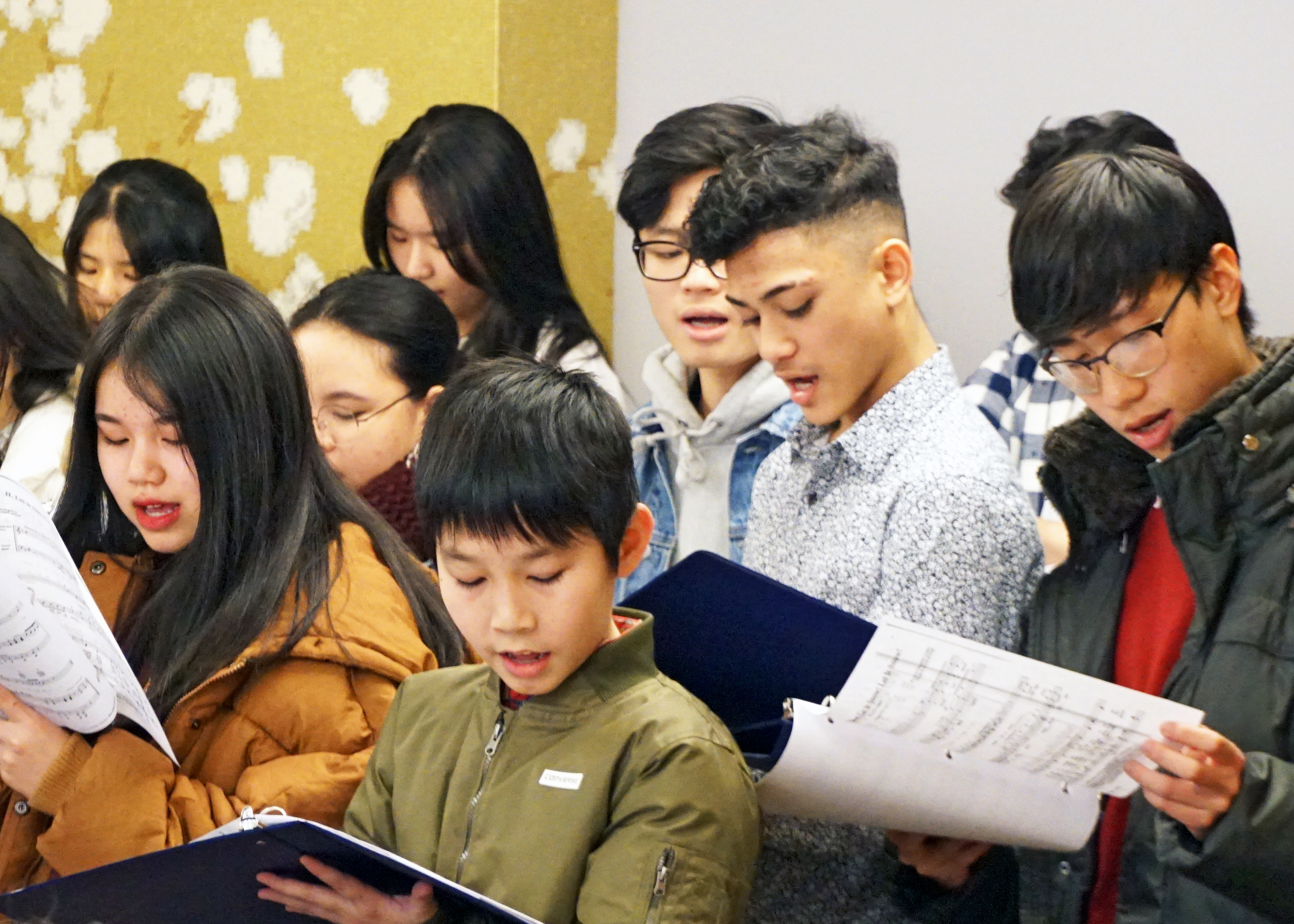 Friday, December 14, 2018 -- CPC's Learn. Excel. Advocate. Dream. (CPC LEAD) program brought 33 students from the High School for Dual Language and Asian Studies to perform at Hong Ning Senior Housing for the Elderly in Manhattan's Lower East Side. Over 50 residents attended the music performance.
Guitar students from CPC LEAD's Trinity Music Program performed Beethoven's Symphony No. 9. Teaching Artist Zac Selissen explained to the audience that the song was written by Beethoven when he was deaf. The teaching artist and students, who have been working together since mid-October, were able to execute the piece in a matter of weeks with a lot of practice. The next piece was a duet called Romanza. To close this section, the guitarists played "Jingle Bells" and the audience sang and clapped along. Then 21 choral students brought us back to 1976 and sang Stevie Wonder's "Isn't She Lovely." Last, but not least, the student chorus brought some holiday cheer and sang "Let It Snow," composed by Jule Styne.
CPC LEAD is an after-school program funded through public contracts with both New York City and New York State. LEAD provides academic enrichment, individual counseling, cultural and recreational activities for 150+ youth annually. Program offerings include individual homework help, college trips, SAT/ Regents Prep, intramural sports, photography, lion dance, creative writing, career exploration and college access workshops, among others. CPC LEAD's music program is supported by the Trinity Wall Street Grant Program with in-kind support from teaching artists at the Trinity Music Department and also provides access to music education at four other elementary-age afterschool programs. This is the first school year that Trinity is piloting a high school initiative with CPC.
Hong Ning Senior Housing for the Elderly is owned and operated by the CPC Housing Development Fund Corporation (CPC-HDFC) and is an entity of the CPC Tenant and Building Services, Inc. Hong Ning was established in 1984 and provides housing for many elderly, low-income immigrant community members.
Special thanks to Trinity Wall Street and CPC's LEAD students for putting on a spectacular performance. We look forward to more future performances. Thank you!
By: Priscilla Fok, Hong Ning Wellness Coordinator, and Bryan Lucero, CPC LEAD Program Supervisor