54th Annual Lunar New Year Gala Raises Record $500,000 for Critical Social Services
Main Content
54th Annual Lunar New Year Gala Raises Record $500,000 for Critical Social Services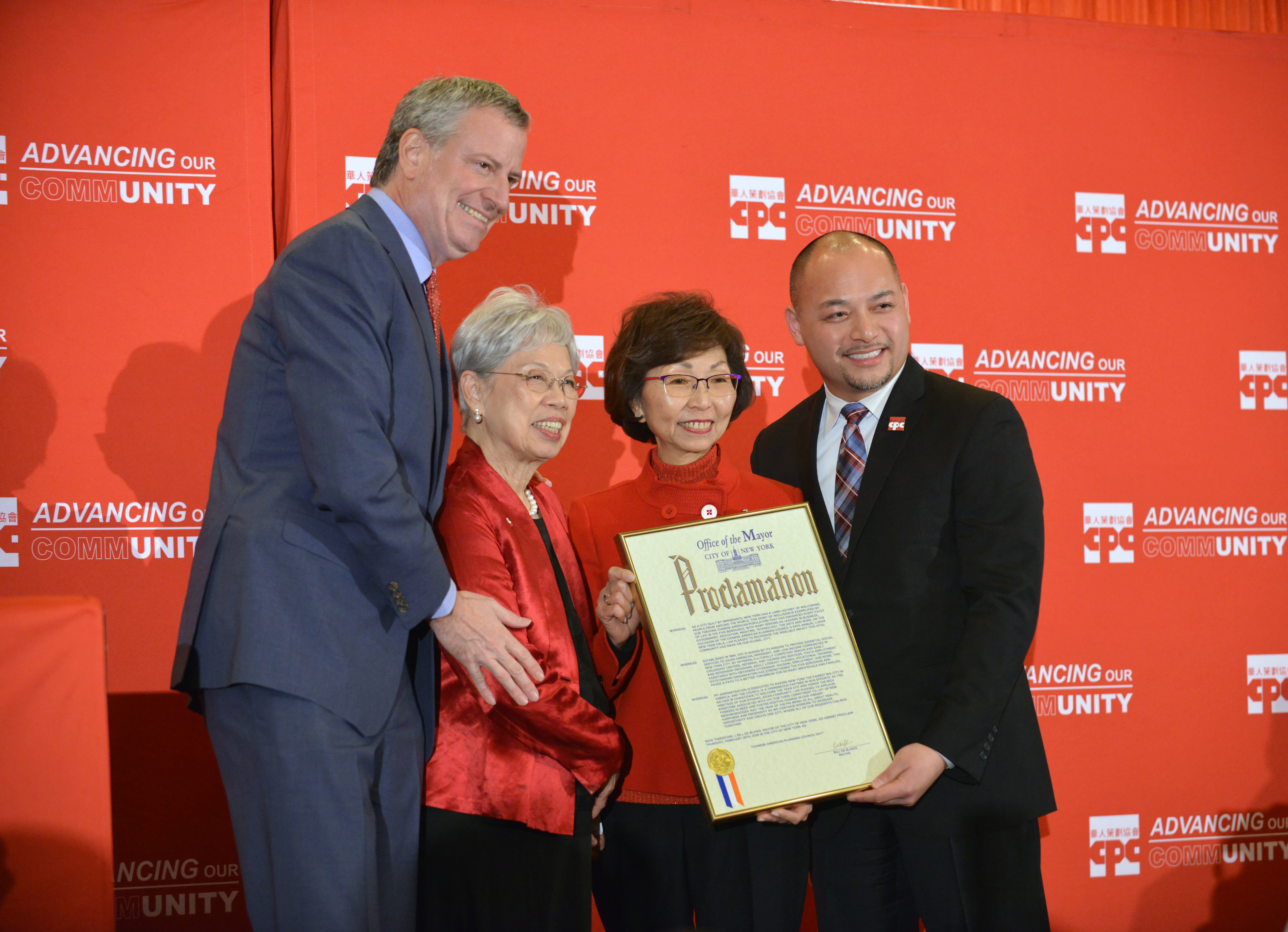 CPC held our 54th Annual Lunar New Year Celebration Gala on Thursday, February 28th, and raised a record $500,000 to support critical services for Asian American, immigrant and low-income communities. This year was our most successful event ever!
The event honored Paula Williams Madison, author and filmmaker of "Finding Samuel Lowe," for her notable achievements which inspire and unite diverse communities, William Tam for his outstanding commitment to the advancement of the community, 1199SEIU United Healthcare Workers East, for its dedication to promoting quality health care, good jobs and social justice for all, and CPC's Community Health Services for its exemplary work, commitment, and impact within underserved communities.
Journalist Ernabel Demillo and actor/director Alan Muraoka served as masters of ceremonies. CPC Confucius Plaza School-Age Childcare at P.S. 124 Lion Dance Group performed lion dance.
Over 1,000 guests were in attendance, including public officials, community partners, philanthropic leaders, and community members. Congresswomen Grace Meng and Nydia M. Velazquez, Mayor Bill de Blasio, and Council Speaker Corey Johnson attended. NYS Deputy Secretary for Labor & Workforce Elizabeth de Leon Bhargava, Manhattan Regional Representative for the Governor's Office Aries Dela Cruz, NYS Senators Brian Kavanagh, John Liu, Zellnor Myrie, and Jessica Ramos, NYS Assembly Members Peter Abbate and Nily Rozic, and Former NYS Senator Thomas K. Duane also attended.
Local public officials included Manhattan Borough President Gale Brewer, Council Members Margaret Chin, Barry Grodenchik, Peter Koo, Mark Levine, and Carlina Rivera, Deputy Mayor Herminia Palacio, Deputy Mayor J. Philip Thompson, and Commissioners Lisette Camilo, Marco Carrión, Julie Menin, Bitta Mostofi, Caryn Resnick, and Lorelei Salas, Dan Symon, Acting Director of Mayor's Office of Contract Services, and Will Yang, executive director of NYC's Children's Cabinet.
Representatives from the offices of NYS Comptroller Thomas Dinapoli, NYS Assistant Assembly Speaker Félix W. Ortiz, NYS Assembly Members Peter Abbate, William Colton, and Yuh-line Niou, and Council Member Justin Brannan were also present.
Thank you to our Gala Host Committee members, including Li Yan Chen, Gebond Chow, Virginia Kee, Fabien Lefebvre, Flora R. Si, Veronica Tsang, Yashih Wu, Cass Xu, and chaired by Pui Chi Cheng.
The success of the event is due to the more than 40 sponsors, including Mission Partner Ong Family Foundation, Pinnacle Sponsor CPC Home Attendant Program, and Diamond Sponsors Hennessy and LVMH. Moet Hennessy provided exclusive spirits and wine. Erica's Rugelach & Baking donated cookies. Brooklyn Food & Beverage, TMI Trading Corp., UnitedHealthCare and Wonton Food Inc. donated goody bag items.
Thank you to all of our supporters who build a better community with CPC in the Year of the Pig!
Media Coverage: