Residents from Hong Ning Housing for the Elderly visit newly opened Essex Market
Main Content
Residents from Hong Ning Housing for the Elderly visit newly opened Essex Market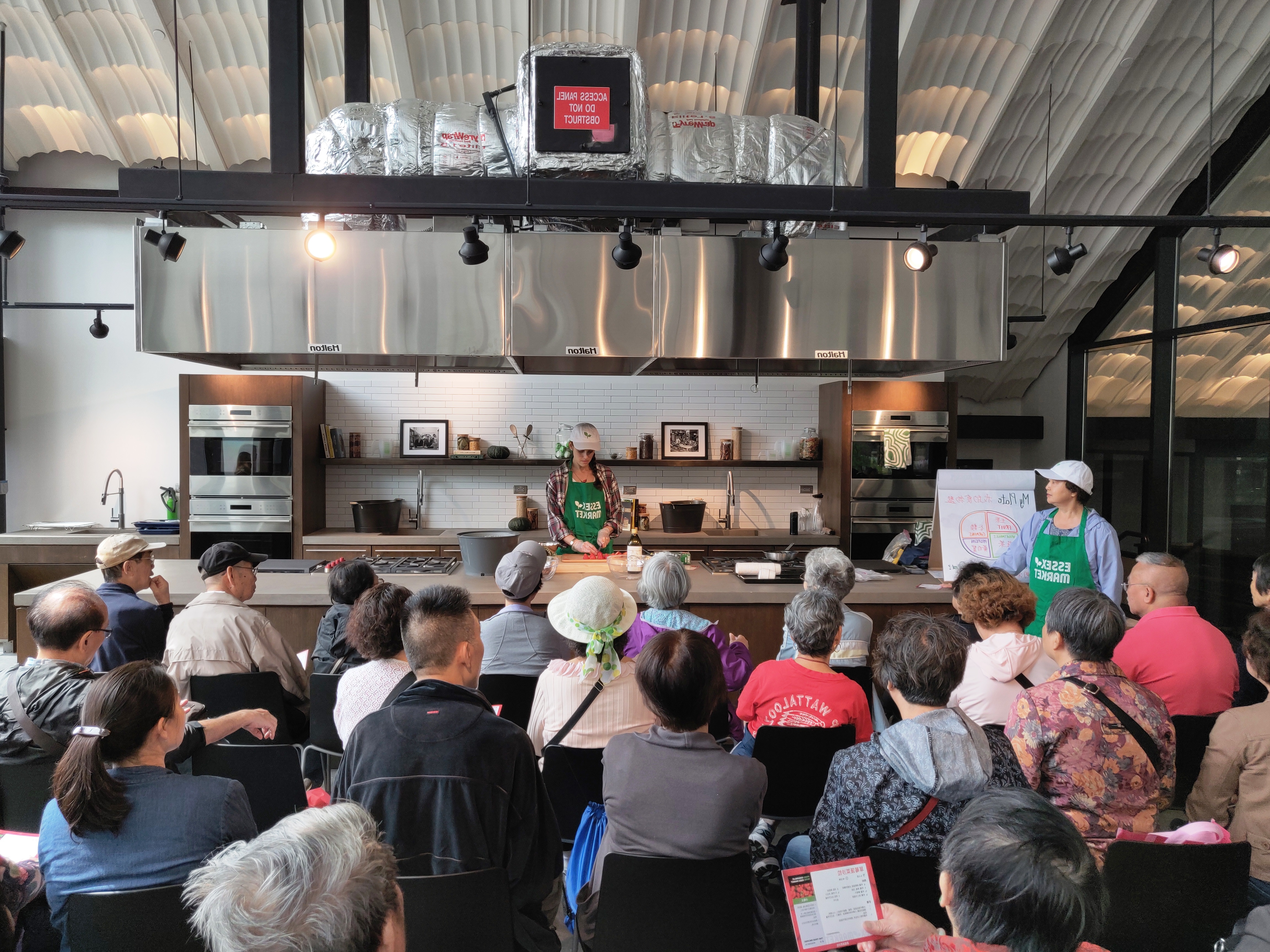 On Tuesday, June 11th, residents at Hong Ning Housing for the Elderly, accompanied by staff and interns from the CPC Wellness Program, visited a cooking and nutrition workshop at newly opened Essex Market. There a weekly workshop is held and open to the public and every Tuesday with a Cantonese interpreter. Lauren Margolis, cooking instructor, is also Essex Market's outreach coordinator. Priscilla Fok, the Resident Wellness Coordinator at Hong Ning, said 13 apartment residents, including their home care attendants, accounted for a complement of 20 visitors from Hong Ning Housing for the Elderly.
The cooking demonstration promoted the use of fresh produce from Essex Market to make a delicious and fresh meal. Seasonal vegetables and fruits that are in their prime time for harvesting and flavor. This means seasonal veggies are also cheaper. Attendees learned how to prepare a quick, healthy, and budget-friendly strawberry and spinach salad. The meal took roughly 10 to 15 minutes to prepare. Instructors utilized diagrams to educate participants on the daily recommended servings of fruits and vegetables, healthy habits, and general nutrition information. After the cooking session, each participant was able to taste-test the salad. A newer experience for some.
Essex Market has been a fixture on the Lower East Side since 1888 when it began as an outdoor pushcart market. Recently reopened by the City of New York, it is a public market made up of many smaller vendors, many from the community. We have discovered it also serves as a meeting place for the LES community, as well as providing fresh, affordable quality foods.