Mayor de Blasio Appoints CPC President and CEO Wayne Ho to Sector Advisory Council
Main Content
Mayor de Blasio Appoints CPC President and CEO Wayne Ho to Sector Advisory Council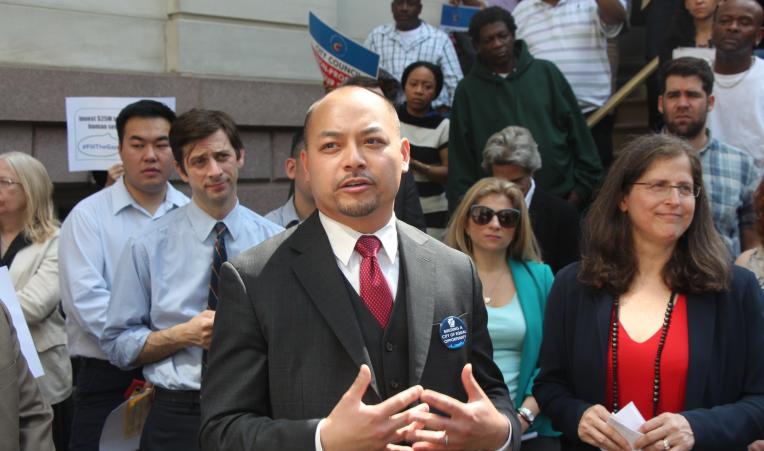 On May 8th, Mayor Bill de Blasio appointed CPC President and CEO Wayne Ho to the newly formed Non-Profit and Social Services Sector Advisory Council. The council will serve as critical links to disseminate information about re-opening and provide guidance to shape the City's response to the COVID-19 pandemic. Other councils created include Public Health and Healthcare, Faith-based, Construction and Real Estate, Education, and Surface Transportation, in addition to the Sector Advisory Councils on Labor and Workforce; Large Business; Small Business; and Arts, Culture, and Entertainment. See the press release from the Mayor's Office here.
CPC is proud to represent our communities and advocate for culturally and linguistically appropriate services for our Asian American and Pacific Islander (AAPI) neighbors in recovery efforts.
As early as January 2020, New York City's Chinatowns and neighborhoods with Asian populations were already hard hit by the association of COVID-19 with China, as businesses faced discrimination and loss of revenue. Many have lost jobs and businesses have shut down, evidenced by the more than 6,900% increase in AAPI unemployment claims in New York State.
CPC largely serves Asian Americans, the fastest growing racial group in NYC and currently 15% of the population. NYC has the highest population of Asians of any American city with 1.3 million, and more than a half million Chinese. One in four live in poverty. Yet for more than a decade, the Asian nonprofit share has been only 1.5% percent of the City's total social service contract dollars.
CPC and 29 community based organizations are calling on the State and City to make smart investments that not only address the immediate need for economic relief but also revitalize neighborhood economies. While these are tough fiscal times, we are also calling on the City and State to find equitable ways to raise revenue as opposed to focusing on budget cuts. We look forward to with our allies, including federations, settlement houses, and AAPI organizations, to ensure the safe and full recovery of our communities.