CPC Trinity Music Program Brings Holiday Cheer to Manhattan
Main Content
CPC Trinity Music Program Brings Holiday Cheer to Manhattan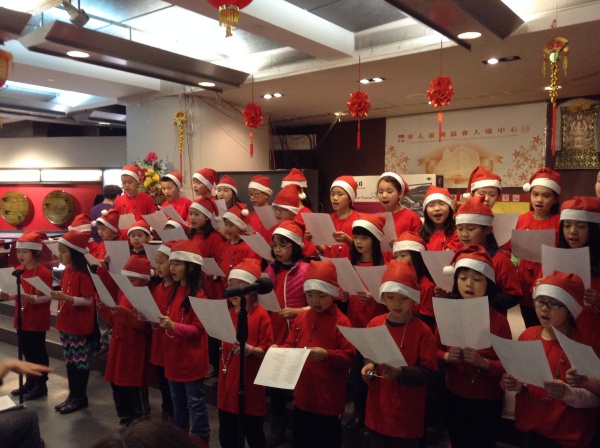 Throughout the month of December, the children of CPC's Trinity Music Program have been proudly sharing their choral skills and the joy of the Holidays through song. There are 100 children in kindergarten to fifth grade from CPC's COMPASS programs at PS130 and Chrystie Street Daycare participating in the program this school year. Under the direction of Trinity Foundation Music Department's music educators Ms. Jennifer Stafford and Mr. Joel Esher, the children have been learning and practicing Christmas carols to perform for family and community members.
On December 11, 2014 a select group of 40 children sung classic carols at CPC's Open Door Senior Center. The children sung Up on the Rooftop, The 12 Days of Christmas, Silent Night, Jingle Bells, Deck the Halls, Christmas Time is Here and Carol of the Bells. Despite the language barrier, the children put smiles on the seniors faces as they sung. One of the seniors shared in Chinese that she was impressed with the children's ability to sing at different vocal ranges, especially during their signature Holiday song - Carol of the Bells. The program directors and seniors were glad the children were able to share Western holiday traditions such as caroling and sharing the story of Santa Claus with the seniors, majority of whom are immigrants from China and unfamiliar with Western based holiday traditions.
CPC School Age Child Care Program directors Ms. Catherine Lee and Ms. Stephanie Lee are also glad to have the opportunity to participate in the Trinity Church Youth Chorus Holiday Concert on December 5, 2014. The children of CPC's Trinity Music Program performed with other school based choral programs within Trinity's Music Foundation and achieved great harmony. To view the full concert please visit the Trinity Church video gallery here. To view the CPC Trinity Music Program section of the program please jump to the 52 minute mark.
CPC thanks the Trinity Church Music Foundation for their generous support of this pilot program and wishes everyone a happy and warm Holiday season.
To support programs like the CPC After School Program, which the CPC Trinity Music Program is a part of, join our Season of Giving Campaign and help us give 8,000 people a reason to smile every day of the year. Click here to join us.