CPC Hosts a Cook-Off between NYS Senator Daniel Squadron & NYC Councilmember Margaret Chin at NY Chinatown Senior Center
Main Content
CPC Hosts a Cook-Off between NYS Senator Daniel Squadron & NYC Councilmember Margaret Chin at NY Chinatown Senior Center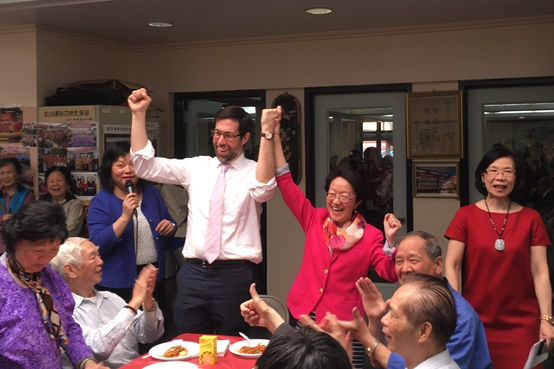 On April 22, 2016, CPC's NY Chinatown Senior Center celebrated the reopening of its kitchen after repairing a gas leak discovered in Spring 2015. For the safety of the seniors, gas to the kitchen was turned off for many months while repairs were made. Senator Squadron and Councilmember Chin were instrumental in helping CPC bring many parties together to expedite the reopening of kitchen.
During the gas turn off, seniors were served catered meals. "The seniors missed our home-cooked meals. It warms everyone's hearts to have so many people care for them. Thank you to Senator Squadron, Councilmember Chin, CPC staff and Board Members for their support during this process and for taking care of our seniors", said Jenny Tran, Director of NY Chinatown Senior Center. CPC is grateful to Senator Squadron and Councilmember Chin for celebrating with our seniors.
NYS Senator Daniel Squadron and NYC Councilmember Margaret Chin cooked chicken filet stir fry with celery and carrots in the reopened kitchen for the Senior Advisory Board of the NY Chinatown Senior Center. The advisory board members participated in a blind tasting of both dishes and cheered for the one they thought tasted the best. A tie was declared as the seniors enjoyed both dishes and wholeheartedly appreciated the efforts of both elected officials.
To see NYS Senator Squadron and NYC Councilmember Chin cook please watch the Tribeca Trib's video below:
CPC has three senior centers: Open Door Senior Center and NY Chinatown Senior Center in Manhattan Chinatown and the Nan Shan Senior Center in Flushing, Queens. It also has a senior services program in Sunset Park, Brooklyn. CPC's Senior Services' programs in Manhattan and Queens serves congregate meals to 300 seniors each weekday with the support of the NYC Department for the Aging (DFTA). Following DFTA nutrition guidelines, CPC's senior centers serve well-balanced meals that cater to the liking of Chinese senior citizens. CPC and DFTA work together to ensure that meals served support the wellness of our seniors. The service of congregate meals is at the heart of Senior Services programming as many seniors from low-income backgrounds depend on this meal for nutritional value and a chance to socialize with their friends. Food brings people together in Chinese culture, and enjoying it together brings a sense of community to the vulnerable senior population who would otherwise experience social isolation and suffer from depression.
To learn more about our senior centers please click here
Media Coverage: