New Location of CPC Queens Community Center
Main Content
New Location of CPC Queens Community Center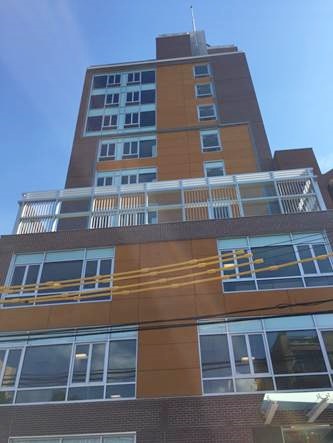 Chinese-American Planning Council, Inc. ("CPC") is pleased to announce that its programs have completed their move into its new location at 133-14 41st Avenue, Flushing, NY 11355. The brand new location, named CPC Queens Community Center, is an intergenerational community center that is home for CPC Queens Community Services, Services to Families with Special Needs, Youth Services, Workforce Development and the Nan Shan Senior Center, as well as a new early childhood center and playground currently in development.
CPC started with a one-person operation in 1973 when Main Street, Flushing was still underdeveloped. Over the last several decades, we witnessed the burgeoning growth of the Chinese American, immigrant and low-income communities in Queens which has since become the most diverse county in the United States. Despite the challenges of space constraints of its former locations, CPC continued to provide services to thousands of individuals and families across generations until a new location was identified for development.
Nan Shan Local Development Corp. ("Nan Shan LDC"), a wholly-owned nonprofit subsidiary of CPC, constructed the 10-story building with the support of public funding and community-minded allies. We are grateful for the support of former NYC Comptroller and Council Member John C. Liu, former Assembly Member Ellen Young, State Senator Toby Stavisky, State Assembly Member Ron Kim, Council Member Peter Koo and Queens Borough President Melinda Katz. Both public and private funding have supported the success of this construction project. We are deeply appreciative to all who were part of this collaborative effort, including members of the Nan Shan Senior Center Advisory Board, community supporters and the staff. Many have contributed their time and expertise, and we count on their continued involvement to fulfill CPC's mission "to serve the Chinese American, immigrant and low-income communities in New York City by providing services, skills, and resources towards economic self-sufficiency".
"With our new flagship center in Flushing, CPC's strategic vision 'to be the Model Service and Leadership Development Organization' will soon become the reality," says Jenny Low, CPC Board Chair, and Nan Shan LDC Secretary and Treasurer. "CPC Queens Community Center is the go-to resource for many more Flushing residents and Queens community-at-large. We are here to serve communities identified as being in high-need for services. In fact, we expect participants from other parts of NYC to continue attending our adult literacy program, Hospitality Training Program, senior center activities, youth programs, special needs workshops, among many other offerings." adds Janice Won, Interim President and CEO.
In the near future, CPC will officially celebrate its opening and its legacy of service to the community.
For more information on CPC's programs located in Queens please click here