Encouraging Advancement of APA Community Through Public Service
Main Content
Encouraging Advancement of APA Community Through Public Service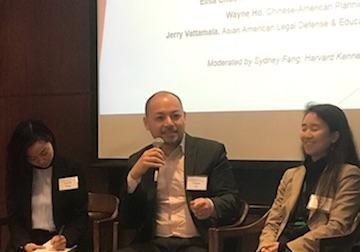 On Saturday, April 14, 2018, CPC President & CEO, Wayne Ho, spoke at the "Strong Voices: Asian Americans in Action" symposium hosted by the Asian Pacific American Caucus at the Harvard Kennedy School. The symposium focused on preparing emerging leaders for public service, and unite a diverse set of interests within the Asian Pacific American community and with all other communities. Mr. Ho spoke on the "Elevating Voices: Advocacy and Organizing in the AAPI Community" panel.
Speaking on the topic of civic engagement, Mr. Ho shared CPC's vision of empowerment for the Asian community through civic engagement and advocacy. CPC has been incorporating civic education and voter mobilization to program curriculum for youth and adults through initiatives such as APA VOICE and Community Votes. It is important for social service organizations to be involved with policy and advocacy because we are on the ground and we see how policies and budget decisions can affect the lives of individuals. It is particularly important for social service organizations who serve immigrant communities to provide a voice for our community needs because everyone should be heard. Civic engagement is not just registering and being able to vote. Civic engagement includes civic education, advocacy and joining policy discussions, which can occur regardless of citizenship status.
CPC is proud to give a voice to our families who do not feel confident enough to express their concerns in English. CPC is proud to empower those who are able, to use their voice to bring change to their community.