CPC Staff Meets With Over 20 City Council Members to Advocate for Asian American and Immigrant Communities
Main Content
CPC Staff Meets With Over 20 City Council Members to Advocate for Asian American and Immigrant Communities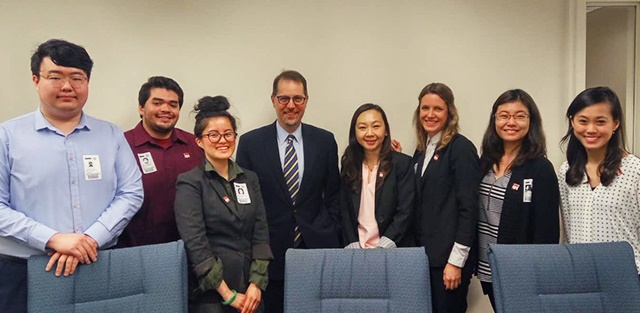 On May 17, 2018, CPC held its first ever City Advocacy Day. As the nation's largest Asian American social services agency, CPC used the day to highlight key issues and FY19 city budget priorities for Chinese Americans, immigrants, low-income communities, and communities of color.
CPC staff from across our program divisions and boroughs had meetings with more than 20 City Council Members. In those meetings, they discussed how their own programs and work contributed to the social and economic empowerment of our communities, and what key budget initiatives are needed to continue to advance our communities. They urged Council Members to invest in:
Salary parity for early childhood education teachers
Adult Literacy classes
Summer Youth Employment Program for young people
Geriatric Mental Health Initiative for older adults
Fair Fares to fund discount metro cards for low-income New Yorkers
Improved human services contracts to cover the full cost of providing quality services
We also held a press conference on the steps of City Hall, which despite the rain, was attended by over 150 CPC staff, participants, and community members. Council Members Margaret Chin, Peter Koo, and Antonio Reynoso stood with CPC and spoke about the important work they do in fighting for our communities. CPC President & CEO Wayne Ho spoke on the impact of standing up for our communities during a time when they are being threatened by federal budget cuts and policy changes. Adult Literacy Instructor Jeff Lau spoke about how CPC programs open new access and economic opportunities for community members, and one of the program participants explained how before his classes, he had not been able to get a full-time job because of his limited English proficiency.
During Asian Pacific American Heritage Month, it is particularly critical to raise the voices of our community members. Asian Americans are often viewed as a monolithic, "model minority" group, which obscures the very real and diverse needs of our community members. With 48% of Asian Americans in New York lacking the income to meet their basic needs, CPC will continue calling for necessary resources and investments, and equitable distribution of those resources to Asian Americans, immigrants, communities of color, and low-income New Yorkers. We are committed to raising the voices of our staff, participants, and community members in order to continue advancing our community.
For coverage of the CPC Advocacy Day Rally and Press Conference click here