Anastasiia Sergienko is named Water Champion at NYC DEP 32nd Annual Water Resources Art & Poetry Contest
Main Content
Anastasiia Sergienko is named Water Champion at NYC DEP 32nd Annual Water Resources Art & Poetry Contest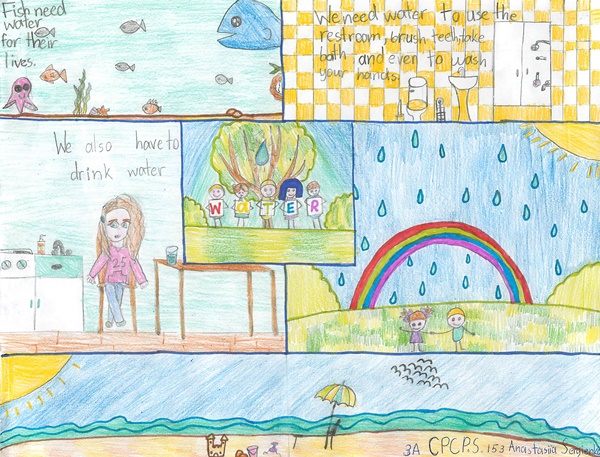 On Thursday, May 24, 2018, Homecrest SACCC at P.S. 153's participant Anastasiia Sergienko was named the "Water Champion" at the New York City Department of Environmental Protection's 32nd Annual Water Resources Art & Poetry Contest. Anastasiia is in 3rd grade. The purpose of the contest is to showcase the importance of water as a resource through creative and original artwork or poetry. The contest was for students in grades 2-12 and incorporated the Science, Technology, Engineering, and Mathematics (STEM) and humanities disciplines. The contest focused on five central themes, challenging students to consider water's importance on a broader scale:
Water, A Precious Resource
New York City Water Supply System
New York City Wastewater Treatment System
Harbor Water Quality and Healthy Marine Ecosystems
Water Stewardship and Climate Change
Of the 1,200 citywide students who participated in the Water Resources Art & Poetry contest, Anastasiia was selected as the "Water Champion" for an outstanding and beautifully executed art entry that showed a genuine of – and appreciation for – New York's water resources. Her drawing showed the importance of water for people, animals, plants, and the environment.
Anastasiia has shared that when she was on the stage receiving her certificate at the ceremony, it was one of the happiest moments she's had! In addition to the certificate, she also received a water color paint set, pencils, and a journal which she said she will be using to create more artwork.
We are very happy for her and proud of her. Congratulations Anastasiia!