CPC's Manhattan In-School Youth Program Achieves a 100% High School Graduation and College Acceptance Rate
Main Content
CPC's Manhattan In-School Youth Program Achieves a 100% High School Graduation and College Acceptance Rate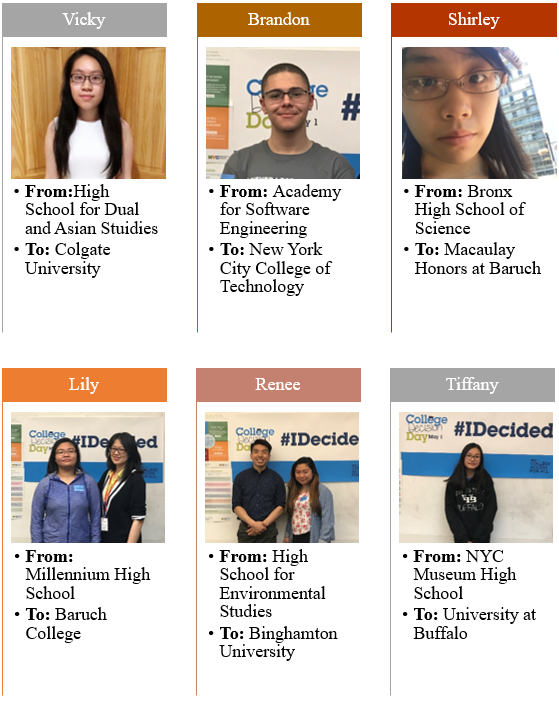 As the 2017 – 2018 academic year comes to an end, CPC's Project Gateway College Counseling Center and Manhattan In-School Youth Program celebrate our high school graduates' college decisions. 100% of our Manhattan In-School Youth Program's Seniors graduated from high school and have received college acceptances. We are elated to share the colleges our participants will attend in the fall of 2018. The list includes schools across the city, state, and country:
Baruch College
Binghamton University
Borough of Manhattan Community College
Brooklyn College
Colgate University
Fashion Institute of Technology
Hunter College
New York City College of Technology
New York University
Stony Brook University
SUNY Fredonia
University at Buffalo
Yale University
Participants' eventual college matriculations demonstrate their endurance, sacrifice, and commitment to continual intellectual and personal growth. For rising high school freshmen, sophomores, and juniors, consider this advice from a recent high school graduate:
"Make most of your high school years and take one thing at a time. Applying to colleges will be research intensive and require a lot of patience. Always take it one step at a time and enjoy the process while you can. Do things that you will not regret later on. Do not succumb to pressures of others, do what you think is best for you now, and if it doesn't turn out as planned, don't be too hard on yourself." (ISY Senior, Bronx Science '18)
The transition from high school to college marks a significant milestone in one's educational trajectory. So, congratulations to the class of 2018! We wish our graduates many more successes in their postsecondary education endeavors.
For any questions regarding college planning, college application, and financial aid, reach out to Mimi Ko, mko@cpc-nyc.org from CPC's Project Gateway College Counseling Center.