CPC Brooklyn Community Services Host Mobile Mammogram Program
Main Content
CPC Brooklyn Community Services Host Mobile Mammogram Program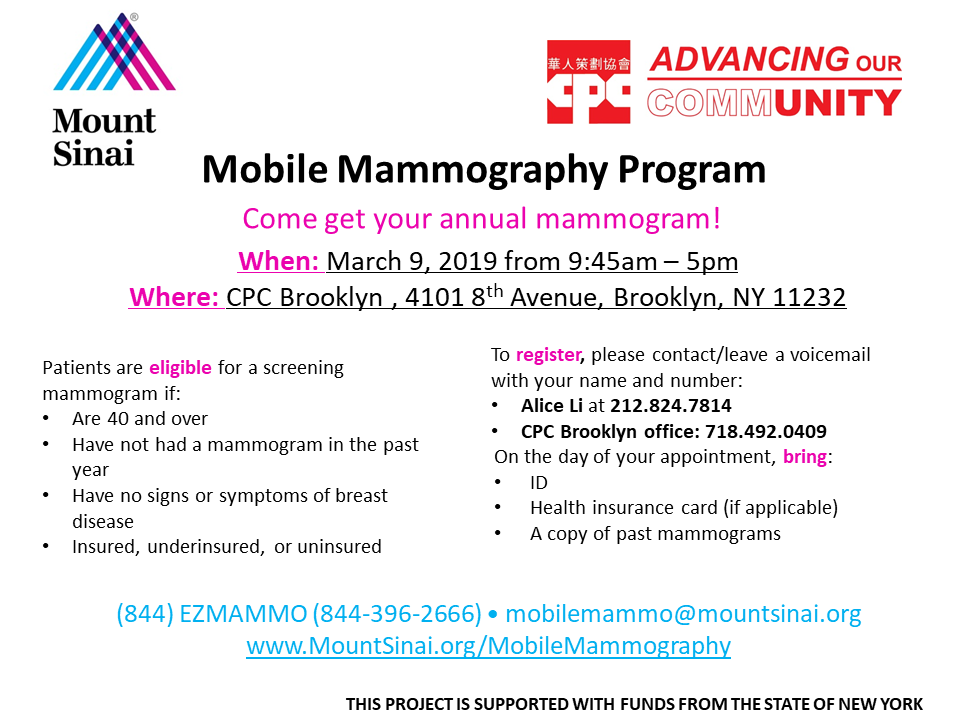 On March 9th, 2019, CPC Brooklyn Community Services partnered with Mount Sinai Health System to host a Mobile Mammography Event at CPC Brooklyn Community Center. We are pleased that in all fifteen community members aged 40+ were able to receive their mammograms, including five community members who do not have health insurance. This not only highlights the need for life-saving health services, but also raises awareness that many of our community members are without proper health insurance.
Statistically 1 in 8 women will develop breast cancer in their life time and early detection and prevention is still the best way to combat this disease. CPC Brooklyn would like to thank Mount Sinai, for providing the services, and look forward to future collaborations in bringing mobile health services to our friends in Sunset Park Brooklyn.
Special shout out to our CPC Brooklyn team members, Cindy Liu and Joanne Li for giving up their Saturday and assisting with registration and translation services to ensure community members are properly screened.