CPC Speaks Out Against Anti-Asian Acts of Violence and Racism
Main Content
CPC Speaks Out Against Anti-Asian Acts of Violence and Racism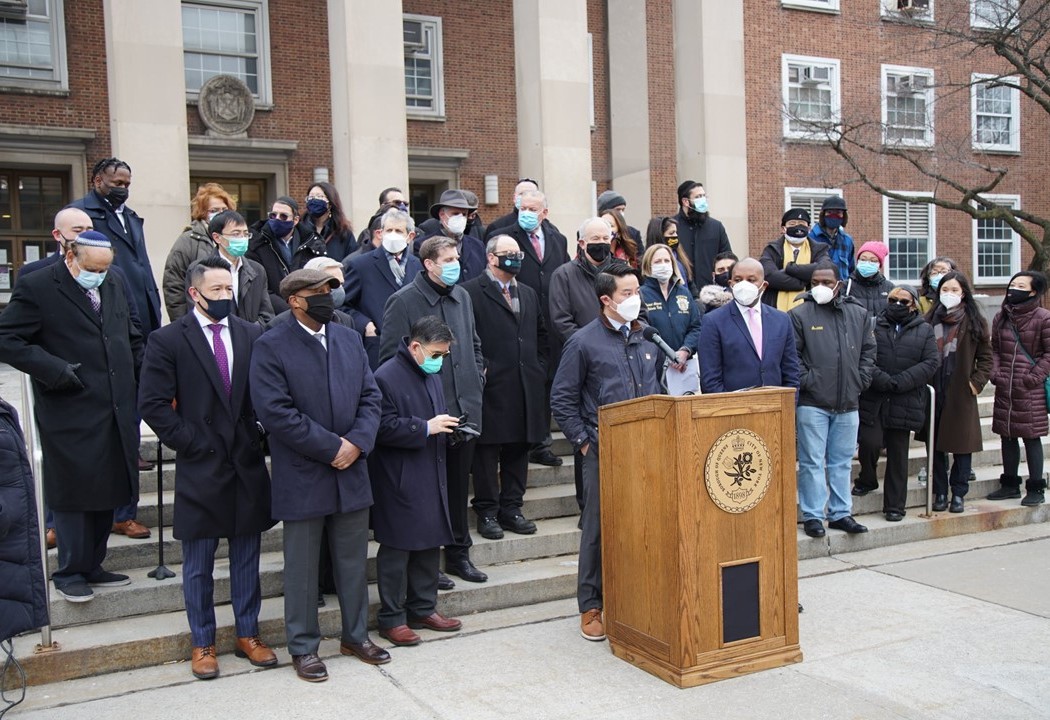 Recent horrific anti-Asian violence and hate has renewed alarm among our communities, especially as the victims have included our elders. The Chinese-American Planning Council stands alongside our allies in condemning anti-Asian and anti-Semitic attacks occurring around the country and across our City, particularly the recent incidents in Rego Park and Flushing, with the latter taking place just a few blocks away from CPC's Queens Community Center.
On February 22nd, Brian Chen, CPC Chief Strategy Officer, and Marilla Li, CPC Director of Mobility LABS, joined Queens Borough President Donovan Richards' press conference to denounce incidents in Queens targetting our Asian and Jewish community members. Brian spoke out at the conference against the proliferation of hate and the acts of solidarity which fight it back.
"Although anti-Asian discrimination and violence is certainly not new, the normalizing of xenophobic rhetoric by the previous federal administration, including the inflammatory vitriol surrounding COVID-19, has further exacerbated these issues. CPC recognizes that accountability solely reliant on the criminal justice system and incarceration of more New Yorkers should not be the go-to solution," said Brian. "Rather, accountability should include restorative justice, community mediation, and investments in culturally and linguistically accessible community-based services and resources proven to keep neighborhoods safe." See coverage of the press conference from ABC 7 News here.

CPC is committed to promoting active inter-community solidarity efforts united against hate to ensure the safety of all New Yorkers.
CPC President and CEO Wayne Ho joined In Focus with Cherly Willis on NY1 on February 14th. Wayne talked about stopping hate crimes going hand-in-hand with true community action, not incarceration or vilification of black and brown communities. Watch the interview here.
Chief of Staff Alice Wong was quoted in a story from The City published on February 11th and called for more information-sharing and collaboration between community groups, city agencies, and authorities. Read the full article from The City here.
Mic recently published a story on ways to stand with Asian Americans and included CPC as senior community service provider, among many other community providers and advocates. Read the full article on Mic here.
CPC was mentioned in a recent article in Eater on restaurants that are taking action as part of an initiative, #EnoughIsEnough. Read the full article on Eater here.