CPC President and CEO Wayne Ho is Named in City and State's 2022 Power of Diversity: Asian 100
Main Content
CPC President and CEO Wayne Ho is Named in City and State's 2022 Power of Diversity: Asian 100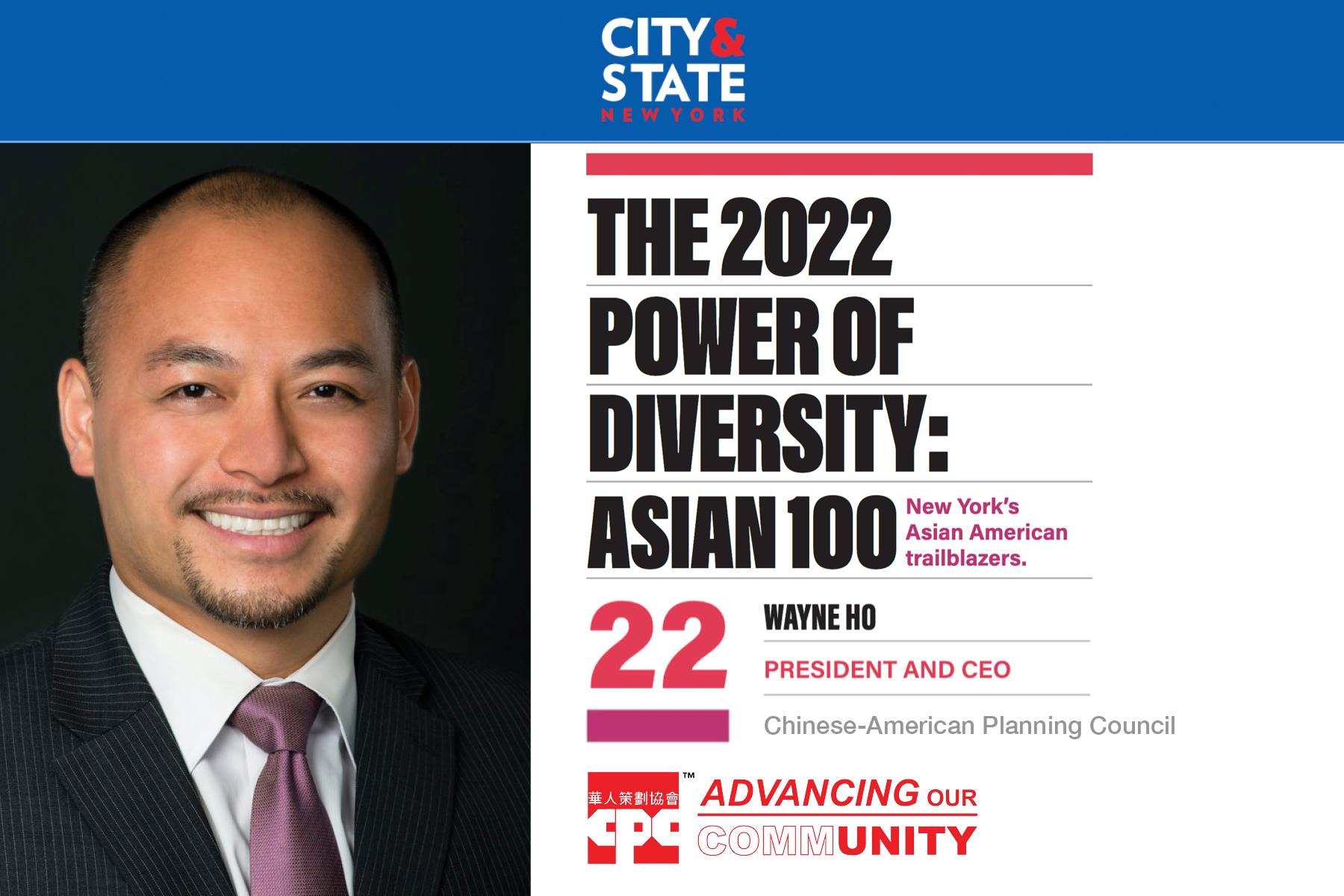 Asian Americans are achieving breakthrough after breakthrough at the ballot box. Vice President Kamala Harris is the first Asian American (as well as the first woman and the first Black person) to occupy her post. A record number of Asian Americans serve in Congress. And while Andrew Yang fell short in his campaign to become New York City's first Asian American mayor, other major U.S. cities reached that milestone, including Boston and Cincinnati. An unprecedented six Asian Americans were sworn in as New York City Council members this year, following several "firsts" in the state Legislature in recent years – the first Asian Americans in the state Senate, the first South Asians in the Assembly, the first Asian American elected from upstate New York.
Yet, even in New York, known for its large – and growing – Asian American population, representation lags. Nearly 1 in 10 New Yorkers are Asian, yet Rep. Grace Meng is the sole Asian American in the state's 29-member congressional delegation. In the state Legislature, Asian Americans hold just seven out of 213 seats. Even after impressive gains, Asian American New York City Council members constitute 12% of the 51-member body, below their 14.3% share of the city population. At a time when anti-Asian hate is on the rise, securing greater sway in government is a key objective.
City & State's Power of Diversity: Asian 100 identifies New York's Asian American leaders from a wide range of backgrounds who are gaining political power and standing up for their communities.
Wayne Ho has served as president and CEO of the Chinese-American Planning Council, one of the country's largest Asian American social service agencies, since 2017. The organization provides services to some 2,000 senior residents and is among eight community organizations authorized to distribute $27 million in state funding for Hurricane Ida victims ineligible for Federal Emergency Management Agency assistance due to their immigration status.
Read the article and see the full list of the 2022 Power of Diversity: Asian 100.